It's never too late to introduce your kids to a daily gratitude practice. In today's blog, I will share with you eleven easy and fun gratitude activities for kids that can help them cultivate a daily gratitude practice.
Growing up, I was very fortunate to be introduced to a gratitude practice, so when I had my kids teaching them, the concept of being thankful occurred naturally to me.
Cultivating a gratitude practice from early on will have a profound effect on your kids, allowing them to build resilience and foster a positive attitude.
11 Gratitude Activities For Kids
Our kids will practice what we do as parents 9/10 times. The same goes for cultivating a gratitude practice. If your kids see you expressing your thankfulness daily for the little things in life, a chain reaction will occur.
Here are 11 gratitude activities you can introduce to your kids.
Gratitude Journaling
There's so much science behind the benefits of journaling, from relieving stress to tapping into our creativity and boosting our immune system.
One of the best and easiest activities to get your kids started with a gratitude practice will be through journaling. Encourage your child to start a gratitude journal and list one or two things they are thankful for daily.
You can motivate them by gifting them with a colorful notebook/gratitude journal and trendy gel pens and markers. This simple practice can help them focus on the positive aspects of their lives and promote a sense of appreciation
Alternatively, you can grab this Gratitude Printable Planner Page (59 downloads)
Gratitude Scrapbooking
Young kids love cutting pics out of magazines, printing things off the web, and stickers. If your child already scrapbooks and loves it – gratitude scrapbooking may be a great activity to get started with.
Guide your child into drawing the people, places, activities, experiences, and things they are grateful for. Depending on your child's age, you can introduce the concept of future gratitude by coaching your child to visualize her dreams and desires and map them out onto her scrapbook. As she maps her desires out, remind her to have faith and believe everything she desires will come to her.
When my daughter Sophia was 8, I introduced the concept of vision boarding (where she will cut out images or words that represent things she wants or would like to feel) and arrange them on a poster board.)
Thank You Notes
As parents, we've taught our kids to say their thank yous' when needed. Since we are encouraging our kids to practice gratitude, we can take things a bit further and help them create thank-you cards or notes for friends, family, or siblings to express their appreciation. Creating thank-you cards will also allow your kids to tap into their creativity and writing skills. #win-win
For older kids, you can have them send emails to express gratitude. For example, whenever my mom visits us for vacation (she lives in Trinidad), my kids will send her an email a few days after she leaves to say thank you for blessing our home with her presence and spending time with them. (I have set up both kids with Gmail accounts from my main Gmail account.)
Gratitude Tree
Create a gratitude tree by drawing a tree on a large piece of paper. Then make leaves (you can use colorful paper to have a variety of leaves.) Have kids write on a leaf one thing that they are grateful for before hanging the leaf on the tree. This visual representation of gratitude is a beautiful and ongoing activity that will help kids build a gratitude practice.
Acts of Kindness
Teach your children the importance of giving back by engaging them in acts of kindness, such as helping a neighbor or donating unwanted toys and clothes to those in need.
Acts of kindness can also be smiling at someone or giving a friend a nice compliment. As their parent or caregiver, you must also remember that 95% of the time, kids will do as they see rather than what they are told. So, if the kids in your life see your commitment to being kind and giving back to others, they will naturally follow suit.
Gratitude Stones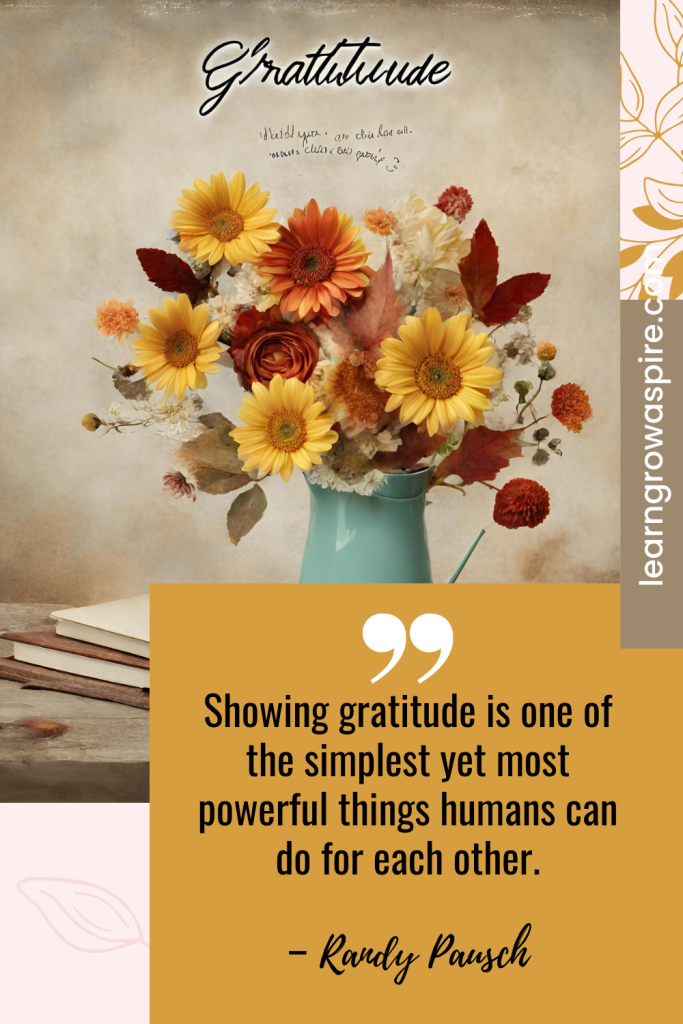 I fell in love with the idea of having a gratitude stone when I read Rhonda Bryne's book – The Magic. In her book, she mentioned having a gratitude stone (small, flat stone) that your child (you can do this as well) can hold on to before going to bed and reflect on one thing that happened for the day that they are grateful for.
This tactile activity will help your child to connect with their feelings of appreciation every night before heading to bed.
Family Gratitude Circle
Start or end the day with a family gratitude circle. This is something we typically do at our dinner table, where each family member shares something they are thankful for. Starting a family gratitude circle will not only reinforce the concept of gratitude but also strengthen family bonds.
Gratitude Games/Activities
Play a gratitude-themed game/activity with your child, like "Questions and Answers," "Gratitude Bingo," or "Character Building & Gratitude Writing." These gratitude activities will make learning about gratitude enjoyable and interactive.
Gratitude Coloring & Drawing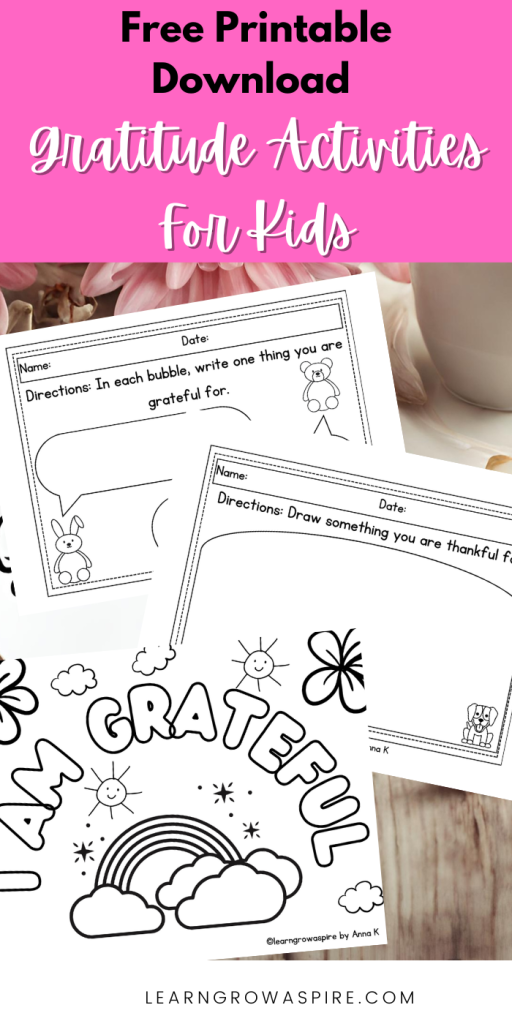 Kids love drawing and coloring, so why not turn it into gratitude activities for kids? Have kids draw and color something they are grateful for.
You can download this free Gratitude Activities For Kids (30 downloads) !
Gratitude Jar
In my opinion, every home should have a gratitude jar. Gratitude jars provide a sense of togetherness, love, joy, peace, and gratitude within the family unit.
You can pick up a gratitude jar or create one. As often as possible (preferably daily), encourage family members to write down things they are thankful for, fold them in, and place them inside the jar.
At the end of the month, open the jar and read the notes together, reflecting on that day and the thankfulness you felt on that day.
Storytelling Sessions
As a homeschooling mom, I love sharing growth mindset stories with my kids. Lately, I've been incorporating more gratitude and kindness stories into our lesson plan by reading books emphasizing gratitude and kindness. After reading, we often discuss the character's actions and how they showed gratitude or kindness in different situations.
Here are some of our favorite gratitude books:
Conclusion
These 11 gratitude activities for kids are wonderful ways to help them develop a positive mindset and an appreciation for the world around them. By fostering gratitude in kids, you can empower them to lead more joyful and fulfilling lives while also promoting empathy and kindness towards others. Start incorporating these gratitude activities into your child's routine, and watch them grow into appreciative and compassionate individuals.
Related Posts:
Pin These Fun And Engaging Gratitude Activities For Kids
Head to your Pinterest board and save these 11 gratitude activities for kids!
Some of the links in this post may be affiliate links. I'm also an Amazon Affiliate and will occasionally link to some of my favorite Amazon products. I will receive a small percentage back if you purchase through my link. You won't be charged a penny more if you shop through my links. That said, I do NOT recommend anything I do not use and love! Thank you for helping support my blog!