Homeschooling offers a unique opportunity to provide children with a well-rounded education, and one essential aspect often overlooked is financial literacy. Equipping your homeschoolers with a solid understanding of money management will prepare them for a future of financial success and independence. In this blog post, we'll explore effective strategies and engaging activities to teach homeschoolers about money in an enjoyable and meaningful way.
9 Ways To Teach Homeschoolers About Money
Introducing Financial Basics
Lay the basis by introducing fundamental financial concepts in an age-appropriate manner.
For example, if you have kids under 9 years of age, you may want to use financial literacy flashcards and read loud stories rather than a big boring textbook.
Explain the concepts of income, expenses, savings, and budgeting. Use relatable examples from their daily lives to help them grasp these ideas better.
Emphasize the importance of planning and setting financial goals.
Hands-On Budgeting Exercises
Using real-life experience, sit with your kiddos and help them map out a budget for the next two weeks.
Provide them with a monthly allowance or simulate an income source, then guide them in allocating funds to different categories such as essentials (food, clothing) and discretionary spending (entertainment, hobbies).
Encourage them to track their expenses and adjust their budget as needed.
The Power of Saving and Investing
Introduce the concept of saving money and the magic of compounding interest.
Help homeschoolers set up a simple savings plan and discuss the benefits of delayed gratification.
For older learners, delve into the basics of investing, explaining different investment options like stocks, bonds, and mutual funds.
Depending on your kid's age, you can consider looking at this  The DIARY OF A CEO podcast – 10 ways to make real money. 
Consumer Awareness and Smart Spending
As a homeschooling mom of two, I continue to teach my kids how to be savvy consumers by comparing prices, reading product reviews, and making informed purchasing decisions.
My son, who is six years old (when writing this blog post), is known to buy things immediately. You see, he doesn't quite understand the concept of we won't get the toy car he is drooling over at this store. But instead, we will purchase it at another store because the exact car is cheaper elsewhere.
Discuss the impact of advertising and encourage critical thinking when it comes to spending choices. Pull out the toy cash register and play shopping games where they can practice these skills.
Explain to your kiddos why those kinder surprise eggs are always at the height of a toddler at grocery stores. So that toddlers can reach it and demand their parents buy it for them.
Debt and Credit Education
Explain the concepts of debt and credit in a relatable way.
Discuss the difference between good and bad debt and the importance of responsible credit use.
Share age-appropriate examples of credit scenarios, such as borrowing money for a car or education, to help them understand the implications.
Entrepreneurial Adventures
Stimulate creativity and entrepreneurial spirit by encouraging your kids to brainstorm business ideas or small projects.
Guide them through the process of setting up a mini business (SkillShare is great for this) from concept to execution.
This hands-on experience will teach them about profit, loss, marketing, and customer relations.
By using my link, you will get a free one-month trial of SkillShare.
Real-Life Simulations
Engage your homeschoolers in interactive simulations that mirror real-world financial situations.
Plan a mock family vacation within a budget, organize a garage sale, or simulate paying bills and managing household expenses. These activities provide practical insights into money management.
Interactive Online Resources
Leverage the power of technology with educational websites and apps focused on financial literacy.
Offer interactive games and simulations that make learning about money fun and engaging. Monopoly is a favorite in our home! 
Open and Ongoing Discussions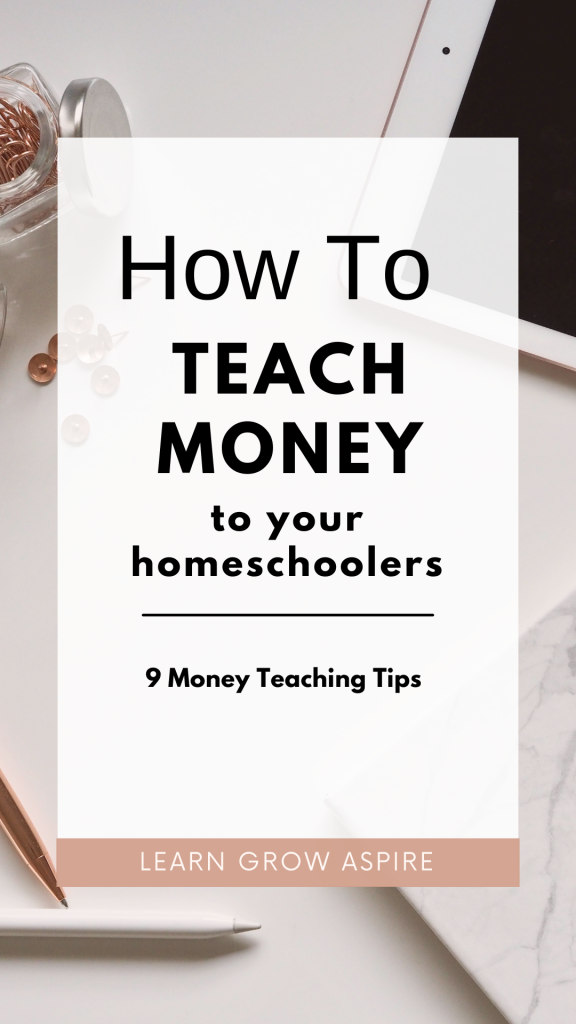 Foster an environment of open dialogue about money within your homeschooling setup.
Regularly check in with your kids, answering their questions.
Encourage them to share their thoughts and financial decisions. Creating a safe space for discussions will help build confidence and knowledge.
Talk positive things about money and reframe from statements such as – money doesn't grow on trees, and you need to be born in richness to be rich.
As a homeschooling parent, you can teach homeschoolers about money like no other. A gift that will keep on giving, preparing them for a lifetime of financial responsibility and success.
By introducing financial concepts in relatable and engaging ways, you will empower your kids to make informed decisions and confidently navigate the complex world of finances.
With a solid foundation in money management, homeschoolers can achieve their dreams and create a bright financial future.
If you've decided to start your own homeschooling blog after reading this blog post, make sure to read how to start a homeschooling blog as a mom. 
Some of the links in this post may be affiliate links. I'm also an Amazon Affiliate and will occasionally link to some of my favorite Amazon products. I will receive a small percentage back if you purchase through my link. You won't be charged a penny more if you shop through my links. That said, I do NOT recommend anything I do not use and love! Thank you for helping support my blog!