As Thanksgiving approaches, it's the perfect time to pause, reflect, and celebrate the blessings in our lives. Beyond the delicious feast, this holiday offers a great opportunity to bond with family and friends through various activities that foster gratitude, creativity, and togetherness. Here are twelve fun and meaningful Thanksgiving activities for the whole family to enjoy:
Fun And Meaningful Thanksgiving Activities For The Whole Family
 Gratitude Jar:
The moment I hear the word Thanksgiving I think of gratitude. To me, it's the main focus of Thanksgiving. What does Thanksgiving mean to you?
Let me know in the comments below once you are done reading this post.
Set up a gratitude jar and encourage everyone to write down things they are thankful for throughout the month of November. And for my fellow Canadians, it will be the month of October because that's when we celebrate Thanksgiving.
Then on Thanksgiving Day open the gratitude jar and read these notes aloud creating a heartwarming tradition.
 Nature Walk:
I love all things fall! In fact, it's my favorite time of the year.
The weather is just right! The leaves are colorful, the smell of apple cider and cinnamon, pumpkins lay out, and let's not forget the sweaters! I love sweaters and fall gives me an opportunity to snuggle with my favorite sweater.
Soak up all these wonderful feelings of fall by taking a family nature walk.
On the walk, you all can collect fallen leaves, acorns, and pinecones. Later you can use these natural treasures for crafts or decorations.
Craft Time:
Get creative with DIY Thanksgiving crafts.
Make handprint turkeys, create thankful banners, or design personalized place cards for the dinner table. Pinterest is a wonderful place to find amazing DIY crafts.
Volunteer Together:
Find a local charity or food bank and volunteer as a family. It's definitely not just for the movies.
You and your family can volunteer on Thanksgiving day as well! The joy of serving others is like no other!
Plus giving back is a meaningful way to teach kids about the spirit of Thanksgiving.
Thanksgiving Scavenger Hunt:
Organize a scavenger hunt with clues related to gratitude and Thanksgiving.
Hide small treats or notes of appreciation for a fun family adventure.
Thanksgiving Bingo Game: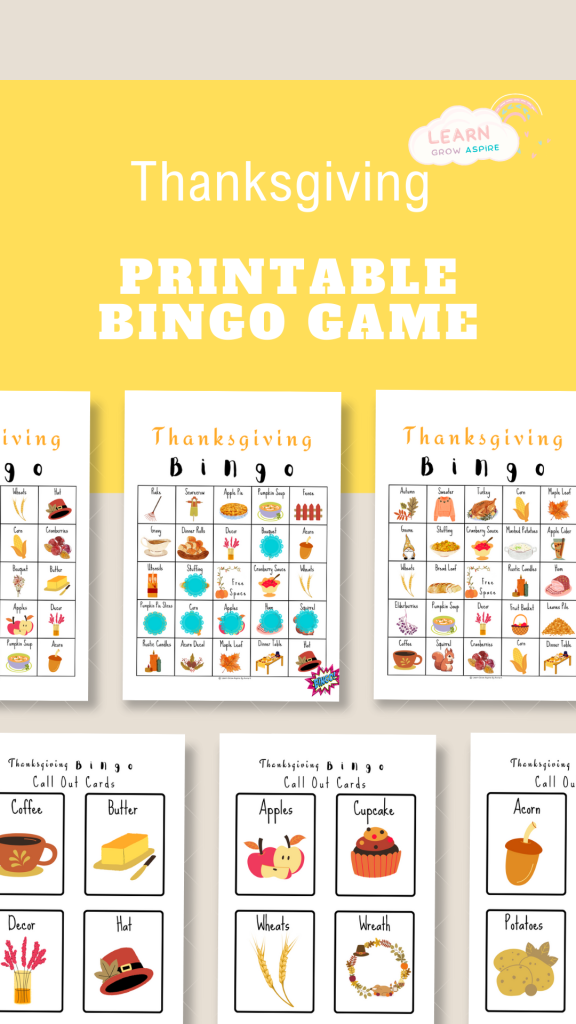 Gather 'round the table, folks; it's time to spice up your Thanksgiving gathering with a game that's as entertaining as it is traditional: Thanksgiving Bingo!
This delightful family activity adds a dash of excitement to the holiday festivities, making cherished memories that will have everyone smiling long after the turkey is gone.
Whether you're 6 or 66, Thanksgiving Bingo is an inclusive game that everyone can enjoy. Young ones eagerly scan their cards for matching images, while adults can revel in the nostalgia of this classic pastime.
To add an extra layer of excitement, consider small prizes for the winners. They could be anything from decorative mini-pumpkins to heartfelt "Thanksgiving Champion" certificates. As you play, encourage gratitude by having each winner share something they're thankful for.
Head over to my TPT store to grab our printable Thanksgiving Bingo Game!
Thanksgiving Trivia & Writing
🧠 Thanksgiving Trivia: Challenge your family and friends with a friendly game of Thanksgiving trivia. Create a list of questions that cover the history of Thanksgiving, fun facts about the holiday, and even pop culture references like famous Thanksgiving-themed movies. You'll be surprised at how much you can learn and share about this cherished holiday.
📝 Writing Prompts: Tap into your family's creative side with Thanksgiving-themed writing prompts. Encourage everyone to jot down short stories, poems, or even heartfelt letters expressing what they're thankful for. These written expressions of gratitude can be a beautiful addition to your Thanksgiving tradition, creating keepsakes to cherish in the years to come.
🎉 Interactive Learning: Make trivia and writing activities interactive by dividing your guests into teams. This not only adds a layer of competition but also fosters collaboration and engagement. Teams can help each other answer trivia questions or provide feedback on each other's writing pieces.
You can grab a done-for-your printable Thanksgiving Trivia and writing Activity Over at my TPT store or Etsy shop! 
Cooking Together:
Involve your kids in meal preparation. Let them help with age-appropriate tasks like washing vegetables, mixing ingredients, or setting the table.
One of my mom's friends usually leaves all of her decorations up to the kids. Even if it's not up to her standards she let it be. This gives kids an opportunity to feel like they have contributed in a big way. Building self-esteem.
Family Recipe Swap:
Encourage family members to share their favorite Thanksgiving recipes and stories.
Who doesn't like sharing stories and having all the focus on them at the table!? You might also discover a new family tradition or a beloved dish you've never tried.
Storytelling Time:
Gather around the fireplace or dining table and share stories of past Thanksgiving, family traditions, or personal experiences of gratitude.
Thankful Tree:
This is very similar to a gratitude jar. The difference is it's a tree with leaves.
Create a thankful tree by drawing a tree on a large piece of paper or cardboard.
Then have family members write what they're thankful for on paper leaves and attach them to the tree.
Movie Marathon:
Wind down after the meal with a Thanksgiving-themed movie marathon.
Classics like "A Charlie Brown Thanksgiving" and "Planes, Trains, and Automobiles" are sure to entertain and bring laughter.
Remember, the essence of Thanksgiving lies in appreciating the love and connection we share with our family and friends.
These Thanksgiving activities for the whole family will not only add fun to the holiday but also help instill the values of gratitude and togetherness in your loved ones.
This Thanksgiving, embrace the opportunity to create cherished memories that will last a lifetime.
Happy Thanksgiving! 🦃🍂
Some of the links in this post may be affiliate links. I'm also an Amazon Affiliate and will occasionally link to some of my favorite Amazon products. I will receive a small percentage back if you purchase through my link. You won't be charged a penny more if you shop through my links. That said, I do NOT recommend anything I do not use and love! Thank you for helping support my blog!