Do you sometimes wonder if your kids will grow up not being grateful for the things they have in life? Is one of your parenting goals to teach gratitude to your kids, but you are you unsure where to begin?
Teaching gratitude to your kids requires helping them cultivate an abundance mindset rather than a scarcity mindset and appreciating their current life situation instead of feeling they never have enough or comparing what they have to others.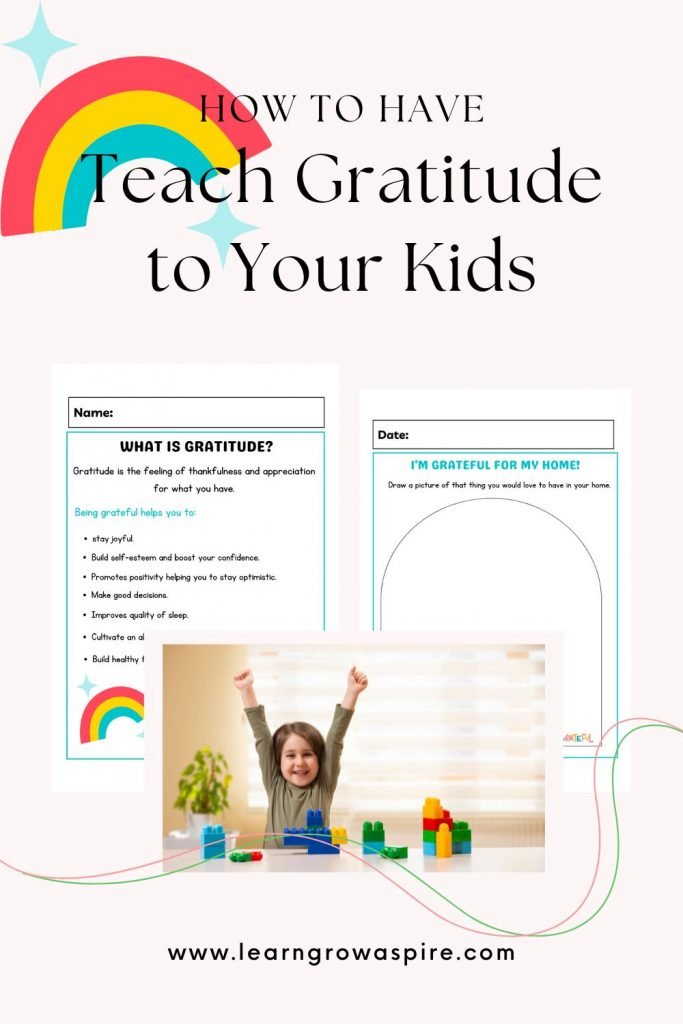 Benefits of gratitude for kids
Gratitude has been shown to impact mental and physical health positively. Some of these benefits include:
boosting confidence and mood,
building friendship,
staying optimistic,
cultivating an abundance mindset,
reduce depression,
improved sleep.
That's a whole lot of benefits. Making you more pumped to teach gratitude to your kids, I bet!
So here you go!
Ten ways to teach gratitude to your kids
1. Nighttime prayer.
Pray is the backbone of everything. Cultivate a habit of nighttime prayer with your kids by teaching your kids to say a thank you prayer every night before going to bed.
This can sound like: "Thank you, god, for everything you've blessed me with today. I'm grateful. Please continue to bless, guide, and protect me each day."
A nighttime gratitude prayer allows your kids to go to bed with a grateful heart, mind, and body.
2. Daily gratitude reflection.
This can be done through journaling. Journaling goes hand in hand with a gratitude practice. And has many benefits on its own.
You can download my daily gratitude planner page for your kids here ( and maybe yourself as well :-)) And print as many copies as needed.
Your child can do this as a nighttime activity before heading to bed.
3. Remind your kids to say please and thank you.
Super simple and straightforward, right?! Yet many parents forget to teach this simple mannerism trait to their kids.
A great way to remind your kids to say please and thank you is by you saying 'please' and 'thank you' at home.
" Can you please pass me the remote?" Rather than – "Pass the remote to me!"
" Thanks for throwing your laundry in the hamper." Rather than – " Wow, I'm shocked you didn't leave your laundry on the floor today."
You're out shopping, and someone holds the door for you – say thank you rather than smile.
Someone says, " Thank you!" to you. Reply – " You are welcome!"
What you practice daily and in your home is often reflected in your kids.
4. Send thank you notes.
This may sound old-fashioned. But sometimes, these old fashion ways can be so beneficial to our kids.
The next time your kid's aunts, grandparents, or a friend give them something, why don't you have them write a thank you note?
Suppose your kids are on the younger side and can't write yet. Have them color something, and you can write a simple thank you note for them.
5. Express gratification for the things around you whenever you can.
Before you can teach gratitude to your kids, you need to model it.
If you are not practicing gratitude, then how can you expect your kids to? That saying – " Do as I say, not as I do." probably won't work with the Gen Z and Alpha generation.
6. Create a gratitude jar.
As a homeschooling family, this works fantastic for us! Even if you're not a homeschooling family having a gratitude jar will work wonders for you.
Every morning before we begin our day of schooling, each child writes something they are grateful for on a piece of paper, and it goes into our jar.
If you're not a homeschooling family, you can do this activity after dinner, and then at the end of the month, open the jar and have everyone read what they were grateful for that month.
7. Celebrate kindness
Often we scold kids when they are not sharing their toys or don't want to play with another. But how often do you praise your child when they share their toys or are kind to someone by holding the door for that person, sharing their toys, complimenting, etc.?
Celebrate kindness by recognizing when kindness is given or received by your kids because kindness goes a long way.
8. Gratitude stone.
This habit was first introduced to me when I read the book, " The Magic."
Go on a nature walk with your kids and find a lovely flat stone they can paint and write gratitude on. Or you can purchase one on a marketplace such as Etsy or Amazon.
Before your child goes to bed, have them hold the stone and express gratitude for the big " WOW OF THEIR DAY."
9. Always see the bright side of things.
As humans, we are not always going to be 100% optimistic, and that's fair enough! But when possible, try finding the silver lining. Demonstrating that you are appreciative of every situation life throws at you because, many times, they are blessings in disguise.
Modeling this behavior will influence how your kids handle challenging situations in life.
10. Gratitude activities for kids' printables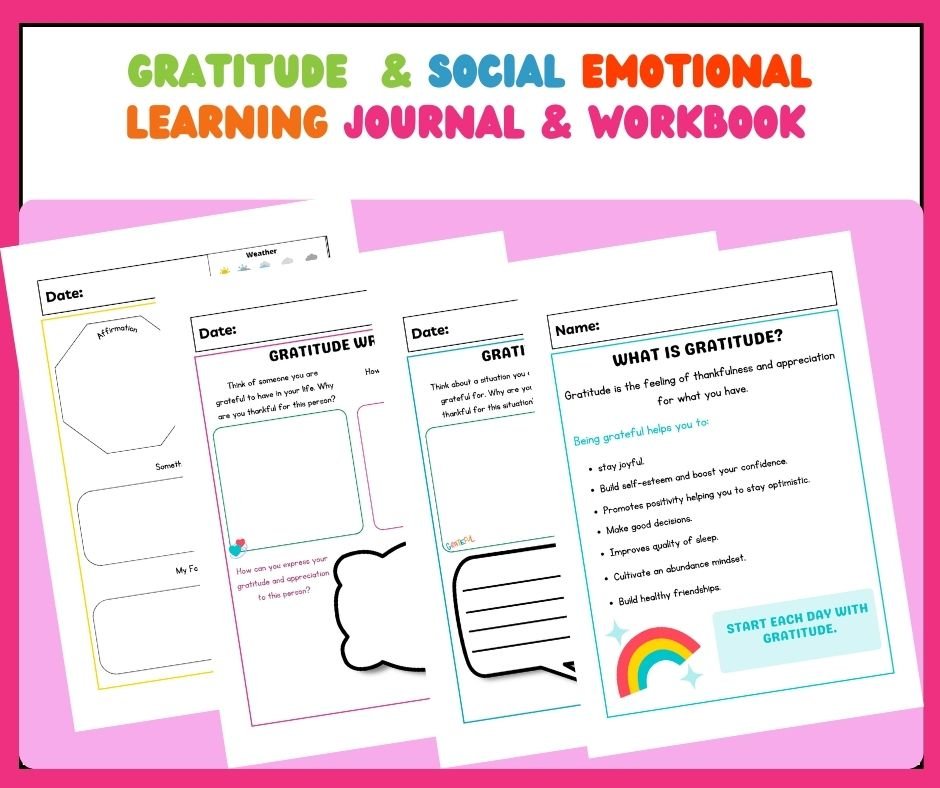 This set of 24 gratitude + social-emotional learning activities will help your kids become more appreciative of the things they have while understanding their emotions.
Writing prompts in this gratitude activity pack include:
grateful to be me,
thankful for my family,
grateful for my friends,
grateful for nature,
grateful for my home,
thankful for the people in my life,
daily gratitude journaling page,
gratitude letter writing.
This gratitude journal can be used any time of the year, over and over! The best part is – it's super affordable!
Gratitude is a positive life skill that, once cultivated, will keep growing with your kids, allowing them to be happier humans.
Some of the links in this post may be affiliate links. I'm also an Amazon Affiliate and will occasionally link to some of my favorite Amazon products. I will receive a small percentage back if you purchase through my link. You won't be charged a penny more if you shop through my links. That said, I do NOT recommend anything I do not use and love! Thank you for helping support my blog!