Now that you've decided to homeschool your preschooler, where do you even start? What should you be including in your preschool lesson plan? My homeschooling friend you are in luck! In this blog post, we'll explore what a homeschooling day for a preschooler should look like.
From a combination of educational activities as well as playtime so as to foster healthy growth and development.
Homeschooling your preschooler can be a rewarding and enriching experience for both you and your child.
Unlike traditional classroom settings, homeschooling allows you to tailor your child's education to their unique needs and interests.
While flexibility is a key advantage of homeschooling, having a structured daily routine can provide a sense of stability and help your child thrive.
Having said that, here's a reminder that on days when things are not on par with your routine, it's okay to be flexible. A huge benefit of homeschooling, right?!
A Classic Preschool Lesson Plan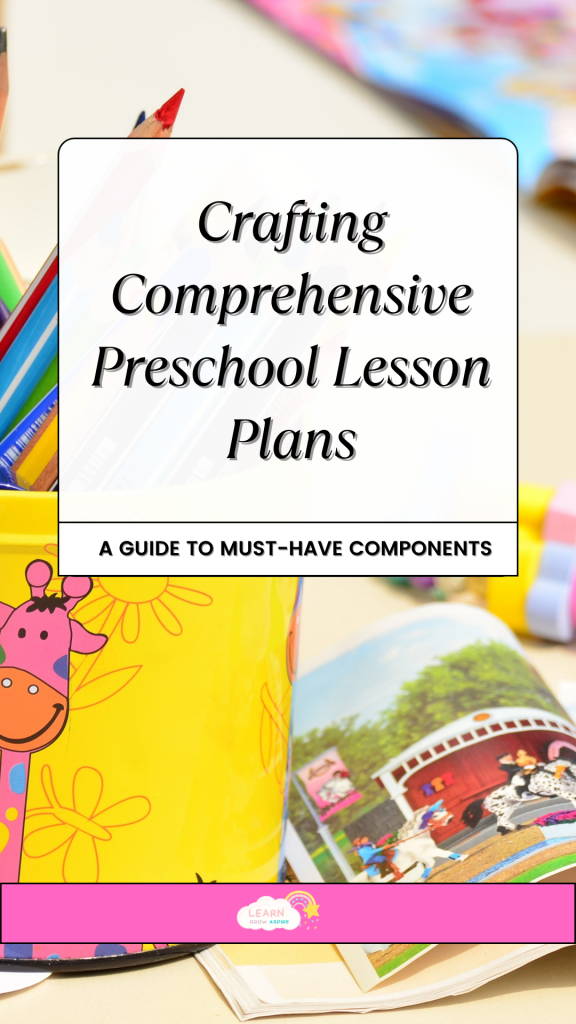 Every preschool lesson plan should start with clear learning objectives. These objectives outline what you intend to teach and what you expect your child to learn by the end of the lesson.
Learning objectives help you stay focused and ensure that your teaching /values align with specific educational goals.
Morning Routine:
Start the day with a predictable morning routine to help your preschooler transition into learning mode. This might look something like this:
Waking up at a consistent time: By doing this you will be setting the tone for the day.
Breakfast together: I know as a busy homeschooling educator, this might not always be possible. However, sitting down together with your preschooler and sharing a nutritious breakfast may encourage healthy eating habits.
Morning exercise: Incorporate physical activity into the morning routine with a short dance session or a walk in the backyard. I love GoNoodle and Cosmic Yoga for this! Both activities can be found on YouTube.
Circle Time / Morning Basket
Circle time or morning basket if you will – is a great way to kick off the academic portion of the day.
It's a wonderful way to connect with your toddler as you begin your day in a fun-like manner.
Here are some suggestions that you can consider:
Gather in a designated area: Create a cozy and inviting space for circle time with a rug or cushions, favorite plushies, or pop-it. You can start off with a reflection on yesterday or talk about one of their favorite cartoon characters.
Calendar and weather: Discuss the date, day of the week, and what the weather currently looks like. You can also teach basic weather concepts here as well.
Storytime: Storytime is my favorite part of the day! My kids are 7 and 10 (at the time of writing this post) and absolutely still love storytime. There's something so special about storytime. We usually either do a read-aloud (from YouTube) or I will read to them. At a preschool level, you can also sing songs, and introduce a new theme or focus topic for the day.
Educational Activities:
Preschoolers thrive on hands-on learning experiences. And that's one of the many reasons I love The Preschool Box!
Plan a variety of short educational activities that will cover different subjects.
Now, of course, you won't be able to include all subjects every day. Personally, I always aim for math and language arts daily with lots of drawings and coloring.
Math: Use counting games, shape recognition, sorting, identifying colors, matching items, building fluency in writing numbers, and simple addition or subtraction exercises.
Language arts: Encourage language development through storytelling, letter recognition, and phonics activities. Working on pencil grip, building reading and writing fluency, practicing writing and spelling names, sight words, etc (You can download a free sight word activity pack from our resource page.)
Science: Explore the natural world with simple experiments, life cycles of different animals, space, and solar systems, nature walks, or observing and discussing the weather.
Arts and crafts: Foster creativity with art projects using different materials like paints, clay, or recycled items.
Music and movement: Incorporate music and dancing to develop rhythm and coordination.
Breaks and Snacks:
Preschoolers have shorter attention spans, so be sure to include regular breaks and healthy snacks to keep their energy up.
Short play breaks: Allow your child to have short breaks for unstructured or independent play or a quick outdoor activity.
Healthy snacks: Provide nutritious snacks to keep their energy levels stable.
Lunchtime:
Take a break from learning and enjoy a family lunch together.
Use this time to bond and discuss the morning's activities. What excited him the most? What activities is she interested in learning more about?
You can even go further by asking your child what part of the day he found not the most enjoyable and why he felt that way.
These discussions will help you gauge your child's learning style, strengths, and areas that may need extra support.
Afternoon Play and Exploration:
The afternoon is a great time for open-ended play and exploration. If TV is allowed, it's a great time to allow your kids to unwind with their favorite cartoons.
In my opinion, kids tend to learn a lot from cartoons, TV shows, and/or movies!
Some of my favorite shows are:
Numberblocks
Alphablocks
Wolfoo
Daniel Tiger's Neighbour
Include Outdoor Play In Your Preschool Lesson Plan
Head outside for fresh air and physical activity, such as playing on a swing set or exploring nature. This time can be considered physical education!
Free play:
A child learns through play!
Encourage your child to engage in imaginative and creative play with toys, puzzles, and building blocks.
You can also rotate toys so that your child doesn't get bored from having the same toys to play with.
Quiet Time:
Quiet time is important for preschoolers to help them recharge and promote healthy development.
Here are some considerations and tips for implementing rest or quiet time for preschoolers:
Set a Duration: Determine how long rest or quiet time should last based on your child's age and needs. Typically, it ranges from 30 minutes to 2 hours.
Stay Nearby: It can be reassuring for preschoolers to know that an adult is nearby. You can use this time to catch up on quiet tasks like reading, working, or relaxing yourself.
Quiet Activities: Provide quiet activities that encourage relaxation and self-soothing, such as reading books, coloring, or doing puzzles. Soft, calming music can also be played if it helps your child relax.
Transition Period: Gradually introduce rest or quiet time if it's a new routine for your child. Start with shorter periods and gradually extend them as your child gets used to it.
Quiet time is not only for the child's benefit but also for the caregiver's well-being.
It offers a break in the day to recharge and can contribute to a more harmonious household. Tailor the routine to your child's individual needs and make it a positive and calming experience.
Naptime
Younger preschoolers, typically aged 3-4, may still need a short nap during the day.
Ensure they have a quiet, comfortable place to nap if needed.
Evening Routine:
As the day winds down, establish a calming evening routine.
Family dinner:
If possible, have a set time for a delicious and nutritious family dinner.
Storytime:
Read a bedtime story to foster a love of reading.
Bedtime routine:
Maintain a consistent bedtime routine to ensure your child gets enough rest.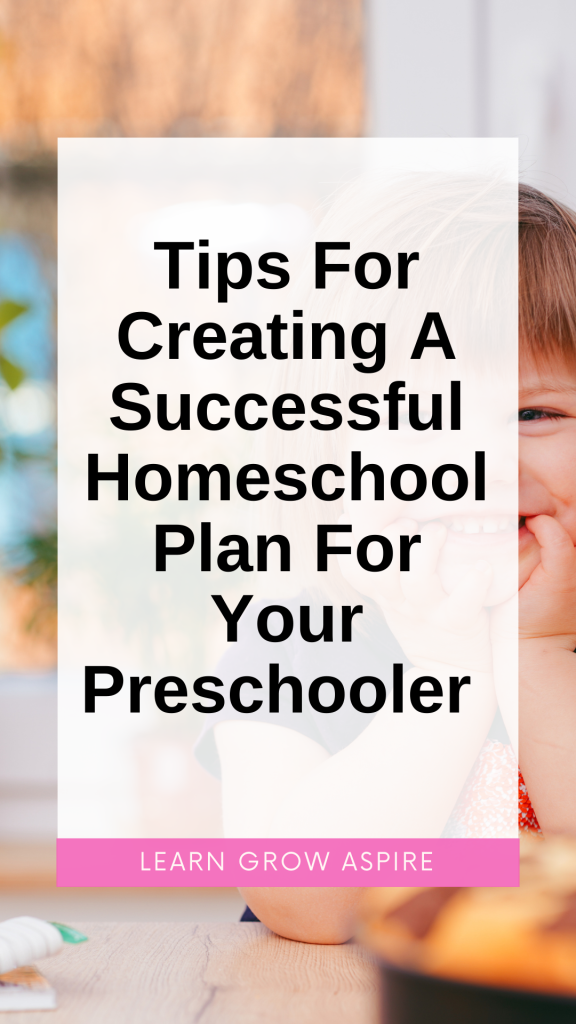 Homeschooling a preschooler is a wonderful opportunity to shape their early education and spend quality time together.
While flexibility is key, having a structured daily routine can provide stability and foster your child's growth and development.
Every child is unique, so tailor your homeschooling day to suit your child's individual interests and needs.
By balancing education and play, you can create a positive and enriching homeschooling experience for your preschooler.
Some of the links in this post may be affiliate links. I'm also an Amazon Affiliate and will occasionally link to some of my favorite Amazon products. I will receive a small percentage back if you purchase through my link. You won't be charged a penny more if you shop through my links. That said, I do NOT recommend anything I do not use and love! Thank you for helping support my blog!