Homeschooling is a deeply personal journey. One where parents find themselves navigating a sea of educational philosophies. Each with its own unique approach. Two of the most well-known educational methodologies are Montessori and Charlotte Mason. In this blog post, we'll dive into the differences between Montessori And Charlotte Mason philosophies to help you make an informed decision about which might be the best fit for your kids.
The Difference Between Montessori And Charlotte Mason?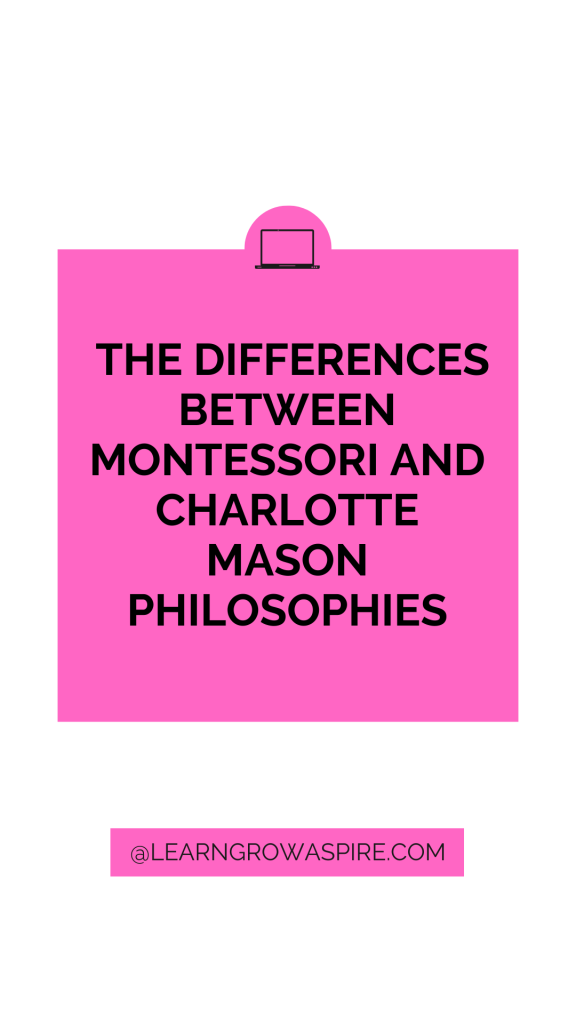 First up we will take a look at the Montessori method!
The Montessori Method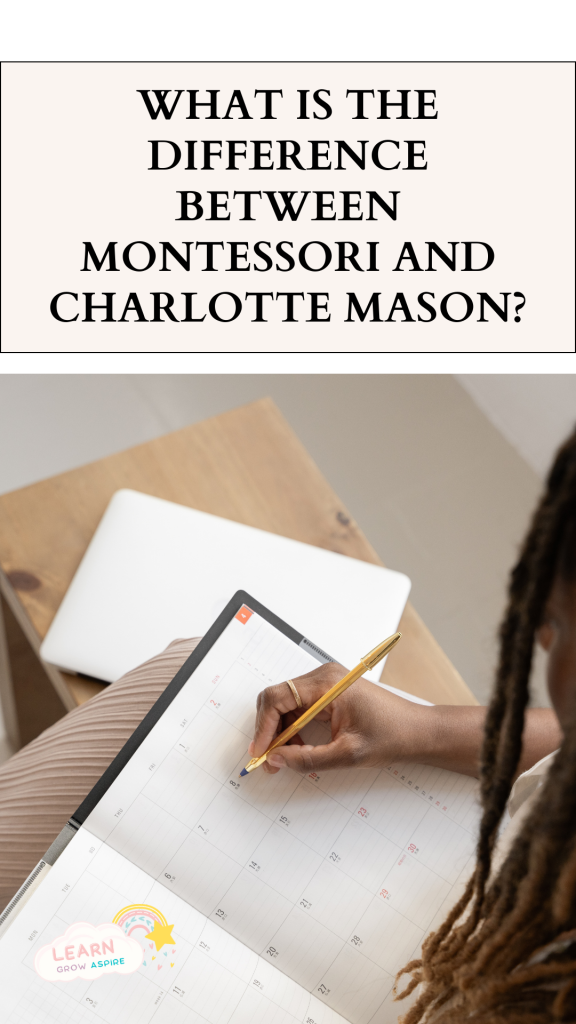 The Montessori Method was developed by Dr. Maria Montessori in the early 20th century. This approach is centered around the idea that children are naturally curious and capable of self-directed learning. (Something we can all agree on as homeschoolers, right?!)
Here are some key characteristics of the Montessori approach:
1. Child-Centered Learning:
Montessori are carefully prepared environments where children have the freedom to choose their activities and explore at their own pace. Parents act as guides, observing and assisting when necessary.
A classic example of this would be having a center/section in your homeschooling room dedicated to practical life activities. This area is filled with child-sized tools and objects allowing your kids to engage in real-life tasks independently.
For example, there may be a table with various materials for pouring and transferring liquids, like water or grains, into different containers.
2. Hands-On Learning:
Montessori materials are designed to be self-correcting, encouraging children to learn through exploration and discovery.
These materials cover a wide range of subjects, from math to language to practical life skills.
That's one of the main reasons I love the Preschool Box. It offers kids an opportunity to tap into their creativity with all the supplies in one place.
3. Mixed-Age Groups:
In the Montessori learning approach, mixed age groups are a fundamental aspect of the classroom structure.
The idea behind mixed-age groups is to create a more natural and dynamic learning environment that mirrors real-life situations.
Here's an example of mixed-age groups in a Montessori classroom:
Age Range: In a typical Montessori preschool or primary classroom, you might find children ranging in age from 3 to 6 years old.
This age range encompasses what would traditionally be considered the preschool and early elementary school years.
This approach will work really well for you if your kids are around that age group.
4. Emphasis on Independence:
Montessori education places a strong emphasis on fostering independence, both in learning and in practical life skills.
Children are encouraged to take care of their environment and themselves.
A typical example would be teaching your child the practical life skill of pouring water independently.
So to sum this up in a nutshell the Montessori method is all about nurturing independence and self-directed learning.
Now, that we've covered the Montessori approach let's take a look at the ever-so-popular Charlotte Mason style of learning.
The Charlotte Mason Approach
The Charlotte Mason approach, founded by Charlotte Mason in the 19th century, is characterized by its belief in "living books." And the idea that children should be exposed to a wide range of rich, intellectual content.
As a homeschooling educator, I fully agree with this approach to learning.
Here are some key aspects of the Charlotte Mason approach:
1. Living Books:
Charlotte Mason advocates the use of living books—books written by passionate authors who convey their subject matter in an engaging and narrative style.
These books are chosen to inspire a love of learning.
Some examples of these books are as follows:
2. Short Lessons:
Charlotte Mason recommends short, focused lessons to maintain a child's attention and enthusiasm.
She believed that children could learn effectively through shorter, more frequent lessons rather than long, monotonous ones.
This is also the approach I take with both of my kids and have found so much value in it!
Short, focused lessons also work great with younger kids and that's because their learning span is shorter.
Short lessons will also be effective if your child has ADHD which requires them to be moving constantly.
In my opinion, there is so much value in aiming for short, focused lessons as opposed to longer sessions that can be quite overwhelming for both you and your kids.
3. Nature Study:
Nature study is a significant component of Charlotte Mason's approach.
Children are encouraged to spend time outdoors, observing and recording their observations in a nature journal. This practice fosters a connection with the natural world.
You can grab a sketchbook or journal for the dollar store or you can get something a bit cuter over at Erin Condren's shop. 
4. Narration:
Narration is a cornerstone of the Charlotte Mason method.
Children are asked to narrate what they've learned, which helps develop their comprehension and communication skills. It also allows parents to gauge their understanding.
A typical example of this would be reading a living book about the American Revolution to your kids. This book is rich in detail and narrative, making history come alive.
After the reading, there is a brief discussion to clarify any questions or concepts that may have been unclear to your kids
You then encouraged your kids to use their own words and describe the events, characters, and key points of the American Revolution.
Older kids are encouraged to write a short paragraph whereas younger kids can simply have a discussion with you the parent.
5. Gentle Discipline:
Charlotte Mason advocated for gentle discipline and emphasized the importance of forming good habits in children.
She believed in respecting the child as a person and nurturing their character.
Gentle discipline in the Charlotte Mason approach aligns with the philosophy of fostering a loving and respectful atmosphere. One in which children learn not just academic subjects but also important life lessons about character, values, and responsible behavior.
Choosing the Right Fit
While Montessori and Charlotte Mason differ in their approaches, both philosophies share a common goal. And that is to provide a rich and meaningful education that respects the child's individuality.
The choice between the two often comes down to your child's personality, your educational values, and your practical considerations.
If your child thrives in a self-directed, hands-on environment with a focus on independence, Montessori might be the right choice.
However, on the other hand, if you're passionate about exposing your child to great literature and nurturing a love for learning through engaging, living books, the Charlotte Mason approach might be a better fit.
Ultimately, what matters most is that your chosen educational philosophy aligns with your family's values and creates a positive and engaging learning environment for your child.
Regardless of the approach you choose, remember that your active involvement and genuine love for learning will be the most influential factors in your child's educational journey.
Some of the links in this post may be affiliate links. I'm also an Amazon Affiliate and will occasionally link to some of my favorite Amazon products. I will receive a small percentage back if you purchase through my link. You won't be charged a penny more if you shop through my links. That said, I do NOT recommend anything I do not use and love! Thank you for helping support my blog!