Are you looking for an enriching and educational adventure for your little ones? But you are unable to find "the right" educational tools for your preschooler? Sometimes finding engaging and fun activities for your preschooler can feel like searching for a needle in a haystack. However, a magical solution has emerged in the form of a subscription box tailored specifically for kids: The Preschool Box Subscription!
What Is The Preschool Box Subscription?
The Preschool Box subscription is a  gateway to a world of imagination, discovery, and education for your little one.
With its thoughtfully curated activities, focus on fundamental skills and parent-child bonding; this subscription box will undoubtedly unlock your child's creativity.
A delightful subscription service of interactive learning activities, designed to ignite curiosity, spark creativity, and foster a lifelong love for learning.
Each month, a new box arrives at your doorstep. How fun is that!? Boxes are shipped on the 20th of each month.
The box is filled with exciting games, crafts, puzzles, and engaging storybooks. Every item inside the box is designed to cater to your child's developmental needs.
Your preschooler will have tons of fun as she explores the wonders of The Preschool Box. In fact, she will be excited every time she sees a new box rolling in.
Why Your Preschooler Needs The Preschool Box?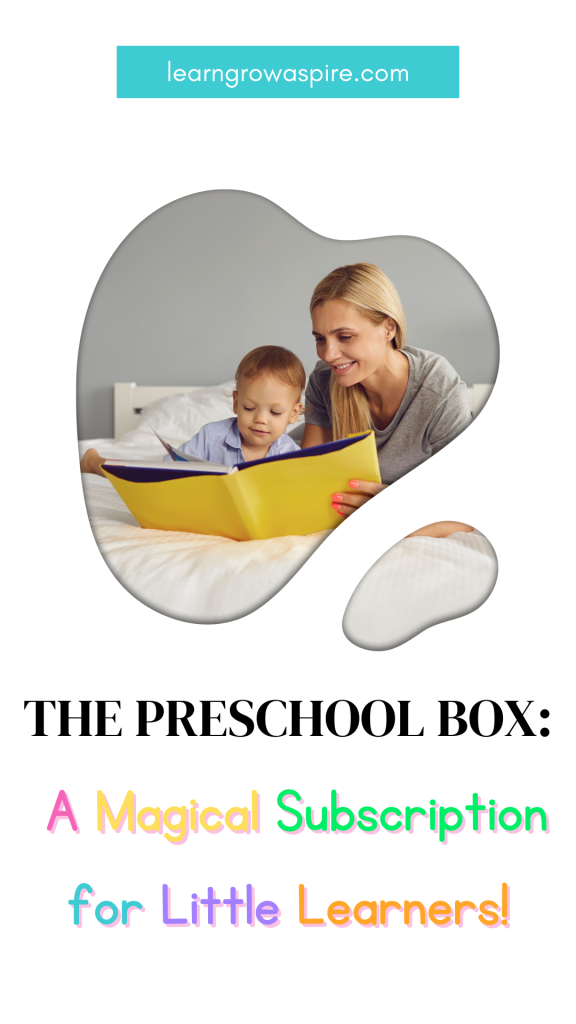 1. Foster Learning through Play:
It's proven time and time again that children learn best through play.
The Preschool Box acknowledges and embraces this idea. This is a classic reason why every month, they include well-curated activities. Striking the perfect balance between education and entertainment.
2. Hands-On and Interactive:
The Preschool Box believes hands-on learning experiences are key to a child's cognitive and motor skills development.
Thereby introducing age-appropriate activities, such as tracing letters, counting colorful objects, and story books. This will allow your child to actively explore and absorb essential concepts, making learning enjoyable.
3. Personalized Learning Journey:
One of the most outstanding features of The Preschool Box is its ability to adapt to each child's individual learning journey.
After subscription, you will provide relevant information about your child's skills and interests. Doing so will allow the team at The Preschool Box to tailor the contents of each box accordingly.
This personalized touch ensures that the activities are neither too easy nor too challenging for your kiddo. Thereby fostering a sense of accomplishment and boosting your child's confidence.
4. Screen-Free Learning:
In an era where screens seem to dominate every aspect of our lives, The Preschool Box offers a breath of fresh air.
The activities provided are entirely screen-free, encouraging children to immerse themselves in imaginative play and hands-on exploration.
As a result, kids are more likely to develop healthier screen time habits while reaping the educational benefits.
5. Parent-Friendly Resources:
The Preschool Box isn't just a delight for kids; it's also a lifesaver for busy parents.😉
The subscription comes with a comprehensive Parent Guide, providing clear instructions on how to use the materials effectively and support your child's learning journey.
As a parent who is actively looking to engage in your child's early education. You will absolutely love that you enroll in The Preschool Box Subscription.
6. Building Lifelong Learning Habits:
The Preschool Box is more than just a monthly subscription; it's a catalyst for building lifelong learning habits.
Children are more likely to carry this passion into their academic years and beyond when we, as parents and caregivers, instill a love for learning at an early age.
The skills acquired through these educational activities will serve as a solid foundation for future learning and academic success.
If you are seeking to provide your little ones with an enriching, educational, and engaging experience, Then The Preschool Box Subscription will be a game changer in your life! (And your kiddos too!)
On the other hand, if you're not up to subscribing, you can always head to their website and check out their one-time purchase boxes. 
By combining play and learning in a harmonious way, The Preschool Box Subscription empowers preschoolers to develop essential skills while nurturing their creativity and imagination.
Embrace the joy of learning and give your preschooler the gift of The Preschool Box—a remarkable journey of growth and development that will leave a lasting impact on their educational journey.
Want more fun activities and resources for your little one? Then head on over to free resources for K – second grade. 
Some of the links in this post may be affiliate links. I'm also an Amazon Affiliate and will occasionally link to some of my favorite Amazon products. I will receive a small percentage back if you purchase through my link. You won't be charged a penny more if you shop through my links. That said, I do NOT recommend anything I do not use and love! Thank you for helping support my blog!