In need of Christmas gift ideas for kids? Something that's not necessarily trendy but rather unique, fun, engaging, and educational. Gifts that will have a positive and lasting effect on the lives of those special kids in your lives. Whether it's your kids, godchild, grandbabies, nieces, or nephews.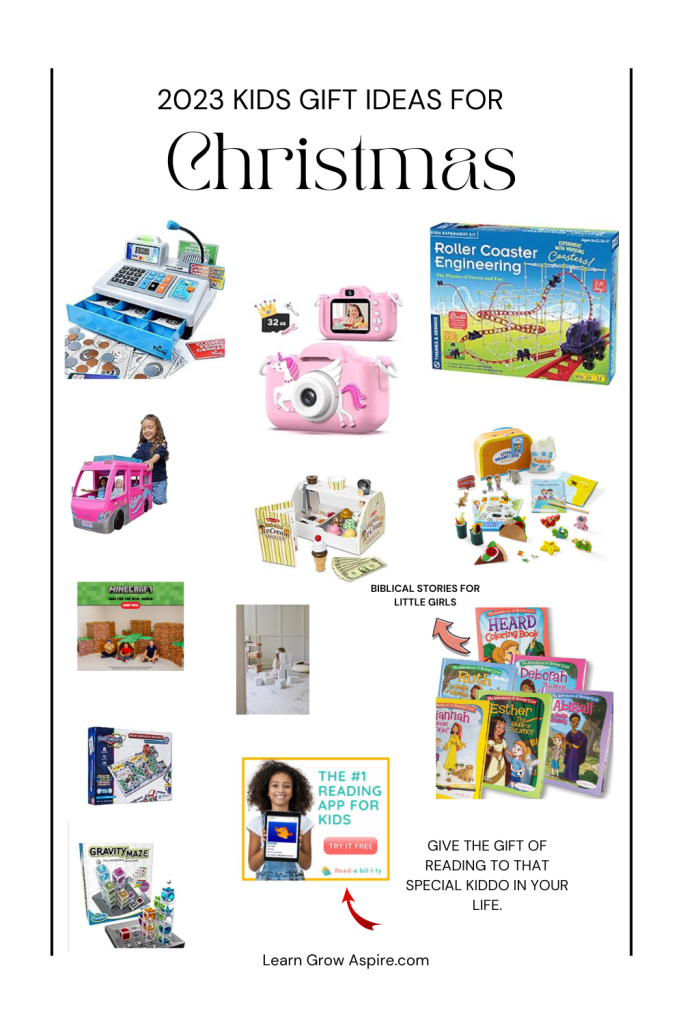 You're in luck!
I've compiled a well-curated list of Christmas gift ideas for kids meeting all the above criteria.
So, without further ado, let's dive in!
*27* Christmas Gift Ideas For Kids
I will be adding to this Christmas Gift Ideas For Kids Guide as I continue my Christmas shopping. Chances are you will be seeing way more than 26 gift ideas. 😉
1. The Preschool Box
Finding educational and fun activities for preschoolers is not always as easy as many may think!
The Preschool Box promotes dexterity, fosters a love for reading, and allows kids to be creative.
The Preschool Box is a subscription service that delivers a box of goodies every month for a year.
You can also make a one-time purchase or gift a gift card.
2. Green Kids Craft
Stem learning for kids between the ages of 3 – 10+.
Similar to The Preschool Box mentioned above, this is a subscription service; however, you can also purchase a single box.
The Green Craft Kit will give you 4-6 science and art projects plus a magazine.
This is a great opportunity to contribute to a child's learning path while helping out their parents.
3. Make-A-Fort
Building forts is one of those go-to activities that kids enjoy when stuck inside during those cold, blizzard months of winter.
It's fun and enjoyable and creates lasting memories for a lifetime!
Make-A-Fort takes the hassle of finding pillows, sheets, chairs, and clothes away. Providing your kids with everything they need to build a fort!
4. Bricklettes
Aesthetic blocks that not only look good in your living spaces but also provide your little ones with so much fun while building and stacking blocks
Sign up for their newsletter and get 10% off your purchase.
5. Cocomelon Boo Boo JJ Deluxe Feature Plush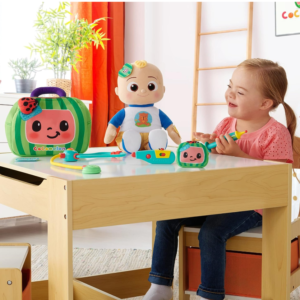 Okay! If you are shopping for someone's child it's a good idea to make sure it's parent approve. So parents are fine with Cocomelon others are not! Kids love Cocomelon so I'm adding it to 2023 Hottest Christmas Gift Ideas For Kids!
6. Tickles Me Elmo
This tickles me Elmo is the cutest toy ever for young kids! They will have so much fun playing and giggling with Elmo all while learning. I absolutely love this Elmo!
7. Tracing Pads
Allow the kids in your life to tap into their creativity with this super cute light-up tracing tablet.
It's lightweight and a great grab-and-go gadget for long car trips.
8. Unicorn Soap Lab
A great little fun and engaging DIY science kit. That allows kids to make their very own soap.
Great gift set for kids who want to follow the entrepreneurial path.
9. Truth Becomes Her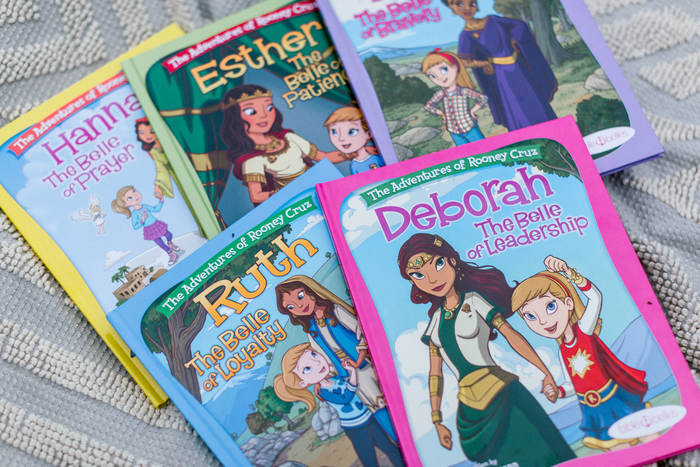 Perfect book collection for the little girls in your life!
The Heard Series will empower the young girls in your life to grow into strong, resilient, brave, and confident women.
The Truth Becomes Her series offers stories of 5 main women from the bible.
Hanna, Esther, Deborah, Ruth, and Abigail.
10. Littlest Pet Shop Collectors
My kids have been obsessed with these adorable pets! It's a great kit for kids to take with them on long car rides as well as play with at home. Your kid will be so engaged that you will have to call and check in on him/her a few times. I do I had to!
11. Little Passports
Little Passports products will inspire the kids in your life to learn about the world through educational toys and characters that they love.
This is another subscription-based program that will not disappoint but rather be a year-long learning adventure.
12. Cash Register
A  cash register  is a phenomenal way to teach kids money, numbers, social skills, and even entrepreneurial skills.
This cash register is amazing because it's interactive and comes in three different languages – English, Spanish, and French. A perfect opportunity to help your kids learn a few words in different languages.
13. Legos
Legos have been our go-to toys for the last couple of years, and this year, it's going to be the same.
This exact Lego set is in my shopping cart for my 10-year-old, along with the Botanical Garden Set, Nova's Room, and Heartlake International School 
14. National Geographic Kits
As a homeschooling family, we use many kits and activity books from National Geographic Kids. 
Their readers' collections are great for promoting and building reading fluency.
15. Gravity Maze
If you are looking for something other than Lego that will inspire creativity- look no further than this gravity maze!
This is not only a great gift when it comes to challenging the mind of that special kiddo in your life. But it's also fun and engaging!
Perfect gift for kids who love building and putting things together!
They will be playing this game for hours and hours.
16.
Roller Coaster Engineering STEM Kit
Got a kiddo who loves all things roller coaster? This roller coaster engineering from Thames and Coaster needs to be in your shopping cart without any doubts!
Another great building activity for kids who love assembling Lego but want something a bit more challenging.
Your child will learn the basic principles of engineering in a fun and engaging way.
17. Snap Circuits Classic SC-300 Electronics Exploration Kit 
This toy is geared towards 8+.
Perfect and fun for teaching kids about electricity, circuits, and physics.
With a little help from an adult, kids can make various projects such as burglar alarms, doorbells, and much more!
18.
Magnetic Tiles
My son, who is 7, has had his set of magnetic tiles since he was 4, and he still absolutely loves them!
They are fun and keep him engaged for a long period of time as he taps into his imagination and creativity to build rockets, homes, skyscrapers, and so much more!
19.
Kids Tool Set
Got a little fixer up around?
Always looking to mend things or help mom and dad with requirements regardless of how tough the job might be? If so, you may want to consider taking a peek at this amazing tool set! 
20.
Water Doodle Mat
This is the perfect little gift for a kid who loves drawing and coloring but has a hard time keeping those crayons and markers off the walls, sofa, and floors!
It's super easy to grab and go – so if you're a family that travels or stays over with the grands often. This will be a perfect item to add to your carts.
21. Cleaning Set
This 12-piece set will keep the little ones in your life busy for a long period of time as they clean pretty much everywhere in their home!
This is a great gift for pretend play and for teaching kids responsibility!
22.
OUTUVAS Unicorn Kids Camera
Have you ever opened your phone camera roll and noticed random pics you never took? Me too!
Many times the pics were perfect, and I loved them!  But we also had times when I couldn't recognize what the images were!
This cute little camera will be the reason for screams on Christmas morning when your potential photographer unwraps its box!
23.
BBQ Grill Set
Okay, it's not summer! But who won't enjoy having a juicy hamburger or corn on the cob year-round?
This grill is for all the young and aspiring chefs! If you have one in your life, you need to add this to your carts.
Your little chefs will spend hours pretend-playing.
24.
Scoop and Serve Ice Cream Counter 
Melissa and Doug's toys/puzzles have never failed us before!
Every one of their products stimulates and encourages our kids to learn and be creative.
25.
Barbie Camper Playset
Got a little girl in your life who loves Barbies? I got one of them!
She's 10, still loves them, and probably will for the rest of her life!
This camper playset is one of her favorites and has allowed her to have endless hours of pretend play.
26. Wooden Name Puzzle

This is a fantastic Christmas gift for younger kids who are working on learning how to spell their names and their dexterity. The best part is each item is made from organic materials (because you know the chances of those pieces getting into your toddler's mouth).
Another great feature of these personalized wooden name puzzles is that each piece of the puzzle has a smooth surface making it easier for those little hands to manipulate.
Visit Child Universe To See these wooden puzzles in action!
27. Pretend First Aid Kit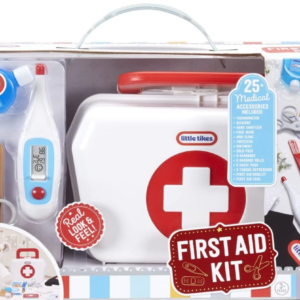 The perfect gift for toddlers who love playing doctor! This set is a great gift to encourage pretend and imaginative play.
Pin For Later
Save these Christmas gift ideas for kids to your Christmas kids gift guide board on Pinterest!
So, there you have it! 27 Christmas gift ideas for kids that will surely put a smile on their faces on Christmas morning! Let me know in the comments what are some of your favorite Christmas gift ideas for kids in 2023.
Happy Holidays!
Some of the links in this post may be affiliate links. I'm also an Amazon Affiliate and will occasionally link to some of my favorite Amazon products. I will receive a small percentage back if you purchase through my link. You won't be charged a penny more if you shop through my links. That said, I do NOT recommend anything I do not use and love! Thank you for helping support my blog!