As summer comes to an end, it's time to gear up for a new academic year filled with opportunities, growth, and exciting adventures. And what better way to kickstart the school year than with Erin Condren Back-to-School Planners? Whether you are a teacher, homeschooling mama, or student, these stylish and functional planners are designed to help keep you organized, motivated, and on top of your game this school year.
In this blog post, we'll explore the many features and benefits of Erin Condren Back-to-School Planners and how they can become your secret weapon for a successful academic journey.
Why You Need An Erin Condren Back To School Planner
1. Personalization and Customization:
One of the standout features of Erin Condren planners is their ability to be personalized and customized to suit your unique style and needs. You get to choose your cover and coil styles, layouts, and design options!
If you are looking for a planner that truly reflects your personality with a sleek and minimalistic look, or maybe you are like me and prefer a vibrant and colorful layout. Erin Condren will ensure your satisfaction!
I absolutely love their homeschooling planner! It has spots for weekly, monthly, and yearly planning. An undated 12-month calendar, checklist, notes, and yes! Stickers- because who doesn't like stickers?!
2. Thoughtful Layouts:
Erin Condren Back-to-School Planners offer a variety of layouts tailored to meet the needs of students, teachers, and homeschooling parents.
From daily, weekly, and monthly spreads to goal-setting and habit trackers.
These planners are designed to help you stay organized, prioritize tasks, and manage your time effectively.
There's sufficient writing space for to jot down important assignments, due dates, extracurricular activities, and study schedules in one place. There's no need to cram all your notes into a tiny box. I'm a huge fan of these spaces! Definitely a pain-point tackle!
3. Inspirational Quotes and Positive Affirmations:
If you've been in my world for some time, you will know how much I love affirmations.
If you're a teacher, make sure to check out my positive affirmations for teachers and homeschooling mamas; there's a free collection of affirmation cards waiting for you over in our resource section.
Back to Erin Condren, Back-to-School Planners!
Starting a new school year can sometimes be overwhelming for everyone. And I do mean everyone!
That's why it's imperative to stay motivated and inspired.
Guess what?
And it's probably not going to be that surprising, considering that Erin Condren always over-delivers.
That's right! Their planners feature uplifting quotes and positive affirmations throughout their pages. Which I absolutely love because these positive affirmations act as reminders to help us stay focused during those tough days we all face. As students, homeschooling educators, and teachers.
I find that these little doses of inspiration can make a big difference in our daily routines. Helping us to navigate any obstacles that come our way.
4. Functional Accessories:
Erin Condren understands that staying organized goes beyond just having a planner. That's why they offer a wide range of functional accessories that complement their planners perfectly.
From colorful stickers for marking important events and deadlines to sticky notes and bookmarks for easy referencing.
These accessories enhance the usability and functionality of your planner.
With Erin Condren, you'll have everything you need to stay on track throughout the school year.
(Check out the teacher favorites collection) 
5. Durability and Quality: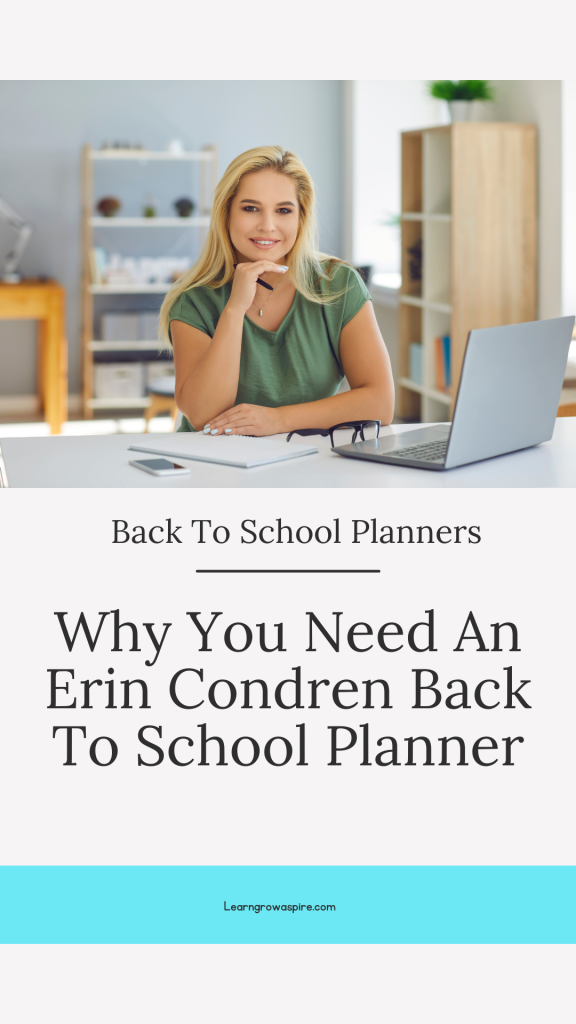 When investing in a planner, you want it to last the entire school year. Well, that's another characteristic of Erin Condren planners.
Known for their exceptional quality and durability. With sturdy covers, reinforced coil binding, and thick, high-quality paper, these planners can withstand the wear and tear of daily use.
You can confidently carry your planner in your backpack or tote bag, knowing that it will stay intact and protect your valuable information.
Getting back into the school routine doesn't have to be overwhelming!
With an Erin Condren Back-to-School Planner, you can start the academic year with confidence, organization, and style. From personalized covers to thoughtful layouts and inspirational quotes, these planners offer a comprehensive tool for managing your time, setting goals, and staying motivated.
So, why not invest in an Erin Condren planner and make this school year your most successful yet?
Leave a comment telling me which back-to-school planner you got for this academic school year.
Happy Back To School Shopping!
Some of the links in this post may be affiliate links. I'm also an Amazon Affiliate and will occasionally link to some of my favorite Amazon products. I will receive a small percentage back if you purchase through my link. You won't be charged a penny more if you shop through my links. That said, I do NOT recommend anything I do not use and love! Thank you for helping support my blog!