Homeschooling has always been a thing! But in the last few years, it has gained tremendous popularity as an alternative form of education because of its numerous benefits and endless opportunities to raise kids upright. Suppose you find yourself considering homeschooling for the first time. In that case, this blog post is here to provide first time homeschooling parents (aka you) with essential guidance and practical tips to ensure a successful homeschooling journey.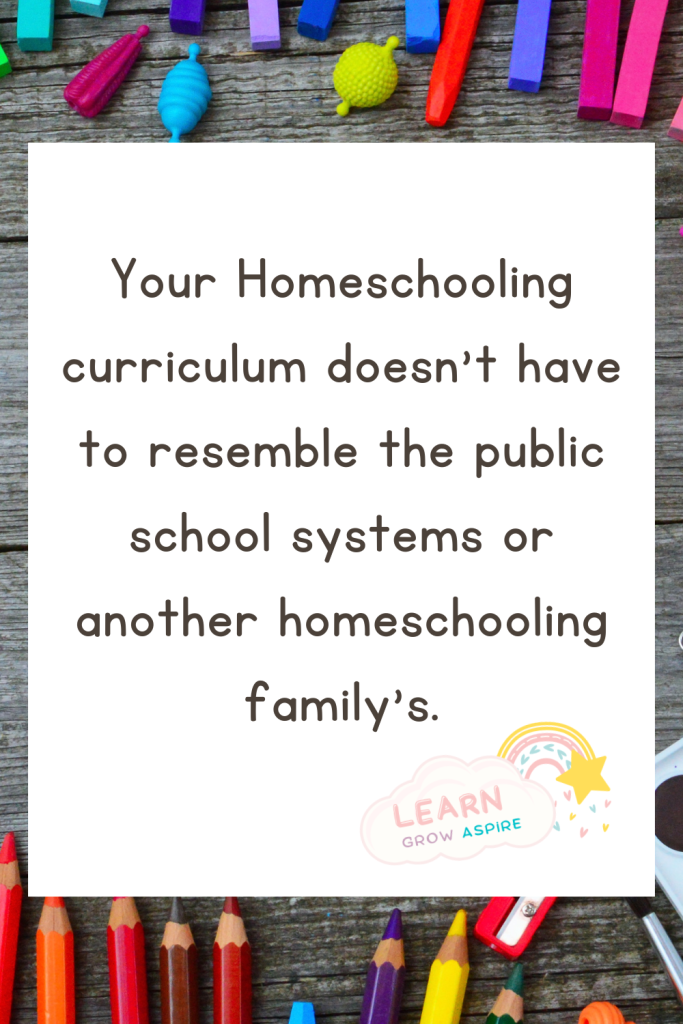 A Guide For First Time Homeschooling Parents
1. Identify Your Why:
Before diving into homeschooling, reflecting on your reasons for choosing this path is critical. Why do you want to homeschool your kiddos?
Is it because you no longer trust the traditional school system?
Is it because your child is not getting the personalized education he requires?
Do you want to instill specific values or religious teachings?
Recognizing and understanding why you want to homeschool your child will help you set clear goals and maintain focus throughout the homeschooling process.
2. Research State Laws and Requirements:
Each state or country has its own set of homeschooling laws and regulations. So please, please research and familiarize yourself with the legal requirements for your area. This step is crucial.
You can do this by simply doing a Google search or contacting your state/province's educational system.
Doing your research will provide you with the knowledge needed to comply with the obligations, such as registration, record-keeping, and assessment procedures.
3. Define Your Curriculum:
This is one of my favorite parts of homeschooling, but it can sometimes be so frustrating for first-time homeschooling parents.
Here's a reminder your curriculum doesn't have to resemble the public school systems or another homeschooling family's.
You can decide and tailor the curriculum to your child's needs and interests.
You can do this by identifying the core subjects you want to cover. Maybe it's only math, language art, and reading for the first few months.
Or maybe you want to include math, science, social studies, reading, and language art.
Your curriculum can also look like home economics, agriculture -science, music, and Spanish.
Explore various educational resources, textbooks, apps, online courses, and homeschooling support groups to create a well-rounded curriculum that aligns with your goals. And don't be afraid to switch it out if it's not what you were hoping for.
4. Set realistic goals and create a schedule:
Establishing clear goals and creating a schedule will help you maintain order and progress in your homeschooling journey.
If you're not sure what your goals are regarding homeschooling, revisit step 1. Why did you choose to homeschool and set your goals around your why?
One of your goals might be to help your child speak and write more fluently. Another goal can be to cultivate a mindfulness and gratitude practice. Build your child's math fluency.
When you are setting goals, have realistic expectations keeping in mind your child's unique learning pace and style.
When it comes to structuring your day  – it doesn't have to resemble the typical public school day ( 9:00 am – 3:00 pm)
Your homeschooling day is going to be much shorter. For us, it's 9:00 am – 12: noon, Mondays to Thursdays, with Fridays being "Fun Friday."
Maybe it's from 10:00 am – 12 noon for you or 1.00 pm – 3 pm.
I know families who work and homeschool only on the weekends.
Remember, homeschooling is flexible, and it's meant to make learning fun, not stressful and tedious.
And don't forget to incorporate outdoor play and field trips as well.
5. Cultivate a supportive learning environment:


Homeschooling can take place anywhere!
On the roads, in your camper, kitchen counter, porch, or a dedicated learning space free from distractions.
For us, it's a designated area in our home with the flexibility to move to the dining table if they choose.
The main thing is to foster open communication and provide your child with a safe learning space and emotional support throughout the learning process.
6. Embrace flexibility and adaptability:
One of the many advantages of homeschooling is its flexibility, which I've mentioned a few times in this blog post.
Embrace this freedom and be prepared to adapt your approach as you discover what works best for your child.
Remember that your homeschooling journey is going to be continuous learning and growth for you and your child. It's not a sprint or a competition.
7. Seek Out Support and Resources:
Seeking new connections can be complex, especially if you or your kids are introverted (which most of us are.)
However, connecting with other homeschooling families through local homeschooling groups and participating in online Facebook groups can change your trajectory as a first-time homeschooling parent.
If you have not yet done so, join us at Proud To Be Homeschooling. 
These networks provide an invaluable opportunity to exchange ideas, gain insights, and seek advice from experienced homeschooling parents.
Additionally, explore local libraries, museums, and educational centers for additional resources and learning opportunities.
8. Document and Evaluate Progress:
Keeping records of your child's progress, achievements, and completed assignments is a valuable assessment tool and provides a sense of accomplishment and motivation for you and your child. 
Depending on your area, you may have to submit an end-of-year progress report, so please get familiar with your state's requirements for homeschooling.
Embarking on the homeschooling journey for the first time may seem overwhelming. I know it was for me!
But with careful planning, dedication, and a supportive community, homeschooling will be an enriching and rewarding experience for you and your child.
Remember to embrace the flexibility homeschooling offers, maintain open communication, and cherish the unique opportunities it presents.
Enjoy this privilege where you get to actively participate in your child's education, nurturing their individuality, and witnessing their growth firsthand.
If you have not yet done so, please download our free printable homeschooling planner.
Some of the links in this post may be affiliate links. I'm also an Amazon Affiliate and will occasionally link to some of my favorite Amazon products. I will receive a small percentage back if you purchase through my link. You won't be charged a penny more if you shop through my links. That said, I do NOT recommend anything I do not use and love! Thank you for helping support my blog!