As homeschooling mamas, we face numerous challenges, from juggling dishes, prepping meals, and ensuring the laundry is done so no one goes bottomless to teaching our kids and meeting our goals for ourselves and our children's education. In spite of all these challenges, positive powerful affirmations for homeschooling mamas can be a powerful tool to uplift and motivate an overworked mama like yourself.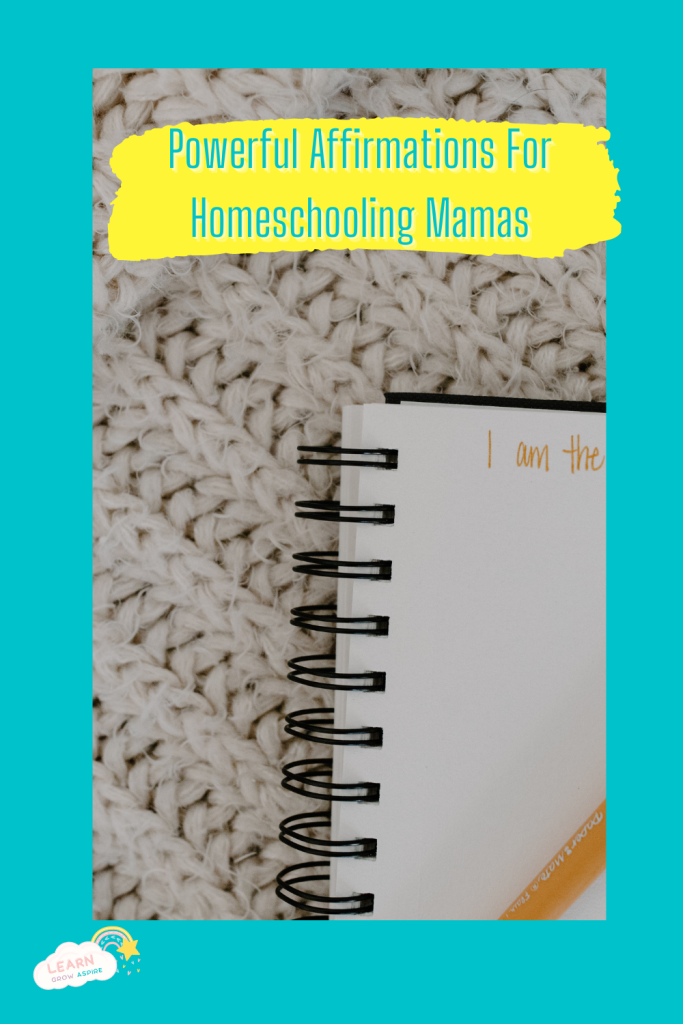 In this blog post, we will explore the transformative effects of powerful positive affirmations for homeschooling mamas and share some empowering affirmations to foster confidence, a positive mindset, and a strong will.
Why a strong will?
Because
Choosing to become a homeschooling mama is quite noble of you. You will be shaping the minds and futures of your kiddos. Homeschooling can sometimes be demanding and requires dedication, resilience, and passion for raising strong humans.
And at some point in your homeschooling journey, you will question why on earth did you decided to homeschool. Fears of not doing enough or depriving your children of a "good education" will show up and rub you on the wrong side.
What are affirmations, and why should you use them?
What are Affirmations?
Affirmations are positive statements that can help rewire your thoughts and beliefs that have the potential to shape your attitudes, boost your confidence, and allow you to take inspired actions.
Using affirmations consistently, can transform your mindset and create a positive ripple effect in your life.
Incorporating affirmations into your daily routines will help you maintain a positive outlook, build resilience, and nurture a supportive learning environment for your kiddos.
Benefits of Using Powerful Affirmations.
1. Helps with cultivating a positive mindset:
Positive affirmations can help you to shift your perspective and focus on the strengths and possibilities rather than dwelling on the challenges you face as a homeschooling mama.
By affirming positive beliefs about yourselves and your abilities to provide a strong family unit and education for your kiddos, you can enhance your self-confidence and create a foundation for growth.
Here are a few affirmations to help foster a positive mindset:
"I am making a difference in my kids' lives."
"I can and will overcome any challenges that come my way."
"I  am capable of teaching my kids and providing them with the best possible education."
"I have the knowledge, skills, and resources to support my kiddos."
"I am creating a safe space for my children to thrive."
"I am open to new ideas, and I am committing to learning and growing as a teacher-mama."
2. Nurturing Self-Care and Well-being:
As mothers, we often prioritize our children's needs, and in so doing, we neglect our own well-being. While at some point in motherhood, this is quite normal, it is crucial to take care of ourselves.
Positive affirmations can serve as gentle reminders to prioritize self-care and maintain a healthy, balanced lifestyle as a homeschooling mama. 
Use these powerful affirmations for homeschooling mamas to nurture your well-being.
" I am committed to taking care of myself so that I can show up and be the best mother to my children."
" I am resilient."
" I am capable of taking care of mine and my kids' needs."
" I am grateful for the impact I am making in my kids' lives."
" I am deserving of rest."
" I allow myself grace when needed."
" I am patient and understanding."
" I am a proud homeschooling mama."
3. Fostering a Supportive Homeschool Environment:
As a homeschooling mom, you will have a profound influence on your kids' lives, not only academically but also emotionally and socially.
By using positive affirmations, you can create a nurturing and positive environment that empowers your kids to reach their full potential.
Here are some affirmations to foster a supportive atmosphere:
" I believe in my children's abilities to be the best version of themselves."
" I will encourage my children to let their voices be heard."
" I will encourage my kids to believe in themselves."
" I create a safe and loving environment for my kids."
"I allow my kids to make mistakes. Through mistakes, they will shine and grow."
" We are a lifelong learning family."
" As a homeschooling family, we continue to grow, learn and evolve."
" Homeschooling brings me joy."

Positive affirmations, when used regularly, have the potential to transform your mindset and enhance your overall well-being.
Practice incorporating these affirmations into your daily routine, (maybe before starting homeschooling) and being to witness a positive shift in your life. From being a more confident homeschooling mama to building resilience to creating a kind and loving environment for your kiddos.
As a homeschooling teacher-mama, you have the power to shape and mold your kids into strong, resilient, confident, and happy humans. Who one day will be able to pass these characteristics on to their kids and grandkids.
A legacy you started!
From one homeschooling mother to another – let's embrace the power of powerful positive affirmations for homeschooling mamas and unlock our full potential – starting today!
PS: If you are an avid reader but find it difficult to carve out time to read. Sign up for Audible and listen to your favorite book today! 
Some of the links in this post may be affiliate links. I'm also an Amazon Affiliate and will occasionally link to some of my favorite Amazon products. I will receive a small percentage back if you purchase through my link. You won't be charged a penny more if you shop through my links. That said, I do NOT recommend anything I do not use and love! Thank you for helping support my blog!