It's that time of the year again when you are excitedly searching through the internet looking for fun and engaging activities to keep your kids busy during the holiday. I've got you covered today. Whether you are a classroom teacher or a homeschooling parent your students/kids will surely enjoy this Christmas scavenger hunt!
And the best part is – there's no need to dish out money because it's FREE for you. That's what the holiday is all about right? Giving, sharing, and spreading joy.
Christmas Scavenger Hunt (36 downloads)
This post was originally published in December 2022 and was updated on September 2023
Suggested Ways To Use This Christmas Scavenger Hunt Activity
A Christmas scavenger hunt can be a fun and engaging activity for kids during the holiday season. Here are some suggested ways to plan and execute a Christmas scavenger hunt for kids:
Divide into Teams:
Divide your class or family members into teams. You can make it competitive or cooperative, depending on your preference.
Prizes:
Offer small prizes or treats at the end of the scavenger hunt for participants. This could be a small toy, a Christmas-themed book, or a special holiday treat.
Incorporate Puzzles:
Add some puzzles or challenges at each location, like a simple jigsaw puzzle or a math problem that reveals where to find the next clue.
Time Limit:
Add some excitement by setting a time limit for the scavenger hunt. If players don't find all the items in the allotted time, have a consolation prize for participation.
Hot Cocoa Break:
If you are playing this game as a family you can set up a hot cocoa station at one of the locations, where the kids can take a break and enjoy a warm treat.
Directions On How To Use Your Christmas Scavenger Hunt Printable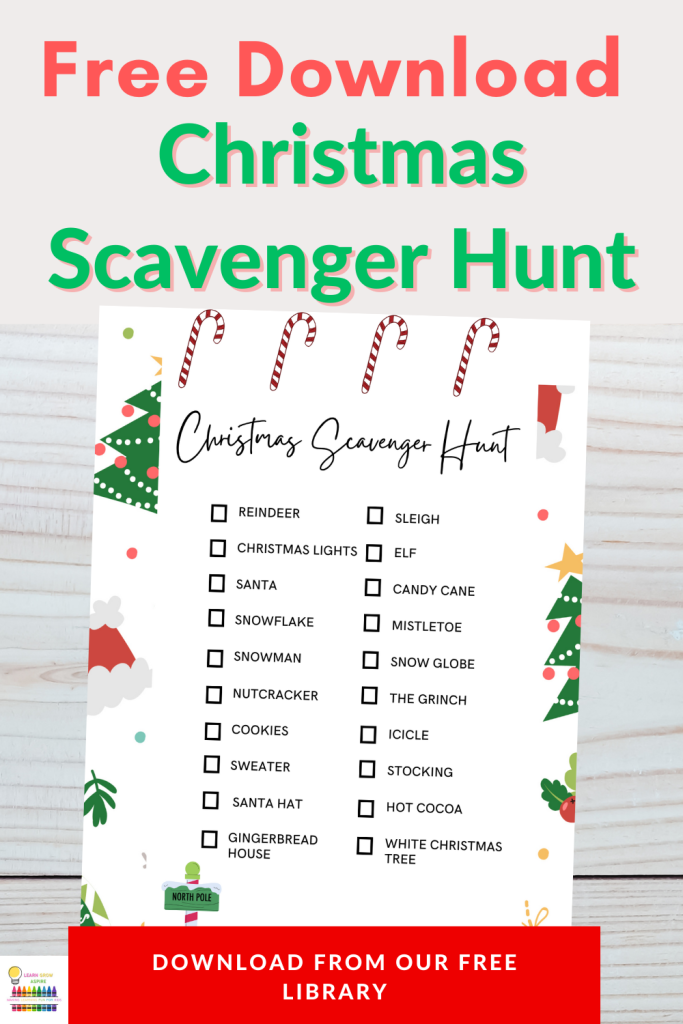 Christmas Scavenger Hunt (36 downloads)
Download your Christmas scavenger hunt
Print and laminate (if possible) for longer-lasting
Set a date and time, and have fun while hunting.
Just a friendly reminder that the scavenger hunt is for personal use only. You can not use these for commercial purposes.
Looking For More Christmas Printable / Teaching Tips/Ideas?
Check out these blog posts for more fun ways to make social studies fun for your students.
→ 🎅Top 15 Christmas gifts for tween girls.
→❄️8 Christmas printables that your kids will absolutely love.
→🎄2023 Christmas gift ideas for kids
→🤶5 Christmas wall art printables
Pin These Ideas . . .
Christmas Scavenger Hunt (36 downloads)
Some of the links in this post may be affiliate links. I'm also an Amazon Affiliate and will occasionally link to some of my favorite Amazon products. I will receive a small percentage back if you purchase through my link. You won't be charged a penny more if you shop through my links. That said, I do NOT recommend anything I do not use and love! Thank you for helping support my blog!