I've seen many parents asking for the best educational shows for all ages on some of the homeschooling Facebook groups I am part of. So I've decided to pull together this list. If you are one of the many parents searching high and low for the best educational shows for all ages you're in luck!
So without further ado, let's dive in! These shows are in no particular order.
10 Best Educational Shows For All Ages
1. Bill Nye the Science Guy
This is an iconic educational program that masterfully combines science with entertainment. Making complex scientific concepts fun, engaging, and accessible to young kids.Through hands-on experiments, catchy music, and lively demonstrations.
The show breaks down intricate topics like chemistry, physics, and biology, making it easy to understand and relatable for kids of all ages.
Bill Nye the Science Guy not only sparks a lifelong passion for science but also fosters critical thinking skills and a deep appreciation for the wonders of the natural world.
2. Odd Squad
 This is one of my kids's favorite shows! They have watched some episodes more than 5 times. No kidding!
Odd Squad is an imaginative and entertaining educational series that captivates young viewers with its blend of math, mystery, and secret-agent adventures. The show follows a team of young agents working for the Odd Squad. An agency dedicated to solving peculiar cases and mathematical problems.
As they tackle bizarre situations like turning people into cheese or unscrambling scrambled hairstyles. Odd Squad seamlessly integrates math concepts into the storyline. This clever approach not only makes math fun but also reinforces problem-solving skills and logical thinking in an engaging and accessible manner.
3. National Geographic Kids
This educational series combines breathtaking footage of animals in their habitats with insightful commentary to engage children's curiosity about the wonders of the Earth.
These documentaries not only showcase the diversity of wildlife but also emphasize the importance of conservation. National Geographic Kids will transport your kids to far-flung corners of the globe. Allowing them to witness the beauty of our planet. As well as the fascinating creatures that call it home.
4. Wolfoo Family
This animated series primarily targets a younger audience, focusing on early childhood development. Teaching important life lessons through imaginative storytelling and fun scenarios. Having said this, I must mention my ten-year-old daughter and seven-year-old son still love watching this show. In fact, at the time of writing this post – they've been watching it every day,
Wolfoo often addresses common challenges and experiences that kids encounter as they grow and learn.
5. Brainchild
Brainchild is another engaging educational series that combines science, history, and pop culture to make learning a fascinating and interactive experience. This show uses a mix of vibrant visuals, hands-on experiments, and humorous sketches to explore complex topics in a relatable and accessible way.
It covers a wide range of subjects – from space exploration and environmental science to the mysteries of the brain. Making it a well-rounded resource for inquisitive minds. The series encourages critical thinking and inspires a passion for discovery.
6. Into the Universe with Stephen Hawking

Through captivating visual effects, and scientific explanations. Stephen Hawking takes viewers on an extraordinary journey through the cosmos.
The series explores some of the most profound questions about the universe. From the nature of black holes to the existence of extraterrestrial life.
Into the Universe offers an accessible yet intellectually stimulating exploration of astrophysics and cosmology. It satisfies the curiosity of space enthusiasts while inspiring a sense of wonder and awe about the vast mysteries of the universe.
This series is an invaluable resource that encourages a lifelong interest in the wonders of the universe and the pursuit of scientific knowledge.
7. The Brain Scoop
An exceptional educational web series that offers an unfiltered and engaging look at the world of natural history and museum education. Through vivid storytelling and hands-on exploration, The Brain Scoop makes complex subjects accessible and intriguing. Whether it's dissecting animals to better understand their biology or showcasing the remarkable collections found in museums.
It fosters a deep appreciation for the diversity of life on Earth as well as encourages a sense of wonder and curiosity in kids of all ages.
8. Dinosaur Train

A beloved children's television series that combines the excitement of dinosaurs with fun and educational adventures. The show centers around the Pteranodon family, who travels through time on a special train. Visiting different prehistoric eras and interacting with various dinosaur species. As they embark on these time-traveling escapades, kids will learn about different types of dinosaurs, their behaviors, and the Earth's history.
This series is not only an entertaining journey into the world of dinosaurs. But also an excellent tool for teaching about evolution and the Earth's ancient past to young audiences.
9. Wild Kratts
As a homeschooling mom, I love how educational this show is. My kids have learned so much about animals, their habits, adaptations, wildlife, and the importance of conservation from watching this show.
Wild Kratts will take your kids on a thrilling adventure to explore the fascinating world of animals and their natural habitats.
Chris and Martin – the Kratts brothers are enthusiastic guides who will entertain and educate your kids about the incredible diversity of creatures that inhabit our planet. This show not only sparks a sense of wonder in children but also imparts valuable lessons about the interconnectedness of all living things. Making it an excellent choice for homeschooling parents eager to instill a passion for the natural world in their young learners.
10. Octonauts
An animated children's series that combines adventure, marine biology, and teamwork to educate and entertain young kids. The show follows a group of underwater explorers and their unique underwater vehicles. As they embark on missions to protect and learn about the creatures and ecosystems of the ocean.
Each episode introduces kids to various marine animals and their habitats. Teaching them valuable lessons about marine biology, conservation, and the importance of protecting our oceans. With its engaging storytelling and vibrant animation, Octonauts will instill a love for marine life.
This show also promotes problem-solving and cooperation.
Pin These Ideas . . .
Head to your Pinterest board and save these best educational shows for all ages!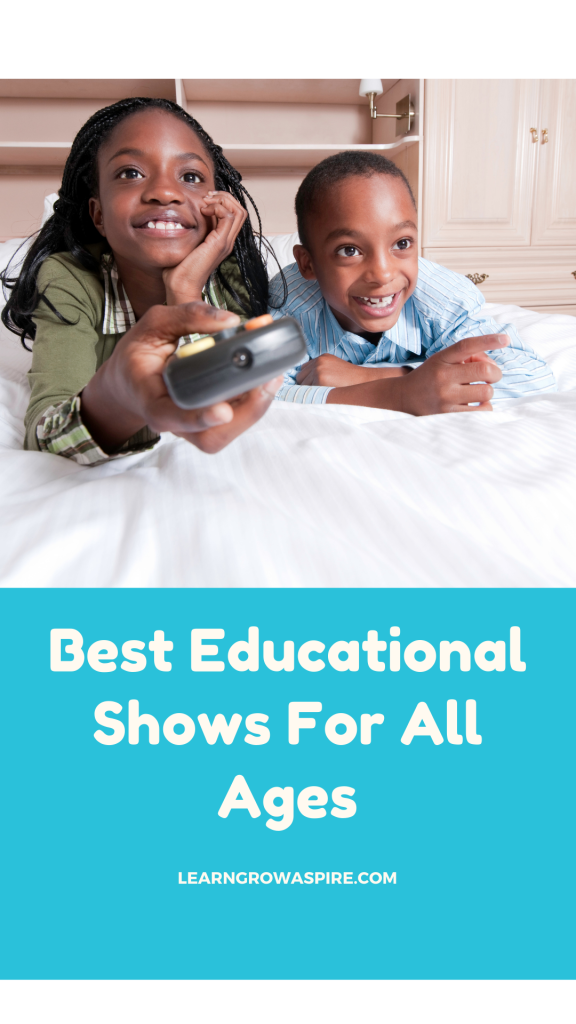 Related posts:
Some of the links in this post may be affiliate links. I'm also an Amazon Affiliate and will occasionally link to some of my favorite Amazon products. I will receive a small percentage back if you purchase through my link. You won't be charged a penny more if you shop through my links. That said, I do NOT recommend anything I do not use and love! Thank you for helping support my blog!