I received a request after the blog post on the difference between Montessori and Charlotte Mason was published to share a bit on the Waldorf Curriculum approach.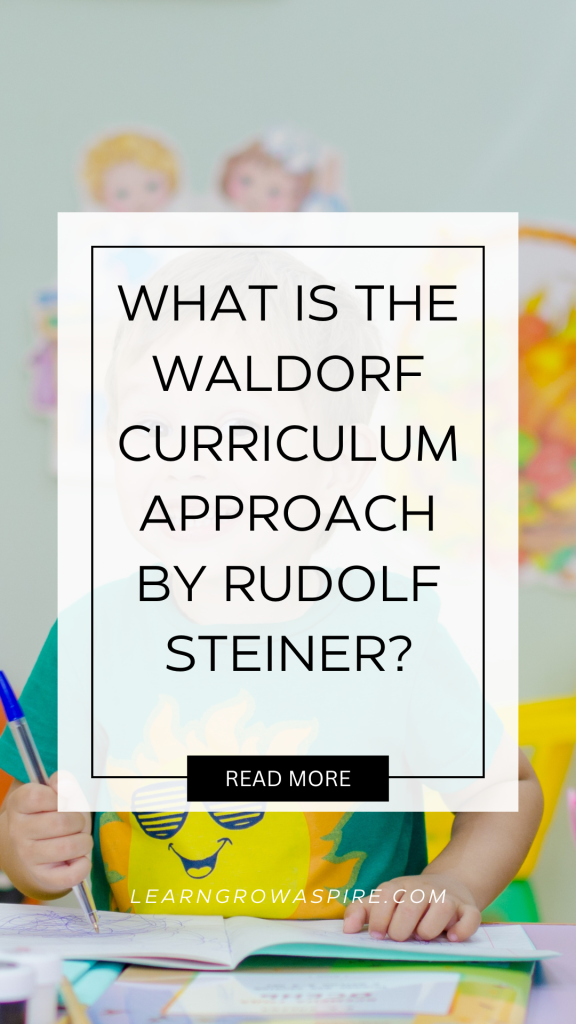 So here it is!
The Waldorf curriculum approach stands out as a beacon of creativity, imagination, and holistic child development.
In the early 20th century this approach to learning was founded by Rudolf Steiner. His main focus was on nurturing the whole child – mind, body, and spirit – through age-appropriate, imaginative, and artistic methods.
Since then, the Waldorf curriculum approach has evolved to create a unique and enchanting educational experience.
A Brief History Of Waldorf Curriculum Approach
Going way back to 1919, Rudolf Steiner was invited to establish the first Waldorf school in Stuttgart, Germany.
The school was created to provide a holistic education for the children of factory workers at the Waldorf-Astoria cigarette factory. Thus the name "Waldorf" education.
Steiner believed that education should serve not just the intellectual development of children but also their emotional, physical, and spiritual growth. Something we can all agree on as parents, right?!
Pillars of Waldorf Education
These are the five pillars of the Waldorf approach.
Age-Appropriate Learning:

Waldorf education recognizes that children go through distinct developmental stages. Therefore lessons are tailored to align with these stages ensuring that content is both engaging and comprehensible.
In the early years, play and creative activities are central, gradually transitioning to more academic subjects as children mature.

Rhythms and Repetition:

The Waldorf curriculum embraces the power of rhythms. Daily, weekly, and yearly routines provide stability and predictability, creating a sense of security for students. After all who doesn't list predictability?
Important subjects and activities are revisited in cycles, allowing students to deepen their understanding over time.

Integration of Arts:

The arts are interwoven with academic subjects to stimulate creativity, imagination, and a deeper understanding of content.
Drawing, painting, music, movement, and drama are incorporated into lessons, making learning a truly artistic endeavor.

Storytelling:

Oral storytelling is a cornerstone of Waldorf education. Stories are used to convey academic concepts, moral values, and cultural history.
Storytelling engages the imagination, making learning a vivid and memorable experience.

Nature Connection:

Steiner emphasized the importance of connecting children with nature. Outdoor activities, gardening, and environmental education are integral components of the curriculum.
These experiences instill a profound reverence for the natural world and its interconnectedness.

Let's Take A Look At The  Waldorf Curriculum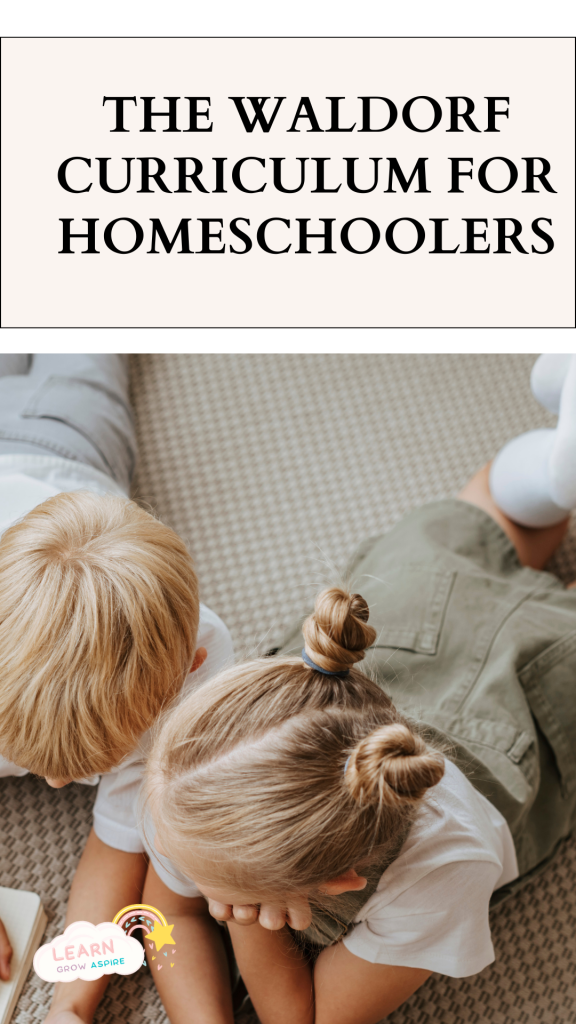 The Waldorf curriculum is divided into three main stages, each tailored to the developmental needs of children:
1. Early Childhood (Ages 0-7): The Garden of Imagination
In the early years, play and creative activities reign supreme. Young children are encouraged to explore, experiment, and discover through imaginative and sensory-rich experiences.
There is a focus on building strong foundations for future learning, nurturing a sense of wonder, and fostering social and emotional development.
2. Elementary School (Ages 7-14): The Heart of Learning
This stage introduces academic subjects gradually. Core subjects include language arts, mathematics, science, history, and geography.
The arts and practical skills continue to play a vital role in the curriculum, enriching academic learning and cultivating creativity.
3. High School (Ages 14-18): The Path to Individuality
High school students delve deeper into academic subjects and embark on a journey of self-discovery. They explore a wide range of artistic, practical, and experiential activities.
The curriculum emphasizes critical thinking, individuality, and social responsibility, preparing students for life beyond school.
Waldorf Education and the Arts
A hallmark of the Waldorf curriculum is its unwavering commitment to the arts.
Artistic activities are seamlessly integrated into academic subjects:
Drawing and Painting: Visual arts enhance creativity and help students visualize abstract concepts.
Music: Music education includes singing, playing instruments, and music theory, promoting a sense of rhythm and harmony.
Drama and Eurythmy: These expressive arts help students develop confidence, communication skills, and self-awareness.
Handwork and Woodwork: Practical skills are honed through crafting and woodworking, encouraging a connection between the head, heart, and hands.
Holistic Assessment in Waldorf Education
In Waldorf education, the approach to assessment differs significantly from traditional methods.
Instead of relying solely on standardized tests and grades, teachers use continuous observation, student portfolios, and qualitative assessments to gauge a child's progress.
This allows educators to have a comprehensive understanding of each student's strengths and areas of growth.
 Criticisms Of The Waldorf Curriculum Approach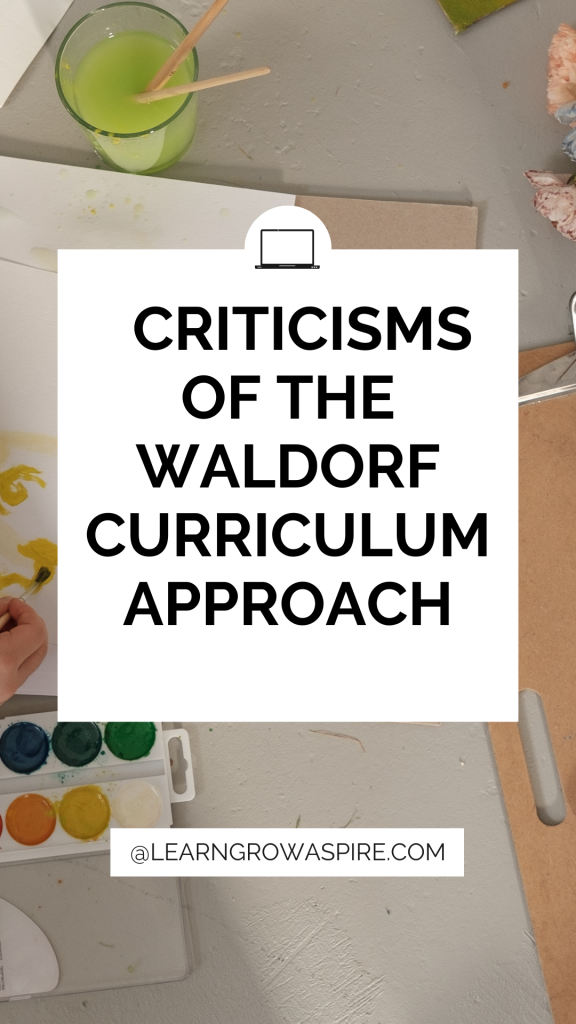 While the Waldorf curriculum approach has garnered a devoted following worldwide, it has also faced criticism and skepticism.
Some critics argue that it lacks emphasis on technology and standardized testing, which are seen as essential in today's fast-paced world.
Others express concerns about the role of Steiner's anthroposophy, a spiritual philosophy, in Waldorf education.
Conclusion
In a world increasingly driven by standardized testing and technology, the Waldorf curriculum approach by Rudolf Steiner remains a testament to the enduring power of imagination, creativity, and holistic education.
By nurturing the whole child, fostering a deep connection to nature, and integrating the arts into every aspect of learning. The Waldorf education seeks to produce individuals who are not only academically proficient but also compassionate, imaginative, and in tune with the world around them.
Steiner's vision of education as a journey of self-discovery and wonder continues to inspire homeschooling parents opening the door to a world of boundless possibilities in learning.
In choosing a curriculum for your child, it is essential to consider your child's unique needs, your educational philosophy, and the goals you have for their development.
Waldorf education, with its emphasis on nurturing the whole child, might be the magical key to unlocking their full potential.
Some of the links in this post may be affiliate links. I'm also an Amazon Affiliate and will occasionally link to some of my favorite Amazon products. I will receive a small percentage back if you purchase through my link. You won't be charged a penny more if you shop through my links. That said, I do NOT recommend anything I do not use and love! Thank you for helping support my blog!