So you want your homeschoolers to start learning to code? But where do you start? Overwhlemed by the many coding programs? Don't worry; this blog post will help you discover the right program to help your homeschoolers to start learning to code!
As a homeschooling mom, I love CodeSpark! It's the program that helped both of my kids learn how to code.
Never heard of CodeSpark before? Well, here's everything you need to know.
CodeSpark is an exceptional educational platform that opens the doors to a world of boundless learning opportunities for homeschoolers.
Designed with the aim to nurture young minds and cultivate essential skills.
CodeSpark provides an interactive, engaging environment that seamlessly integrates coding, problem-solving, and creativity into homeschooling curriculums.
Here's how CodeSpark can enrich your homeschooling journey:

 Cultivating Digital Literacy: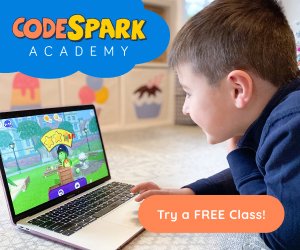 In today's technology-driven world, digital literacy is vital for every child.
CodeSpark introduces children to the fundamentals of coding in a playful and intuitive manner, fostering their understanding of programming concepts from an early age.
Sparking Creativity:
CodeSpark encourages creativity through fun and interactive activities.
Children can create their own games, stories, and animations, allowing them to express their imaginations and inventiveness in a supportive virtual space.
Enhancing Critical Thinking:
Critical thinking plays a big part in our homeschooling curriculum. Mainly because I believe critical thinking helps fosters a growth mindset and helps kids build grit and resilience.
The challenges and puzzles in CodeSpark's curriculum promote critical thinking and problem-solving abilities.
As your child engages with the coding challenges, they develop logical reasoning and analytical skills, building a strong foundation for future academic pursuits.
Fostering Collaborative Learning:
CodeSpark provides opportunities for homeschoolers to collaborate and share their creations with peers in the CodeSpark community.
This fosters a sense of social interaction, even in a homeschooling environment.
 Flexible Learning at Your Pace:
As a homeschooling educator, you can tailor your child's learning experience to suit their needs.
CodeSpark offers a self-paced learning environment, allowing children to progress at their own speed and explore topics of interest thoroughly.
Teacher and Parent Support:
CodeSpark provides valuable resources for teachers and parents, including lesson plans, progress tracking, and insights into their child's learning journey.
This support will empower you as a homeschooling educator to actively engage with your child's education and monitor their progress effectively.
STEM Integration:
CodeSpark seamlessly integrates with STEM (Science, Technology, Engineering, and Mathematics) concepts, promoting a holistic approach to learning.
It nurtures an early interest in STEM subjects and potentially ignites a lifelong passion for these fields.
Real-World Relevance:
As children create projects within CodeSpark, they can see the practical applications of coding and technology in various industries.
This real-world relevance inspires them to think about potential future careers and fosters a growth mindset.
CodeSpark is an invaluable tool for homeschoolers, offering an enriching educational experience that combines creativity, critical thinking, and digital literacy.
Did I convenience you to find the best coding program for your homeschoolers? Let me know in the comments below, and share what other coding programs you've used or heard about.
Some of the links in this post may be affiliate links. I'm also an Amazon Affiliate and will occasionally link to some of my favorite Amazon products. I will receive a small percentage back if you purchase through my link. You won't be charged a penny more if you shop through my links. That said, I do NOT recommend anything I do not use and love! Thank you for helping support my blog!