Looking for the best kids' books of all time? Look no further than this blog post! Today we will be sharing the 30 best kids' books of all time!
As parents, teachers, and caregivers, we understand the profound impact that books can have on young minds. They transport children to far-off lands, spark their imaginations, and instill valuable life lessons.
With countless children's books to choose from, it can be challenging to curate a reading list that stands the test of time. The good news is – that I've done the work for you! I've compiled the ultimate list of the 30 best kids' books of all time.
These beloved classics have captured the hearts of generations and continue to inspire young readers today.
30 Best Kids' Books Of All Time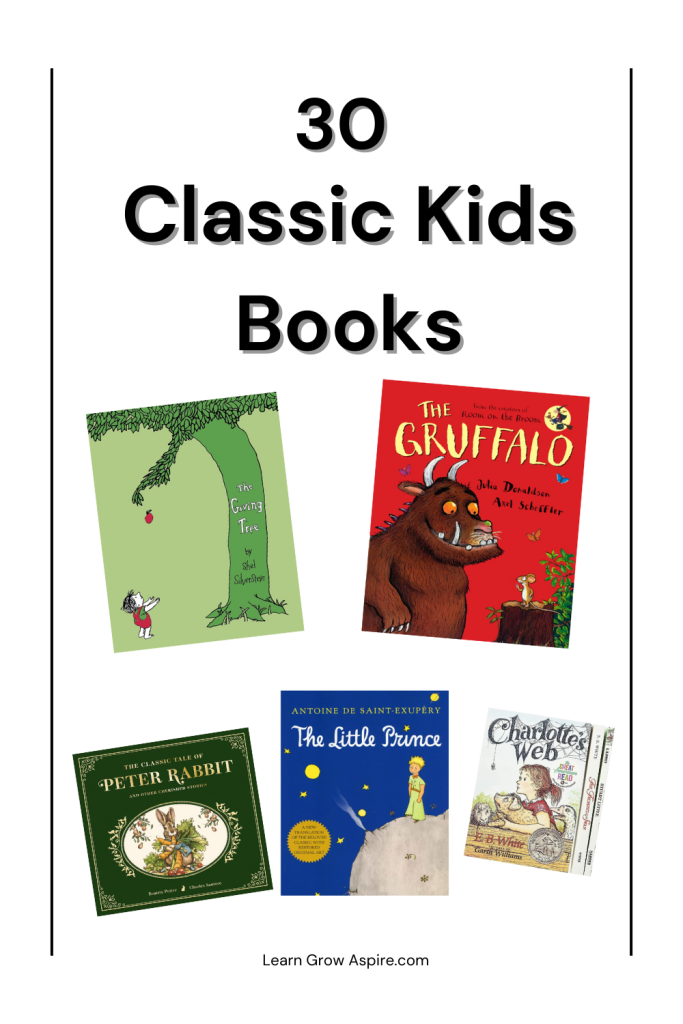 1. "Where the Wild Things Are" by Maurice Sendak:
A beloved classic in children's literature. This enchanting story takes young readers on an imaginative journey through the vivid and wild imagination of a young boy named Max. Sent to bed without supper as a punishment. Max's bedroom transforms into a mystical forest inhabited by wild, fantastical creatures known as the "Wild Things."
Through Max's adventures with these creatures, readers will discover the magic of childhood imagination. The power of empathy, and the importance of returning home to the comfort of family and love.
Maurice Sendak's beautifully illustrated and emotionally resonant tale has captured the hearts of generations. Making it a timeless favorite that continues to inspire young and old alike.
2. "The Very Hungry Caterpillar" by Eric Carle:
A cherished classic in children's literature. This beloved picture book tells the tale of a tiny caterpillar's insatiable appetite as it devours its way through various foods over the course of a week.
Your child will not only learn about the days of the week but also witness the miraculous transformation of the caterpillar into a beautiful butterfly.
Eric Carle's distinctive collage-style artwork is both visually captivating and educational. With its engaging narrative and vibrant illustrations. This timeless story continues to enchant children and teach them about the wonders of nature, growth, and transformation.
3. "Charlotte's Web" by E.B. White:
This enchanting story unfolds on a farm and revolves around the unlikely friendship between a gentle pig named Wilbur and a clever spider named Charlotte.
When Wilbur learns of his impending fate at the family's dinner, Charlotte uses her remarkable talent for weaving words into her web to save his life. Their bond and Charlotte's selfless acts of kindness will teach young readers about the power of friendship, empathy, and the circle of life.
E.B. White's beautifully written prose and the endearing characters he creates make "Charlotte's Web" a timeless tale. One that continues to touch the hearts of both children and adults, leaving a lasting legacy in the world of literature.
Get your copy of Charlotte Web!
4. "Goodnight Moon" by Margaret Wise Brown:
This timeless picture book takes young readers on a gentle journey through a cozy, quiet room as a little bunny says goodnight to everything around. From the familiar objects to the celestial bodies outside the window.
With its calming repetition and warm illustrations by Clement Hurd.  "Goodnight Moon" creates a comforting and tranquil bedtime ritual, making it a cherished favorite for parents and children alike. It captures the magic of bedtime and the sense of security that comes from saying goodnight to the world around us, making it a cherished part of many childhoods.
5. "The Cat in the Hat" by Dr. Seuss:
A whimsical and imaginative tale that has delighted young readers for generations!
In this iconic children's book, a mischievous cat wearing a tall, red-and-white-striped hat arrives at the home of two bored siblings on a rainy day. With the Cat's arrival comes a whirlwind of playful chaos as he introduces them to a cast of colorful and comical characters. Dr. Seuss's clever rhymes and vibrant illustrations make this story an engaging and fun-filled adventure.
Beyond the entertainment, "The Cat in the Hat" carries a subtle message about creativity, imagination, and the joy of breaking free from routine, making it a timeless classic in the world of children's literature.
6. "Harry Potter and the Sorcerer's Stone" by J.K. Rowling:
My daughter, Sophia has an obsession with the Harry Potter book series. Admittedly she did not get that obsession from me. As a child growing up I had one Harry Potter book and that was it. And if I can recall correctly, I only got it because all the "cool kids" were reading it!
Harry Potter and the Sorcerer's Stone is simply the start of a magical journey in the wizarding world according to all those who dearly love Harry Potter.
7. "Alice's Adventures in Wonderland" by Lewis Carroll:
This whimsical and surreal tale follows the adventures of Alice. A curious young girl who falls through a rabbit hole into a fantastical world filled with peculiar characters and absurd situations. In this whimsical land, Alice encounters the enigmatic Cheshire Cat, the nonsensical Mad Hatter, and the tyrannical Queen of Hearts, among others.
Lewis Carroll's imaginative storytelling and wordplay have made this book a valuable source of literary creativity. Inviting readers to explore the boundaries of logic and reality.
Beyond its surface charm, "Alice's Adventures in Wonderland" invites reflection on themes of identity, growth, and the fluidity of the imagination. Ensuring its enduring place in the realm of classic literature.
8. "Matilda" by Roald Dahl:
This captivating tale revolves around a precocious young girl named Matilda Wormwood, who possesses a remarkable intellect and an insatiable thirst for knowledge. Despite being neglected and mistreated by her dim-witted parents, Matilda discovers solace in books and her extraordinary telekinetic abilities.
With its empowering message of resilience, intelligence, and the power of kindness.  "Matilda" remains a beloved literary gem that continues to inspire and delight readers around the world.
9. "The Tale of Peter Rabbit" by Beatrix Potter:
A timeless tale of a mischievous rabbit's garden adventures that will remain a best kids' book of all time!
The illustrations and the endearing portrayal of Peter, the mischievous bunny, create a story that is both visually and emotionally engaging. Imparting valuable life lessons, such as the consequences of disobedience and the importance of responsibility, in a gentle and accessible manner.
The Tale of Peter Rabbit fosters a love for nature and animals, sparking curiosity and empathy in young minds.
10. "The Little Prince" by Antoine de Saint-Exupéry:
A philosophical and heartwarming tale of friendship and self-discovery. Through the adventures of a young prince who travels from planet to planet. This book reminds readers of all ages about the importance of seeing the world with the heart and cherishing the simple, essential values of life.
11. "Winnie-the-Pooh" by A.A. Milne:
This is one of my all-time favorites! I loved the books, cartoons, movies, and all things Winnie-the-Pooh!
This book will take your kids on adventures in the Hundred-Acre Wood with beloved characters like Pooh and Piglet.
12. "Anne of Green Gables" by L.M. Montgomery:
The coming-of-age story of the spirited orphan, Anne Shirley. Through Anne's adventures and misadventures in the charming village of Avonlea. The novel celebrates the transformative power of love, friendship, and the beauty of an unbridled imagination.
13. "The Secret Garden" by Frances Hodgson Burnett:
A story of rejuvenation and the magic of nature. Through the discovery of a hidden, neglected garden and the gradual transformation of the young protagonist, Mary Lennox, this novel beautifully illustrates the rejuvenating effects of both love and the natural world.
14. "Pipp

i Longstocking" by Astrid Lindgren:
A delightful and whimsical story of a red-haired, freckle-faced girl with an indomitable spirit and a penchant for imaginative adventures. Pippi's unorthodox and independent lifestyle, along with her extraordinary strength, has captivated readers for generations. Making her an enduring symbol of childhood independence and resilience.
15. "The Wind in the Willows" by Kenneth Grahame:
The gentle adventures of Mole, Ratty, Toad, and Badger in the English countryside. Through their endearing adventures along the riverbank, Grahame explores themes of friendship, loyalty, and the enduring allure of the English countryside. Creating a heartwarming classic that continues to charm readers of all ages.
Grab your copy of this book here!
16. "A Wrinkle in Time" by Madeleine L'Engle:
A Wrinkle in Time" by Madeleine L'Engle is a science fiction masterpiece that takes readers on a thrilling journey through time and space. Through the adventures of Meg Murry, her brother Charles Wallace, and their friend Calvin, L'Engle weaves a story that delves into the power of love. The battle between light and darkness, and the limitless potential of the human spirit.
17. "The Chronicles of Narnia" by C.S. Lewis:
A magical portal to the land of Narnia, where adventure and destiny await. Through the adventures of Lucy, Edmund, Susan, and Peter.
Lewis weaves a captivating tale of courage, redemption, and the triumph of good over evil, making it a cherished classic for readers of all ages.
You can purchase your copy of the book here!
18. "The Giving Tree" by Shel Silverstein:
This is by far one of our favorite stories! We've read the book as well as listened to the read-aloud on YouTube over a dozen times! This story never fails, my kids love it and always look forward to relearning the lessons of The Giving Tree!
Great book for kids of all ages as it shares such a powerful message!
19. "The Polar Express" by Chris Van Allsburg:
A heartwarming tale of a young boy's magical journey to the North Pole. Great book for Christmas Eve or days leading up to Christmas.
20. "Oh, the Places You'll Go!" by Dr. Seuss:
An inspiring and motivational book for children of all ages. With its uplifting message about facing challenges, making choices, and embracing new adventures. This book has become a timeless graduation gift and a source of encouragement for readers of all ages.
21. "The Gruffalo" by Julia Donaldson:
A delightful children's book that tells the story of a clever mouse who uses wit and imagination to outsmart potential predators in the deep, dark wood.
With its charming rhymes and captivating illustrations by Axel Scheffler. This tale not only entertains young readers but also imparts a valuable lesson about the power of clever thinking and resourcefulness.
22. "The Snowy Day" by Ezra Jack Keats:
A cherished picture book that captures the pure wonder and joy of a child's first experience with snow. Through Peter's adventures in a winter wonderland, Keats beautifully conveys the magic and innocence of childhood, making it a timeless classic that continues to warm hearts with its simplicity and charm.
23. "The Tale of Despereaux" by Kate DiCamillo:
A captivating story of a tiny, brave mouse with big dreams, who embarks on a quest to rescue a princess and bring light to a dark and gloomy castle. DiCamillo's enchanting prose and intricate characters come together to create a heartwarming and memorable tale. One that celebrates courage, love, and the power of storytelling.
24. "The Phantom Tollbooth" by Norton Juster:
An imaginative journey through a fantastical world of wordplay and logic. Through the experiences of Milo, a bored and disinterested boy. The book cleverly explores the importance of curiosity, learning, and the joy of discovery, making it a beloved classic that continues to inspire readers of all ages.
25. "The Velveteen Rabbit" by Margery Williams:
A touching story about the transformative power of love and becoming real. One that reminds us of the enduring power of love and the magic of becoming real through deep affection. Through the bond between a stuffed rabbit and a young boy, this classic tale explores the transformation of toys into beloved companions. Touching the hearts of readers young and old.
26. "Peter Pan" by J.M. Barrie:
The classic tale of a boy who never grows up and his adventures in Neverland. A beloved children's classic that whisks readers away to the magical world of Neverland, where they can join Peter, Wendy, Tinker Bell, and the Lost Boys on exhilarating adventures. Barrie's timeless tale not only captures the essence of eternal childhood and the thrill of adventure. But also delves into the bittersweet idea that growing up means leaving some magic behind.
27. "The Rainbow Fish" by Marcus Pfister:
A tale about sharing and the beauty of friendship. A beautifully illustrated and heartwarming story about a shimmering fish who learns the value of sharing and friendship.
Through its vibrant artwork and touching narrative. The book teaches young readers about the importance of generosity and the true beauty that comes from a kind and giving heart.
28. "Brown Bear, Brown Bear, What Do You See?" by Bill Martin Jr. and Eric Carle:
A beloved children's classic that engages young readers with its rhythmic text and vibrant illustrations. Through a delightful parade of colorful animals, the book encourages early learning and introduces children to the joys of storytelling. Making it a cherished read-aloud choice for generations.
29. "Guess How Much I Love You" by Sam McBratney:
A heartwarming tale of a parent and child hare trying to express their boundless love for each other. With its tender message and charming illustrations by Anita Jeram. The book beautifully captures the universal theme of love, making it a cherished bedtime story for families around the world.
30. "Harold and the Purple Crayon" by Crockett Johnson:
A delightful and imaginative story about a young boy named Harold who uses his purple crayon to create a world of his own. With the power of his imagination, Harold embarks on a whimsical adventure. One that inspires young readers to explore their creativity and the endless possibilities of their own minds.
Conclusion:
These 30 best kids' books of all time offer loads of captivating stories, unforgettable characters, and valuable life lessons. Whether you're a parent, teacher, or young reader, these classics have the power to cultivate a lifelong love of reading and leave a lasting impression.
Dive into these timeless tales, share them with the children in your life, and let the magic of storytelling continue to inspire generations to come.
Happy reading!
PS. Let me know in the comments what were some of your childhood favorite books.
This post was all about the best kids' books of all time.
Related Posts:
Some of the links in this post may be affiliate links. I'm also an Amazon Affiliate and will occasionally link to some of my favorite Amazon products. I will receive a small percentage back if you purchase through my link. You won't be charged a penny more if you shop through my links. That said, I do NOT recommend anything I do not use and love! Thank you for helping support my blog!