Homeschooling books for parents can change the trajectory of your homeschooling journey. Giving you and your family a better homeschooling experience.
As a new homeschooler, you may feel guilt and shame for not having a clean home and not giving your kids enough socialization. Quiver every time a relative (who's not on board with your homeschooling journey) asks you a question about homeschooling.
Unable to stay calm when your kids are jumping from chair to chair while you're attempting to teach and not sticking to your daily schedule. And the list goes on.
While you can easily hop into a Facebook group and ask for advice, that may not always be an option becasue of fear of being judged,
That's why having a stack of homeschooling books for parents that you can refer to – to gain inspiration and wisdom is necessary.
Here's a list of books I've read as a homeschooling parent and refer back to when I need little motivation.
Best Homeschooling Books For Parents
You need to have this book on your bookshelf for reference for so many reasons.
It provides you with the whys and hows of homeschooling.
Describes the different ways you can homeschool.
It provides homeschooling encouragement and motivation ( tells you precisely what you need to know and hear).
It allows you to focus on the childhood you want your kids to have.
Explains how children develop at each stage and explain their needs.
Practical advice that you will need as a homeschooler.
Create an environment where our kids would love and enjoy learning.
Regardless of where you are at in your homeschooling journey. Whether you are just thinking about it, have a newborn, and already know the homeschooling lifestyle is for you, or you're already homeschooling, this book is your go-to.
You will refer back to it year after year for homeschooling motivation and encouragement.
Suppose you are struggling with self-doubt and constantly asking yourself if you made the right decision when it comes to homeschooling. My friend, this book deserves a read from you.
It reminds you to focus on the why, trust the process, and see homeschooling as a blessing.  As your calling.
Ignore the naysayers and walk the path God wanted for you and your kids.
If you don't have a vision for homeschooling, this book will help you create a vision for your homeschooling journey. A goal and vision that will immensely impact your and your family's lives.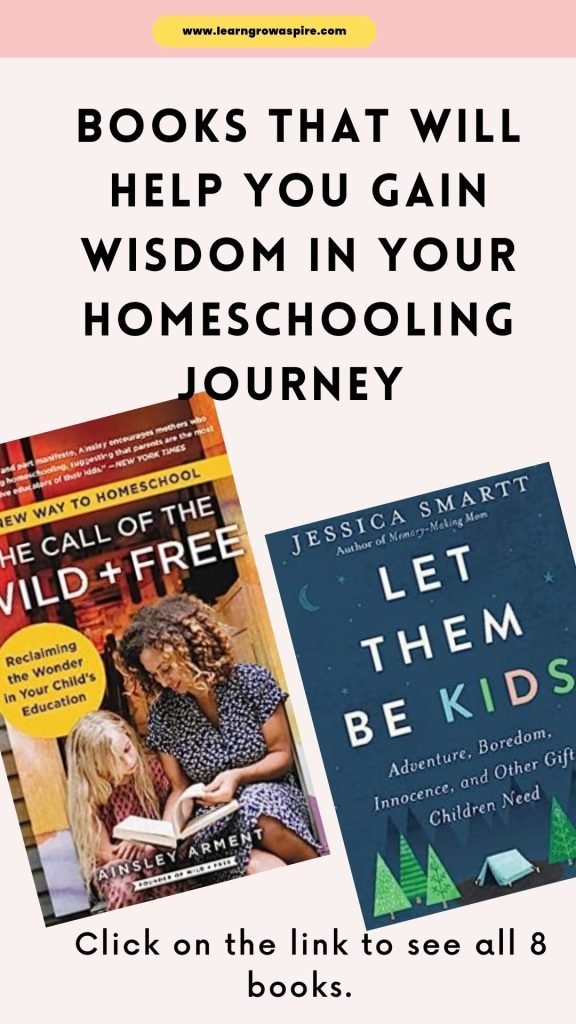 If you struggle with staying organized as a homeschooling parent, feel like you constantly fall behind. Unsure if you are doing enough work and your kids are learning. This book will provide you with the insights needed to homeschool with confidence.
It provides sample schedules and routines and tips on creating a curriculum for your child that I found helpful in my homeschooling journey.
What I love about this book is that you can flip to your child's age and learning style and gain wisdom on supporting your child.
Again, another book you will be referring back to year after year.
Another uplifting and inspiring read for parents who are constantly struggling with self-criticism and doubts when it comes to homeschooling.
Homeschooling is not necessarily about what curricula you are using and books you are reading but the environment you are creating for your kids to learn in. This book is an eye-opener that homeschooling doesn't have to be complicated. It can be light-spirited and fun, and playful.
The author encourages you to listen to your child and foster the things they want to try out rather than saying no, not suitable. Or we don't have to do that until two years later.
Allow your child to lead and follow his cue. Develope an environment that allows your child to be herself.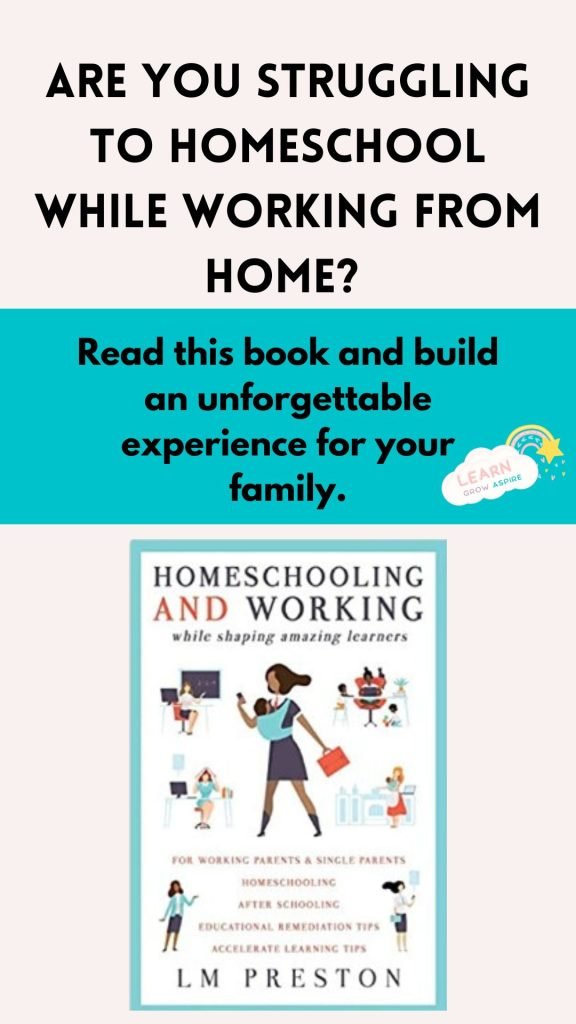 Working and homeschooling can be challenging!
Somedays, you will feel guilty for working and not attending to your child's needs. Other times, you will feel guilt for not working on your biz or getting what needed to be done at work because you were focusing on meeting your child's needs. I have been on both sides, and it's outright overwhelming!
Thinking it needs to be one or the other. But it doesn't have to be.
You can homeschool while working.
This book is a comprehensive guide that will help you to meet your and your family's need while enjoying the entire homeschooling process and making money to sustain your family's needs.
An excellent read for working parents who are also homeschoolers.
Raising our kids upright, with confidence, kindness, faith, and manners, is something we all strive for as parents. But that can be seen hard in the times we now live in.
Let them be kids will give you the wisdom and confidence needed to overcome your parenting fears and provide a remarkable experience for your family.
This is one of the very first books I read before starting homeschooling. The book's primary focus is not on homeschooling but on raising mindful kids. In fact, this book has nothing to do with homeschooling. But everything I learned in this book allowed me to raise my kids upright. 
My biggest takeaway from this book was learning to manage my own emotions before managing my kid's emotions.
I added this book to my list of homeschooling books for parents because we often get frustrated when trying to get our kids to sit and read or do the math. If only we take a second to understand why our kid behaves in such a manner and try to see things through the child's lens may give both parents and child a better homeschooling experience.
This book will help you connect with your child more deeply.
This is a very Christian-based read. The author will remind you to let your intuition guide you when self-doubts and naysayers enter your life.
She reminds us that homeschooling is not a one-size-fits-all, just like the public school system.
Something that works for one homeschooling family may not work for you and vice versa.
She shares her homeschooling experience in a very authentic and liberating manner with practical advice. One that all parents can relate to.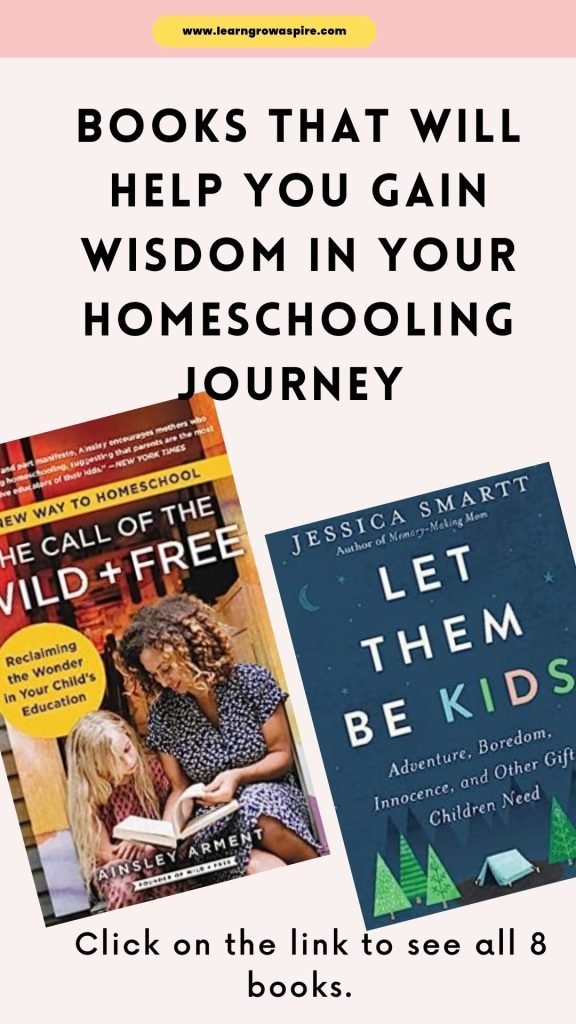 So, there you have it! Eight homeschooling books for parents that will help you gain confidence and wisdom and feel encouraged as you enter or continue this season of your life.
There's no need to walk this path alone. You can learn from those who have been there and done that.
If you are looking for homeschooling parents who will support and uplift you, join our growing Facebook group – proud to be homeschooling.
What homeschooling books have you read already and would love to recommend to the Learn Grow Aspire community? Share with us in the comments below.
Some of the links in this post may be affiliate links. I'm also an Amazon Affiliate and will occasionally link to some of my favorite Amazon products. I will receive a small percentage back if you purchase through my link. You won't be charged a penny more if you shop through my links. That said, I do NOT recommend anything I do not use and love! Thank you for helping support my blog!