Even if you are a homeschooling family who homeschools all year round or a homeschooling family on summer break. At some point in June, July, or August, you will need activities to keep your busy learners engaged. In today's post, I share 30 fun summer ideas for homeschooling kiddos that you can consider when your kids are begging for something to do or complaining that they are bored.
30 Fun Summer Ideas For Homeschooling
Why is this a fun summer idea?
Well, it's a game that the entire family can enjoy either indoors (on a rainy or hot summer day) or outdoors during a family picnic or BBQ.
Hide the cards around your house and have your kids discover something that describes the word on the card.
For example, if your child finds the word fuzzy she may hunt for her blanket or her pet, or some item that she thinks represents the word fuzzy.
Of course, as a family, you can create your own variation of this game.
This game is great for road trips. So if you have an upcoming road trip you should definitely consider getting this pack of cards to keep your kids busy.
2. Make popsicles
Who doesn't like popsicles on a hot summer day?
Grab your favorite smoothie or fruit juice and ice pop molds and make your own homemade popsicles this summer.
3. Let's give homemade snowcone a try
Making homemade snowcones has never been easier with only three ingredients!
Crush some ice up using your food processor or a snowcone maker or even from your fridge dispenser.
Pour into your snowcone cup and add your favorite syrup or fruit juice over the ice.
Stick a straw in and enjoy!
4. Summer this or that
Playing this or that can be so much fun for the entire family while getting your homeschooled kids to share their opinions this summer.
You can search Pinterest for a list of summer this or that questions or grab this book from Amazon.
5. Rock painting
Go on a nature walk and hunt for rocks. Once you have enough rock, wash and let air dry. Using acrylic paints, have your kids paint inspirational words or designs on them and decorate your walkway or leave them on the sidewalk the next time you go on a nature walk for someone to find.
It's a special way to spread joy in your community.
Pro Tip: You can mix two colors of paint with Elmer's glue and pour on your rocks for a beautiful spiral look.
If rocks are difficult to find, you can always consider purchasing this rock set on Amazon.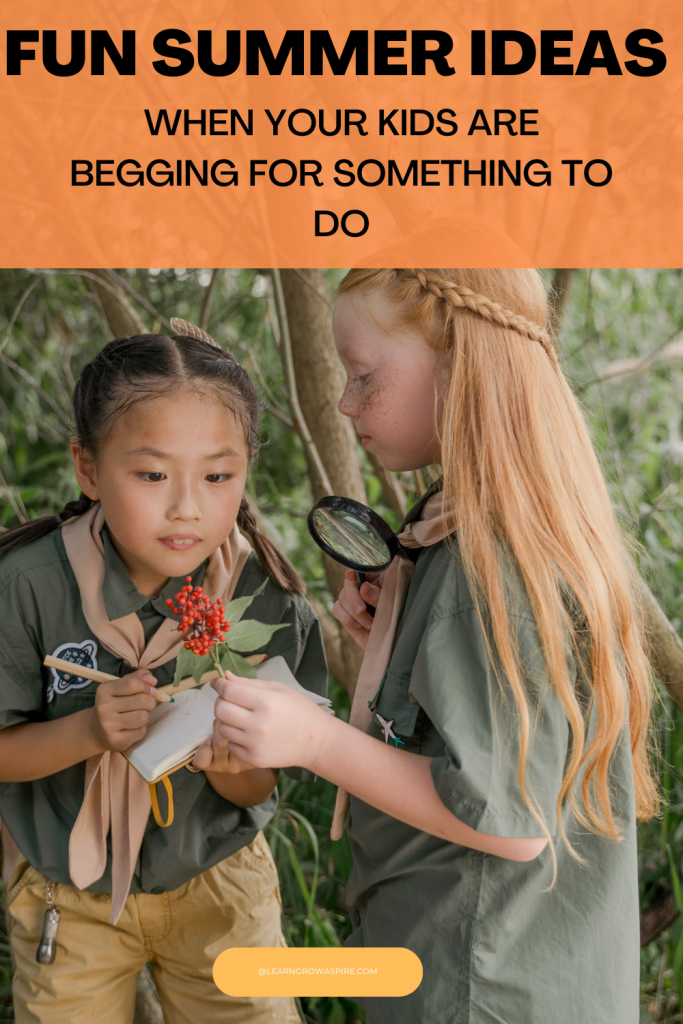 6. Plan a BBQ dinner
Use this summer to teach your homeschoolers how to grow into responsible and well organize adults by giving them an opportunity to plan a BBQ dinner for the family.
Of course, you will need to assist them but allow them to take the lead while you lend support when needed.
7. Visit your local farmer's market
Instead of purchasing your fruits and vegetables from your local supermarket, why not take a trip to your local farmer's market instead this summer?
8. Stem experiments
Let this summer be a time to soft learn while having fun with science.
You can search Pinterest and YouTube for fun at-home science experiments.
9. Slip and slide
When your kids are whining that they are bored and have nothing to do, this slip-and-slide mat will be a lifesaver!
It's one of those things you will be using all summer because it brings so much joy to your kids.
The best part is they will be getting so much exercise with all of the running, jumping, and slipping they will be doing.
10. Water balloon fights
Water balloons and a slip-and-slide can be so much fun when paired together! So why not?!
11. Gardening
Add a little agriculture science to your homeschooling schedule with this paint and plant set.
First, your kiddos will paint the pots and then plant flowers into the pot and witness it grow all summer long!
This is one activity my kids have been asking me to do for some time now, and we have not yet gotten to it.
As we continue to learn this summer, we will be testing this kit out as we tie-dye a few T-shirts that we can wear for the summer.
This is another kit that you can have stack away for when your kiddos start whining they are bored or on days when everyone is stuck inside.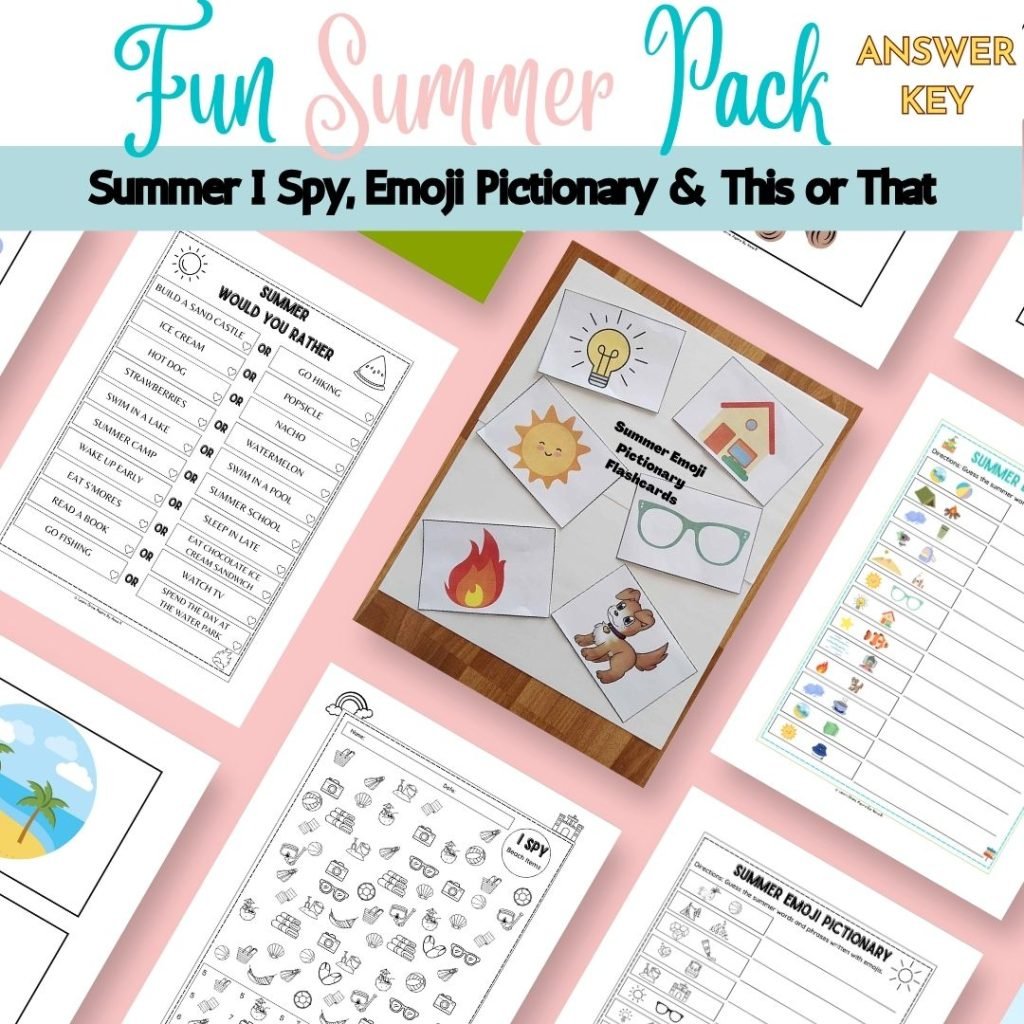 These printable activities are excellent for hot summer days when kids are indoors and want to relax with some fun, engaging activities.
Activities included are :
I Spy,
Emoji Pictionary,
Summer This or That,
Emoji Pictionary Flashcards
These worksheets can be used for the following:
You can also laminate the Pictionary cards prior to cutting them for longer lasting.
These pictionary cards and I Spy worksheets are great for road trips as well. In fact, my kids used these exact worksheets on our last road trip, and they had a ball.
These summer opinion writing prompts are a great resource if you are like us and homeschool year-round!
Writing activities include:
→ this or that
→ would you rather
→ summer favorite
In this file, you will receive a total of 36 pdf pages.
→ opinion writing guide
→ an anchor chart
→ 30 writing prompts
→ 4 blank templates
This is another great resource to stock up on for those indoor days or when your kids are whining because they are bored. And you know those days happen more often than you would like for them to happen.
Plus, if you are side-hustling when homeschooling this summer. You will want to add as many resources to your "when my kids are bored kit."😉
17. Make s'mores
Why not gather around a campfire and create memories with this delicious summer (maybe year-round) treat?
Making s'mores around a campfire can be so much fun, not only for your kids but for the entire family! And hey, if you don't have access to a campfire, guess what?
You can still enjoy this ridiculously delicious treat!
Yup, pop that graham cracker, piece of chocolate, and marshmallow in the microwave for about 20 seconds. The timing really depends on how gooey your kids like their s'mores.
18. Game nights
You can create a schedule where each child gets to plan a game night. That kid is responsible for choosing the game, and deciding on what snacks should be on the table or charcuterie board.
19. Make lemonade together
Often times it's the smallest things we do together as a family that have the biggest impact on each of us.
Rather than you doing all the work. Gather your kids in the kitchen and give them each a task. Maybe one can count the lemons (math) another can pop them in the microwave to heat. Heating the lemons help with the extraction of the juice.
Another (depending on age) can cut the lemons, and everyone can contribute to squeezing the lemons.
Making lemonade together can be considered part of your home economics unit. bonus for you, mama!
20. Reading
At the beginning of summer, have your kids create a reading bucket list. You can consider downloading my reading bucket list. And set a goal to read all the books on their reading summer bucket list.
Pro tip: Visit your local library weekly or bi-weekly to rent the books on your bucket list.
21. Have a picnic in your backyard
On a nice breezy summer day, make sandwiches, cut some fruits up, spread a blanket, and spend the day on your lawn enjoying a nice picnic with your kids.
22. Walk barefoot on the grass
Walking barefoot on the grass is such a nice way to connect with nature. Teaching your kids to enjoy and express gratitude for the simplest things in life.
23. Make a fairy garden together
Creating a fairy garden can be quite a magical experience for younger kids.
Visit your nearby dollar store, and grab a flower pot, some moss, and decoration items such as mushrooms, flowers, and gnomes. Basically, anything that your kids want to add to their fairy garden.
Again – Pinterest is a great place for inspiration for DIY crafts.
24. Puzzle race
Grab a few 100 pieces of puzzles, set a timer, and see who finishes first. This is a great way to challenge your kids this summer.
25. Summer journaling
Summer journaling is a great way to continue fostering your kid's writing and articulation fluency. If summer journaling seems too far fetch for them. Maybe consider helping them create a summer scrapbook.
26. What's in the box?
Grab an old box, and cut a hole in the middle (big enough so that your kids can put their hands inside. Then place an item inside the box ( it can be food, a toy, or items from around your house), blindfold your child, and let them feel the item and figure out what the item is.
27. Build forts
Forget about having a messy home and allow your kids to put chairs, stands, etc., in the family room and build forts and camp out there for the day.
28. Catch fireflies
Have fun catching fireflies this summer, then watch them flicker.
29. Stargaze
Sit on your deck or porch and watch the stars. See if you can spot the ones that twinkle the most.
30. Interview family members
There's always something to learn about each other. And one way we can learn about each other this summer is through interviewing each other.
You can have a list of specific questions or have each child create their own questions.
Questions such as :
what's your favorite food?
What's your favorite drink?
If you could travel anywhere in the world, where would it be?
Name your dream car.
What do want to be when you grow up?
Name a vegetable you can eat every day.
What's a vegetable you dislike?
If you could have superpowers for a day, what would it be and why?
So there you have it! A list of 30 fun summer ideas for homeschooling to keep your homeschool kids engage while learning this summer.
Not sure what should be on your back-to-school shopping yet? You may want to read 10 basic homeschool supplies I Can't live without.
Some of the links in this post may be affiliate links. I'm also an Amazon Affiliate and will occasionally link to some of my favorite Amazon products. I will receive a small percentage back if you purchase through my link. You won't be charged a penny more if you shop through my links. That said, I do NOT recommend anything I do not use and love! Thank you for helping support my blog!