As a first-time homeschooler, figuring out what supplies you need to begin your homeschooling journey can be unbelievably overwhelming! Like, where do you even start? Should I get only the basic homeschool supplies, or should I bite the bullet and gather everything I need?
Have you been losing sleep pondering over those questions?
As a new homeschooling mama, a lot will change along your journey. Some things will be used in abundance, and others will go untouched.
That's why I believe it's better to start by checking things off your basic homeschool supplies list. And as your term progress, you could decide what homeschool supplies are needed for you and your kids to succeed.
Here's a list of homeschool supplies I can't homeschool without! ( And the kids too!)
Basic Homeschool Supplies – I Can't Live Without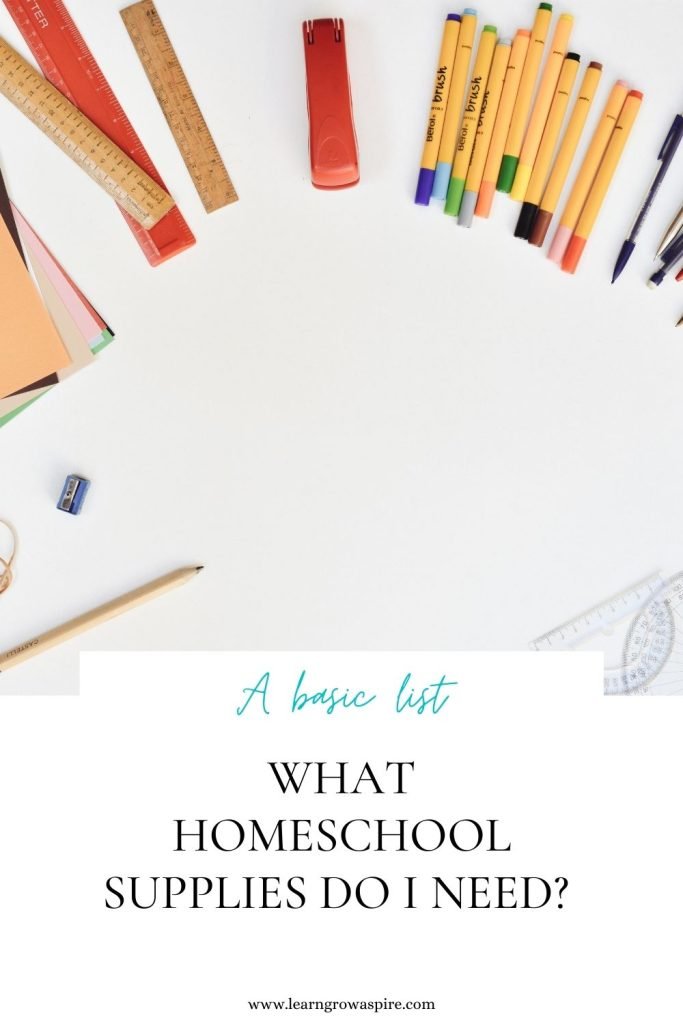 1. Printer paper
We go through tons of paper on any given homeschooling day!
Apart from printing activities and educational worksheets. We use paper for crafts, writing, drawing, making lists, painting, and everything you can possibly do with paper. And I'm sure I'm not the only homeschooling parent who feels this way when it comes to printing paper.
Printing paper is essential for my homeschooling family, and I bet it will be for yours as well! I highly recommend investing in a case of paper vs. a single pack because the cost of buying multiple single packs will quickly surpass the price of a case of printing paper.
2. Printer
I use worksheets and printables to supplement pretty much all of my unit studies. Many of which I print online. Hence the reason I can't live without my printer.
Of course, I can go to a local print shop like Staples or Walmart, but once again, printing worksheets through a third party will quickly outweigh the cost of purchasing a printer.
Currently, I'm using the Brother MFC-L3710CW Compact Digital Color All-in-One Printer.
I have been using this printer for some time now and absolutely love the print quality. The toners are relatively inexpensive and last for quite some time, considering the volume of work that gets printed in our home.

3. Laptop with internet access
My kids don't spend much time on the screen when it comes to learning. However, we do refer to YouTube videos from time to time to gain further knowledge on the topics we are covering.
We also use our laptops for read-aloud stories during our morning basket, playing games, exploring Gmail, and doing research on Google.
4. Stationery
I have always had an obsession with stationery, and to this day, I still do!
Some stationery items I can't homeschool without, and chances you won't be able to as well, are:
Pencils – your kids will forever lose their pencils or break the points after every other word they write. This leads to my second stationery item.
Electric sharpener –  regular sharpeners work well too, but chances are you won't always be able to find them when needed. Having an electric sharpener and a home for it means you will always know where to find it.
Pens – This will depend on your kids' age.
Crayola – For fun craft activities and to keep your kiddos busy when you are doing chores around the house.
Water paint – For craft.
Erasers
Makers
Notebooks
Rulers
Sticknotes
5. Dry Eraser Board
We all thrive better when we know what to expect. And so do our kids. My main reason for the dry eraser board was to write the date and outline the areas we would cover on the day off. Since then, it has come a long way. We use it for math, writing, explaining, drawing diagrams for science, solving emoji Pictionary, and so much more!
I highly recommend you grab a dry eraser board when doing your back-to-homeschool shopping! 
6. Engaging Curriculums
Let's face it! Our kids won't be excited to learn if we don't have engaging curriculums. My motto is if it doesn't bring joy to learning, then remove it.
Flipping curriculums are inevitable when it comes to homeschooling. There's no need to stick with it if it's not a fit for your kids.
Find an engaging curriculum that makes learning fun for your kids. 
7. Storage Bins
Having a tidy and organized learning space will allow your homeschooling journey to go much smoother.
Of course, there's no need to buy multiple bookcases and storage bins, but having at least one bookcase to store your books and curriculum is not a bad idea.
Storage bins have been a lifesaver for me. I use them to store index cards, crayons, coloring penicls, farm animals, etc.
8. A Table / Desk
We have had days ( and still do) where we would spread a blanket on the floor and homeschool or build a fort and homeschool under the fort. But for the most part, I love having a designated table where my kids can sit and do their assignments.
9. Homeschool Planner
Everything in life begins with a plan!
A homeschool plan has allowed me to stay on track with our weekly, monthly, and yearly homeschooling goals. If you have not yet done so, download our 40+ page homeschooling planner for free. 
10.
YETI Rambler
Homeschooling mamas need to fill their cups first to pour into their kiddos. I cannot survive a day of homeschooling without my morning and midday coffee. The reheating and reheating of coffee don't work for me. The taste is not the same!
This Yetti rambler does the job! My drink stays hot without the need to reheat it.
As a new homeschooling parent, you can use this essential homeschool supplies list to guide your back-to-homeschool shopping. And as your year progresses, you can consider adding other supplies, such as a laminator, world map, globe, wall art, etc.
Some of the links in this post may be affiliate links. I'm also an Amazon Affiliate and will occasionally link to some of my favorite Amazon products. I will receive a small percentage back if you purchase through my link. You won't be charged a penny more if you shop through my links. That said, I do NOT recommend anything I do not use and love! Thank you for helping support my blog!