Geography is much more than just memorizing maps and place names. It's about understanding the world around us, its diverse cultures and landscapes, and how they all come together to create our global community. Teaching United States geography can be an exciting and engaging experience for both you and your students. In this blog post, we'll explore some fun and creative ways you can teach United States geography. Broadening your students' horizons and making the subject an enjoyable adventure.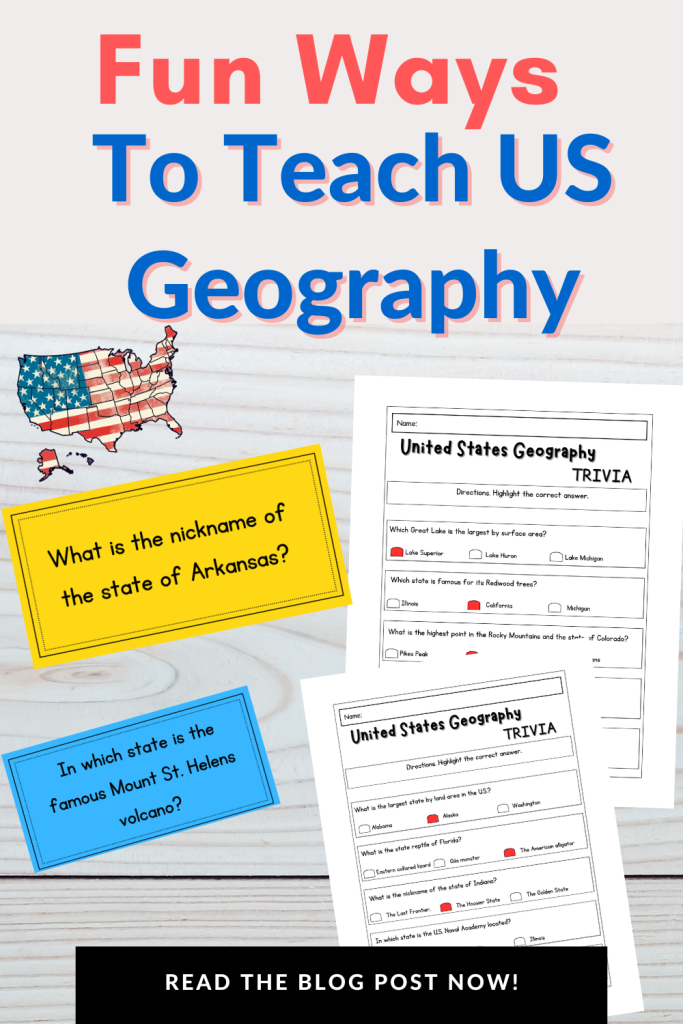 Fun Ways To Teach United States Geography
Geo-Treasure Hunts
Transform geography into a thrilling treasure hunt!
Create a list of clues about the different states, cities, or landmarks and hide them around your classroom, schoolyard, or even your home if you're homeschooling.
Students can work in teams to decipher the clues and locate the hidden "treasures," which can be small trinkets representing different states.
This activity encourages problem-solving and map-reading skills while making learning an exciting game.
Travel Blogging
Encourage your students to become "travel bloggers" for a day.
Assign each student a state or city to research and present.
They can create digital or physical presentations complete with pictures, maps, and interesting facts about their assigned location.
This helps them learn about different places and hone their presentation and research skills.
Virtual Feild Trips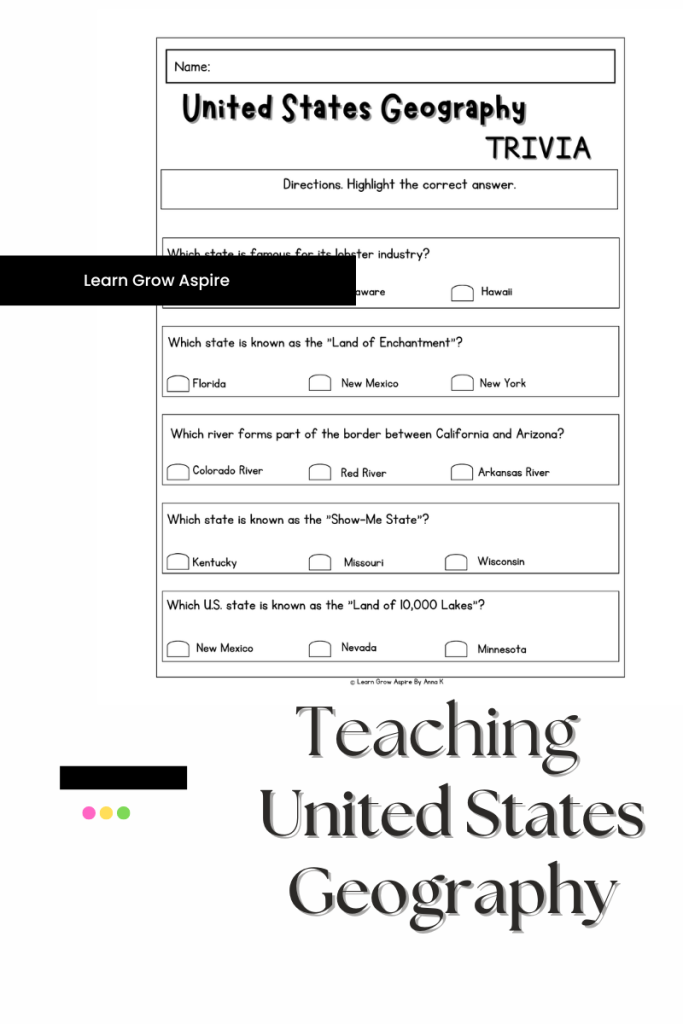 While physical field trips may not always be feasible, virtual field trips are a fantastic alternative.
Take your class on a virtual journey to famous landmarks, national parks, and historical sites through online resources and virtual reality experiences.
Virtual field trips offer an incredible opportunity to explore the diverse states of the United States from the comfort of your own classroom or home.
These digital journeys can transport students to iconic landmarks like the Grand Canyon in Arizona and the Empire State Building in Midtown Manhattan. The historical sites of Boston or the breathtaking landscapes of Alaska.
Through virtual experiences, your students can better understand the unique geography, history, and culture. As well as the natural beauty that each state has to offer.
They can virtually hike through national parks, visit museums, engage with local experts, and even chat with residents. All while building a richer appreciation for the United States' regional diversity.
These virtual adventures make geography come alive and promote a sense of unity in our understanding of this vast and varied nation.
Interactive Maps and Apps
Interactive maps and apps provide an engaging and dynamic way to explore the diverse states of the United States.
With just a few clicks, students will gain knowledge about each state, from its geographical features and major cities to historical landmarks and cultural highlights.
Apps like Google Earth allow learners to virtually travel across the country, zooming in to view famous sites like Central Park or the Statue of Liberty up close.
These interactive tools not only enhance geographical knowledge. But also fosters critical thinking as students navigate maps, solve puzzles, and discover fascinating facts about the United States,
Making the learning process both educational and enjoyable.
United States Geography Trivia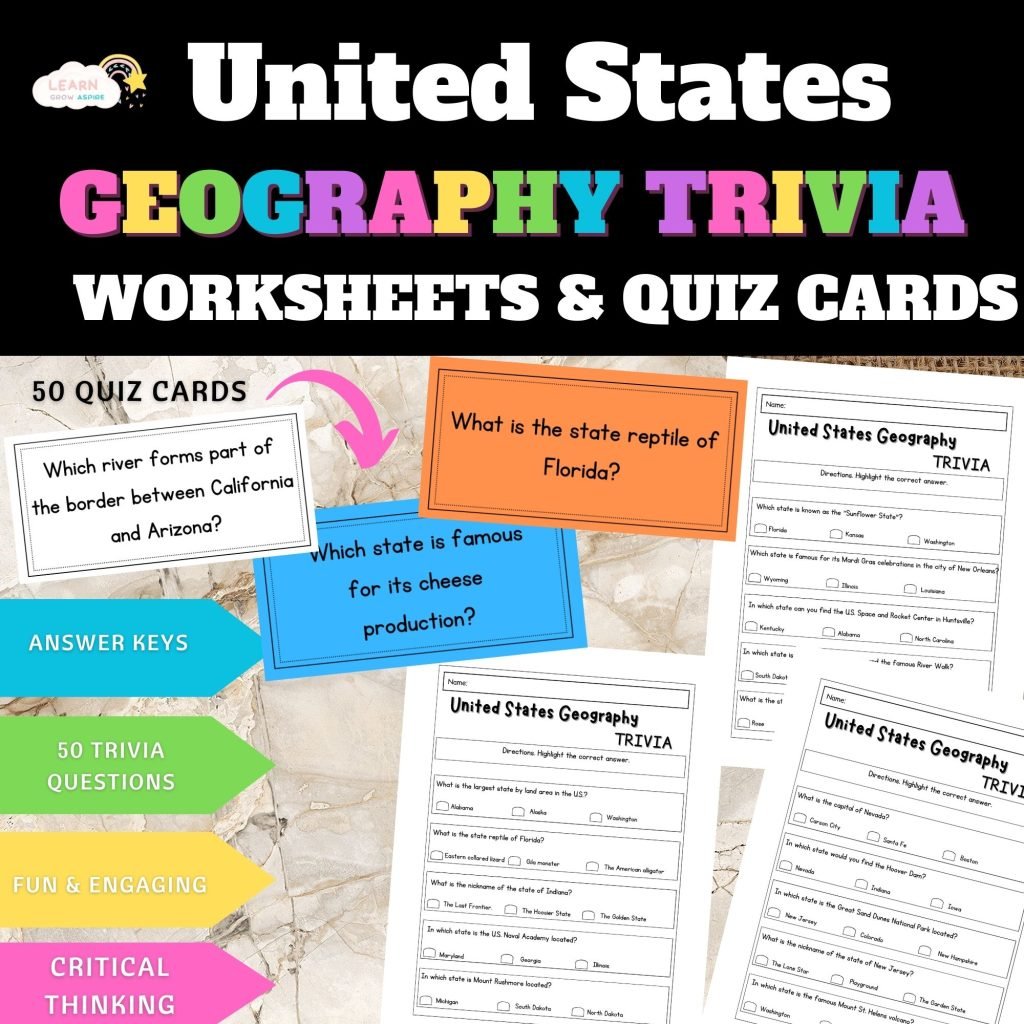 Host a friendly geography trivia competition in your classroom or home.
Create questions related to states, capitals, landmarks, and geographical features.
Students can compete individually or in teams, answering questions to earn points. This competitive spirit can make learning geography a thrilling experience.
If you are stretched on time like many teachers, you can grab my US Geography trivia activity pack from my TpT storefront or my Etsy shop.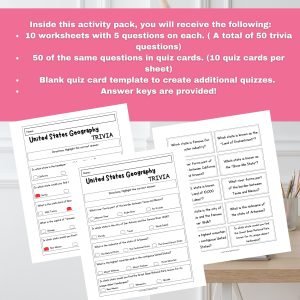 The set also comes with quiz cards so you can team your students up and have a friendly competition. The team with the most points wins a prize!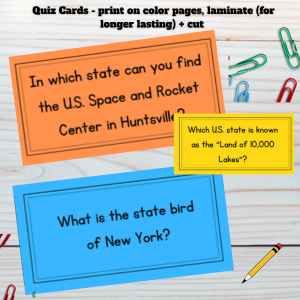 Geography Board Games
Games are always so much fun in the classroom!
So why not introduce geography through board games like "The World Game" or "The 50 States Game?"
Skillmatics Board Game – Scout It Out and Game Zone Great States are some other great board games you can incorporate into your United States geography lesson plan.
These games incorporate strategy, competition, and geography elements, making learning about the 50 states and their connections enjoyable.
Teaching United States geography doesn't have to be a dull exercise in memorization.
By incorporating these fun and creative teaching methods, you can make geography an exciting and memorable subject for your students.
Looking For More Social-Studies Teaching Tips/Ideas?
Check out these blog posts for more fun ways to make social studies fun for your students.
→🌍 Fun ways to teach United States Geography
Pin These Ideas . . .
Head to your social studies Pinterest board and save these fun ways to teach United States Geography so you can easily find them when needed!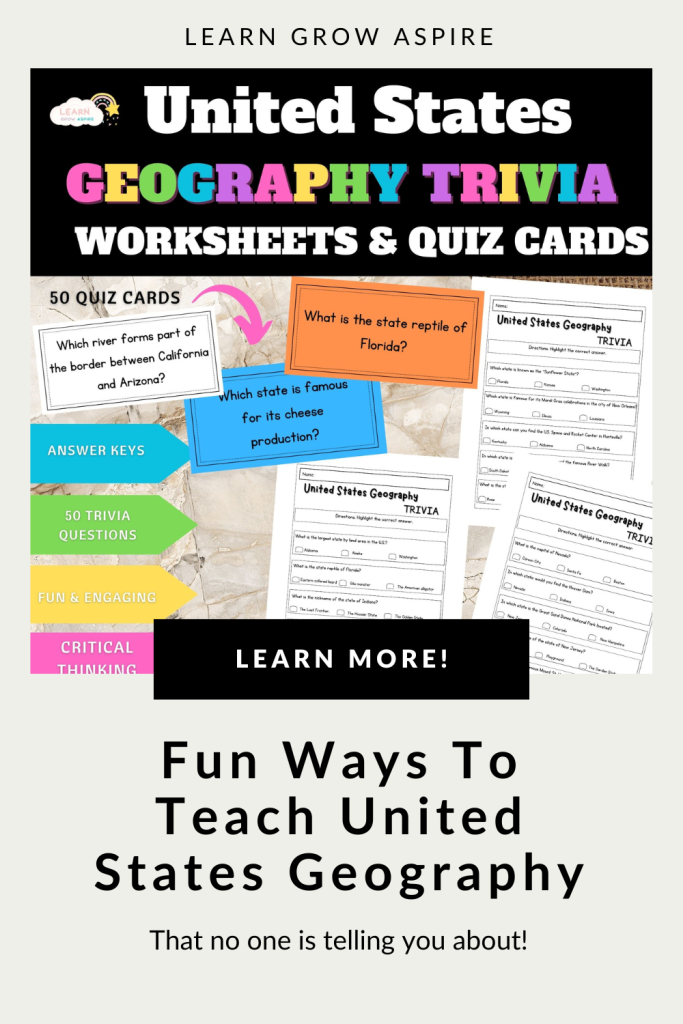 Some of the links in this post may be affiliate links. I'm also an Amazon Affiliate and will occasionally link to some of my favorite Amazon products. I will receive a small percentage back if you purchase through my link. You won't be charged a penny more if you shop through my links. That said, I do NOT recommend anything I do not use and love! Thank you for helping support my blog!