Looking for fun and creative ways to teach Canadian geography to your students? In this blog post, we'll dive into some fun and creative ways to teach Canada's geography, turning it into an exciting adventure for students of all ages.
Canada, known for its vast landscapes, diverse cultures, and stunning natural wonders, offers a wealth of opportunities to make geography come alive in the classroom.
Teaching Canadian geography doesn't have to be a dry and dull experience.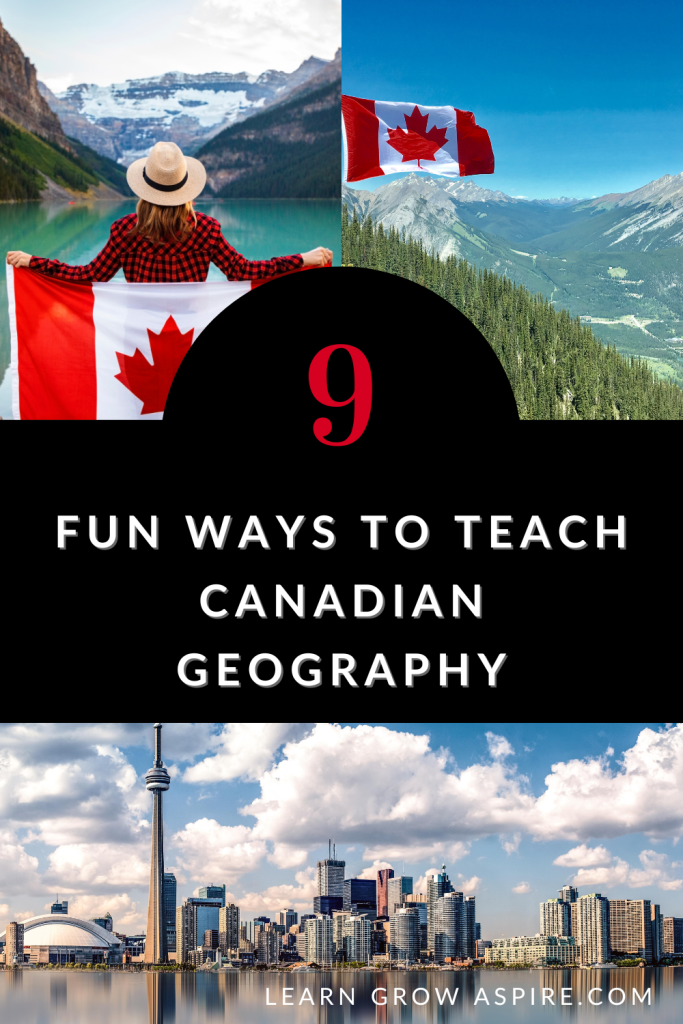 9 Fun Ways To Teach Canadian Geography
1. Canada Bingo
Create customized bingo cards featuring Canadian provinces, territories, and major cities instead of numbers.
As you call out place names, students mark the corresponding spot on their cards. This game helps them become familiar with Canada's geography while adding an element of competition and excitement to the lesson.
2. Canadian Cuisine Tasting
Explore Canada's diverse culinary landscape by introducing students to regional dishes.
From poutine in Quebec to butter tarts in Ontario and Nanaimo bars in British Columbia. Each province has its own culinary specialties. Oh, and let's not forget lobsters in Nova Scotia! Yum!
Organize a tasting session where students get to sample these delicious treats while learning about their place of origin on the map. Obviously, this takes a bit more effort but so worth it!
3. Travel Brochures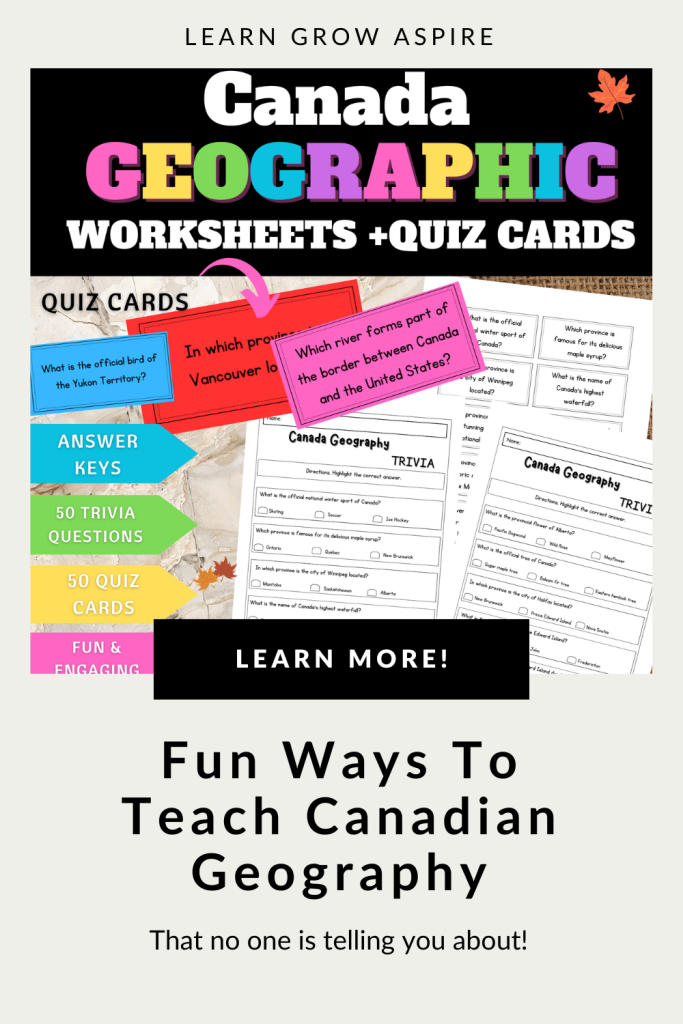 Turn your classroom into a travel agency for Canada!
Assign each student or group a Canadian province or territory to research.
They can create colorful travel brochures that include information about the province's geography, attractions, and culture. This activity combines geography with writing and design skills.
4. Hide and Seek
Do you remember how much fun you had playing hide and seek as a kid?
Hide small Canadian-themed trinkets or information about a province at various locations around your school or a nearby park. Provide students with coordinates and clues to find these hidden treasures, promoting map-reading skills and geography knowledge.
5. Canadian Wildlife Expedition
Canada is renowned for its diverse wildlife.
Organize a virtual or in-person visit from a local wildlife expert or a visit to a wildlife sanctuary, if possible. Students can learn about the unique animal species that inhabit different regions of Canada and how geography influences their habitats.
6. Canadian Geography Trivia & Quizzes 
Host a friendly geography trivia competition in your classroom or home.
Create questions related to Canada's provinces, territories, cities, lakes, and landmarks.
Students can compete individually or in teams, answering questions to earn points. This competitive spirit can make learning geography a thrilling experience.
If you are stretched on time like many teachers, you can grab my Canadian Geography trivia activity pack from my TpT storefront or my Etsy shop.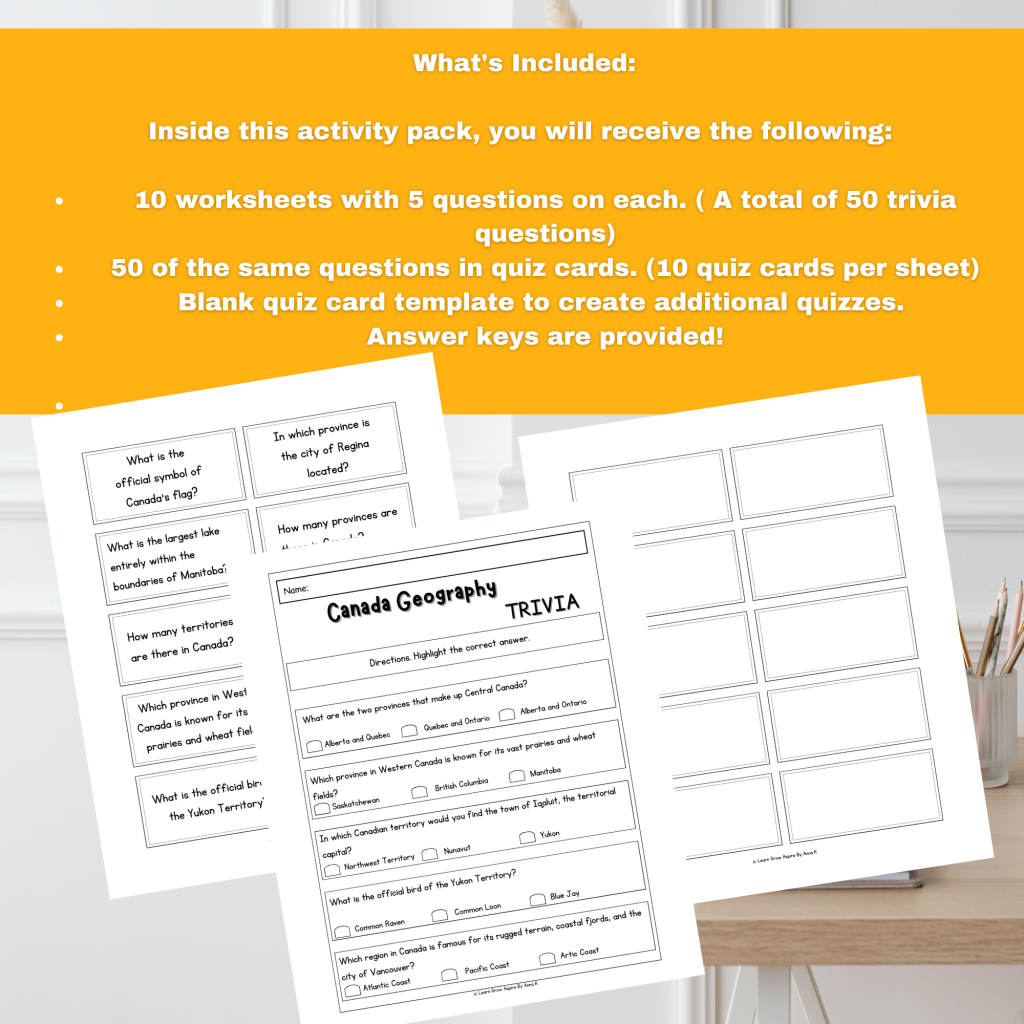 The set also comes with quiz cards so you can team your students up and have a friendly competition. The team with the most points wins a prize!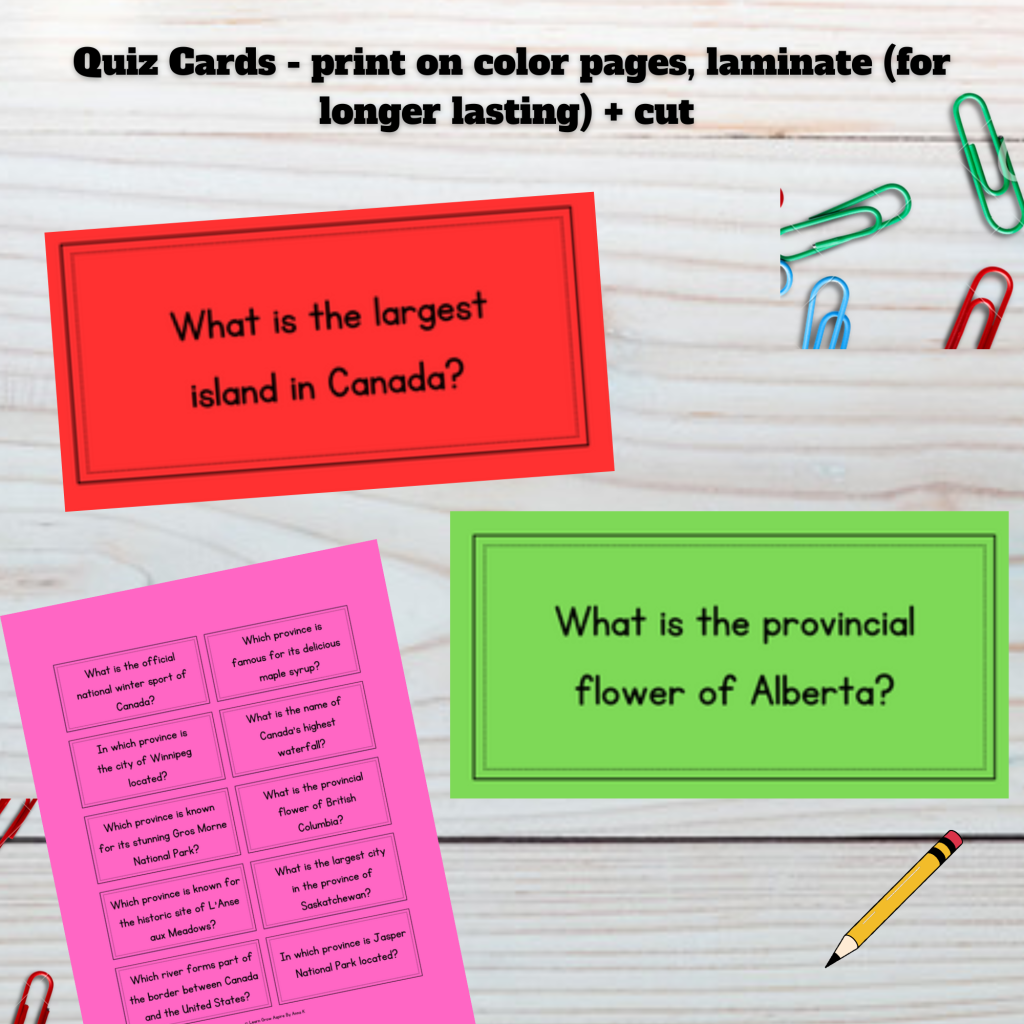 7. Canadian Flag Art Project
Canada's flag, known as the Maple Leaf, is a symbol of national pride. Have students create their own artistic interpretations of the flag using various materials like paint, collage, or digital design. This project not only reinforces the importance of Canada's geography but also encourages creativity.
Use this opportunity to teach your students about the different provinces' and territories' flags.
8. Canadian Music and Dance
Explore the cultural diversity of Canada by introducing students to music and dance traditions from different regions.
Whether it's square dancing in the Maritimes or Inuit throat singing in the North, these cultural experiences can be a fun and immersive way to learn about the geography and traditions of Canada.
9. Virtual Feild Trips 
While it's not feasible to go on actual field trips across Canada, virtual field trips are possible!
Going on virtual field trips across Canada will be an exciting and educational journey allowing your students to explore this vast country's diverse landscapes, cultures, and geographical wonders.
From the majestic Rocky Mountains in British Columbia to the pristine wilderness of the Yukon. The multicultural neighborhoods of Toronto to the historic sites of Quebec City.
Canada offers a kaleidoscope of experiences.
Through virtual field trips, You and your students will be able to visit national parks and witness the Northern Lights. Learn about Indigenous cultures, and discover how geography shapes communities and industries.
It's a captivating way to gain a deeper understanding of Canada's unique geography and foster an appreciation for the rich tapestry of this great nation. All from the comfort of your classrooms or homes (if you are homeschooling).
Bonus Tip
YouTube Videos! As a homeschooling mom, I love using YouTube videos to teach my kids. It happens that I also love creating my videos (many times, it's because I couldn't find a video that my kids found engaging).
All that to say you can check out my video on Canadian Provinces and Territories here!
It will also mean so much to me if you subscribe and like my channel. ❤️
Teaching Canadian geography can be a thrilling adventure for both educators and students.
By incorporating these creative and enjoyable methods into your lessons, you'll not only help students develop a deep understanding of Canada's geography. But also instill in them a sense of wonder and appreciation for this vast and diverse country.
Looking For More Social-Studies Teaching Tips/Ideas?
Check out these blog posts for more fun ways to make social studies fun for your students.
→🌍 Fun ways to teach United States Geography
Pin These Ideas . . .
Head to your social studies Pinterest board and save these fun ways to teach United States Geography so you can easily find them when needed!
Some of the links in this post may be affiliate links. I'm also an Amazon Affiliate and will occasionally link to some of my favorite Amazon products. I will receive a small percentage back if you purchase through my link. You won't be charged a penny more if you shop through my links. That said, I do NOT recommend anything I do not use and love! Thank you for helping support my blog!