My first few months of homeschooling were nothing but guilt trips and feelings of fear of failing my kids and not doing enough. How can I become a better homeschool mom? It was always on my radar. Then, I will see Instagram reels and Facebook posts of how organized everyone's homeschooling space was, and the shame of not doing enough will spiral again.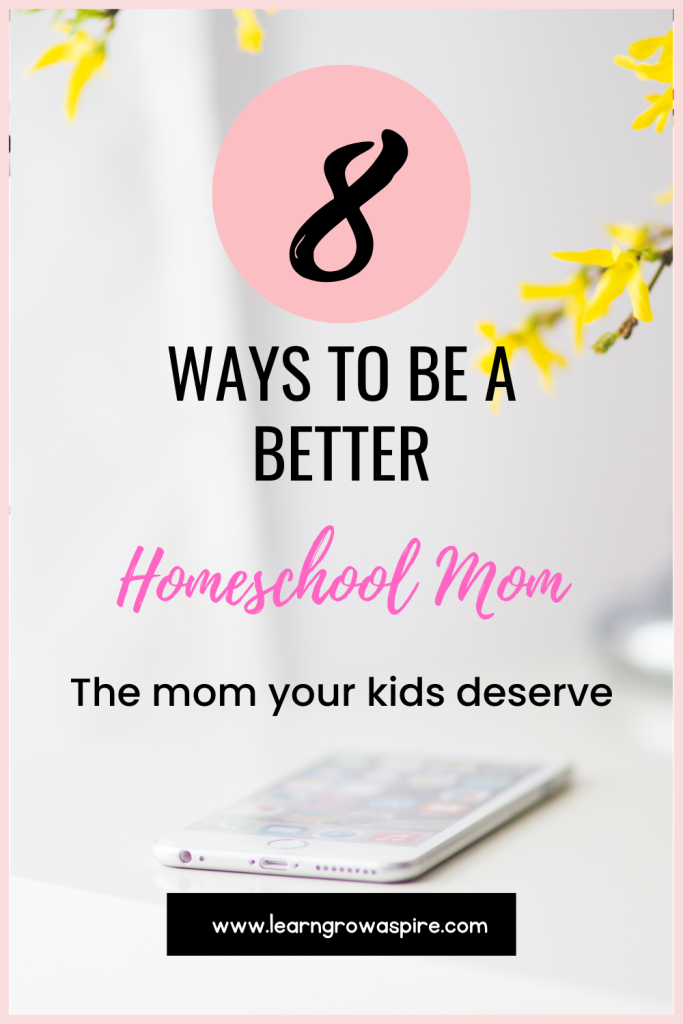 Homeschooling fear, shame, and guilt is real! Especially in the first few years!
I've lived it, and since you read this post on how to be a better homeschool mom, it means you are living it. First of all, you are not alone. We've all felt this way at some point in our homeschooling journey. Every now and then, the feelings will stir up again. But having tools and the right mindset will calm those emotions.
Here are some things I did to be a better homeschool mom and show up to the fullest for my kids and home.
Give Grace To Myself
As a homeschool mom, it's crucial to recognize that perfection is an unattainable goal, and giving yourself some grace is okay. Homeschooling comes with its own set of challenges, and it's essential to understand that not every day will go according to plan.
There will be moments of frustration, lessons that don't go as smoothly as planned, and days when it seems like there's too much on your plate. In these times, it's essential to remind yourself that you are doing a remarkable job, even if it doesn't always feel that way.
Embrace the flexibility homeschooling allows and understand that learning is a journey filled with ups and downs. Allow yourself to learn alongside your children and adapt your approach as needed.
Remember, the journey is just as valuable as the destination. Giving yourself grace creates a positive and nurturing environment for you and your children to thrive in.
Find Something That Gave Me A Purpose
While your primary focus is, of course, educating your children. A personal pursuit or passion can infuse your homeschooling journey with renewed energy and fulfillment. I know it did for me. In fact, if I didn't pursue something that lit me up. This blog post won't even be here today. Chances are, I would have stuck to just my motherhood blog rather than created a blog that supports homeschooling parents and educators.
Whether focusing on a hobby, pursuing personal development (which will be a game changer!), or engaging in community service and carving out time for something that brings you joy and purpose can positively impact your overall well-being.
This personal investment nurtures your individual growth and sets a powerful example for your children. It teaches them the importance of lifelong learning, self-discovery, and pursuing passions. By finding and integrating your own sense of purpose into your homeschooling experience, you enhance your own fulfillment and contribute to a more vibrant and enriched learning environment for your children.
Personally, I use SkillShare to learn new skills.
Prioritize Self-care
Prioritizing self-care is a luxury and necessary for creating a positive and sustainable homeschooling environment. To be the best for your children, it's crucial to prioritize your own well-being.
Schedule regular breaks for yourself, whether it's a quiet moment with a cup of tea, a short walk, or time to engage in a hobby you love.
Recognize the importance of adequate rest, nutrition, and exercise to maintain physical and mental health. Don't hesitate to ask for support from friends and family, or even consider hiring a tutor for specific subjects if needed. Spark Math is great for math tutoring.
By taking the time to recharge and care for your needs, you'll find yourself more energized, patient, and better equipped to handle the challenges and joys of homeschooling.
Instead of viewing self-care as being selfish, consider it an investment in your ability to provide a nurturing and enriching educational experience for your children.
Personal Development
I mentioned this briefly when I talked about engaging with your passion. As someone who is focused on growing spiritually, mentally, and emotionally, I prioritize personal growth by dedicating 30 minutes to reading daily. I love self-help and spiritual books, so I spend 30 minutes reading every morning. Then, when I'm doing dishes and preparing meals, I listen to podcasts that have all contributed to my becoming a better person.
Embracing personal development is a powerful tool for becoming a better homeschool mom.
As you invest time in your own growth and learning, you enhance your skills and knowledge and set a compelling example for your children. Personal development can provide fresh perspectives and innovative approaches. As well as the confidence to adapt to the evolving needs of your children's education.
Seeking continuous opportunities for self-improvement will enrich your life and create a dynamic and stimulating learning environment. One that will foster a love for learning in your homeschool.
Effective Communication
Effective communication lays the foundation for a successful homeschooling experience. Cultivating open and transparent communication with my kids has been a game changer in allowing me to understand my kiddos' interests, concerns, and learning preferences.
Actively listening to your kids' thoughts and ideas will cultivate a sense of collaboration and mutual respect. Communicate expectations clearly and involve them in decision-making processes, making them feel more invested in their education.
By understanding your children's unique needs and preferences, you can tailor your teaching approach to maximize engagement and learning.
Effective communication not only strengthens the parent-child relationship. But also creates a supportive and nurturing homeschool environment where curiosity and a love for learning can thrive.
Embrace Flexibility
Embracing flexibility is a crucial attribute to becoming a better homeschool mom. In the early days of homeschooling, I quickly learned that no two days are the same. Recognizing that each day may not unfold precisely as planned allowed me to become adaptable. Being open to adjusting schedules based on my children's needs, interests, and learning styles.
Embracing flexibility means understanding that not all lessons will follow a predetermined path, and that's perfectly okay. It allows me to explore spontaneous learning opportunities and go deeper into subjects that captivate my children's curiosity.
By embracing flexibility, you will create a resilient and enjoyable learning environment that caters to your family's unique needs, making the homeschooling journey more fulfilling for you and your children.
Celebrate Progress, Not Perfection
At the beginning of my homeschooling journey, I was fixated on achieving flawless outcomes. Guess what happened by me doing this?
I burned both ends of the candles. If you are spending too much time focusing on perfection. Please consider focusing on the little progress rather than the big picture. Take joy in the incremental steps and achievements your children make. Celebrate their efforts, no matter how small, and celebrate the learning process itself.
This mindset shift instills confidence in your children and helps them develop a healthy attitude toward challenges and setbacks. By embracing progress over perfection, you create a nurturing environment that values curiosity, resilience, and the joy of learning. This shift in perspective makes the homeschooling experience more enjoyable for you and your children and cultivates a lifelong love for learning.
Do Not Compare
Easier said than done, right? Especially in the world we live in today! But it's crucial to remember that what works well for another homeschooling family may not work for you because we all have unique needs.
Instead of measuring success against external standards, focus on your children's individual needs and progress. Embrace the freedom homeschooling offers and tailor your approach to suit the needs of your kiddos.
Comparing your homeschooling journey to mine or another homeschooler's can lead to unnecessary stress, self-doubt, and a sense of inadequacy.
Conclusion
Some homeschoolers may make it out to me homeschooling is a bed of roses. Who knows, maybe it is for some? But for me, it has not been that way. Especially at the beginning when I felt I wasn't doing enough.
Since then,  I have sure come a long way. Today, I want to remind you that being a better homeschool mom is not about perfection but embracing the imperfect, cherishing progress, and creating an environment where you and your children can thrive, learn, and celebrate the joy of education together.
If you have not yet done so, you can grab a homeschooling to-do list printable for your kids here.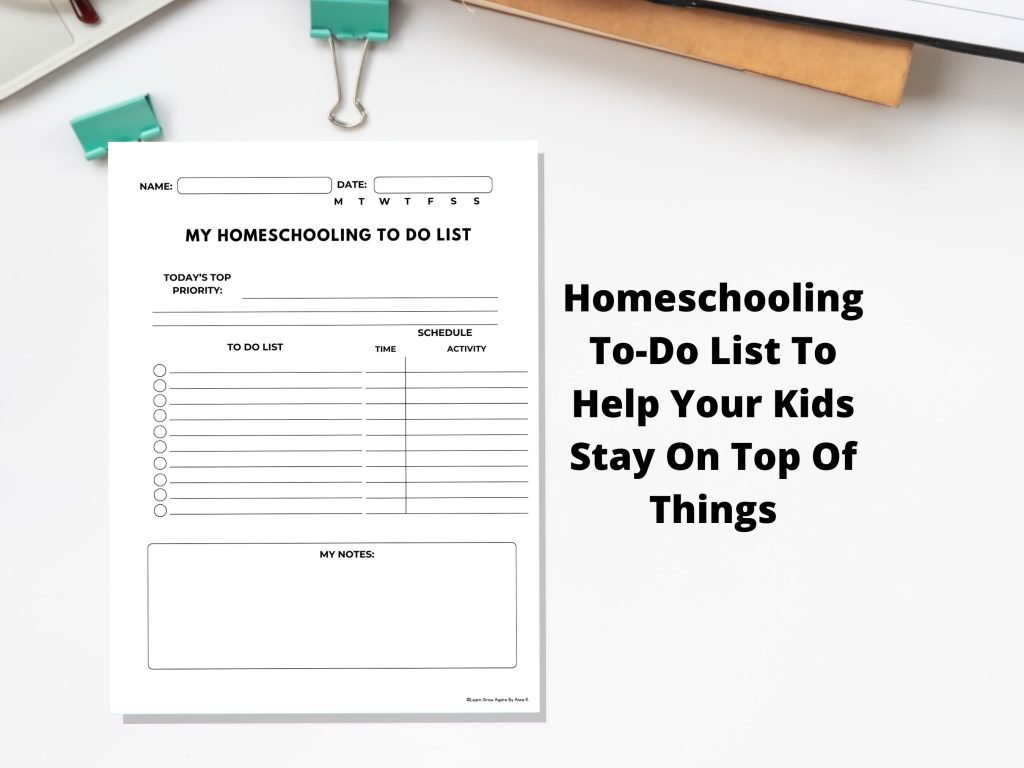 Related Posts:
Pin These Tips On How To Be A Better Homeschool Mom
Head to your Pinterest Homeschooling Board and save these tips for those icky days when you feel inadequate to teach your kiddos or are falling behind.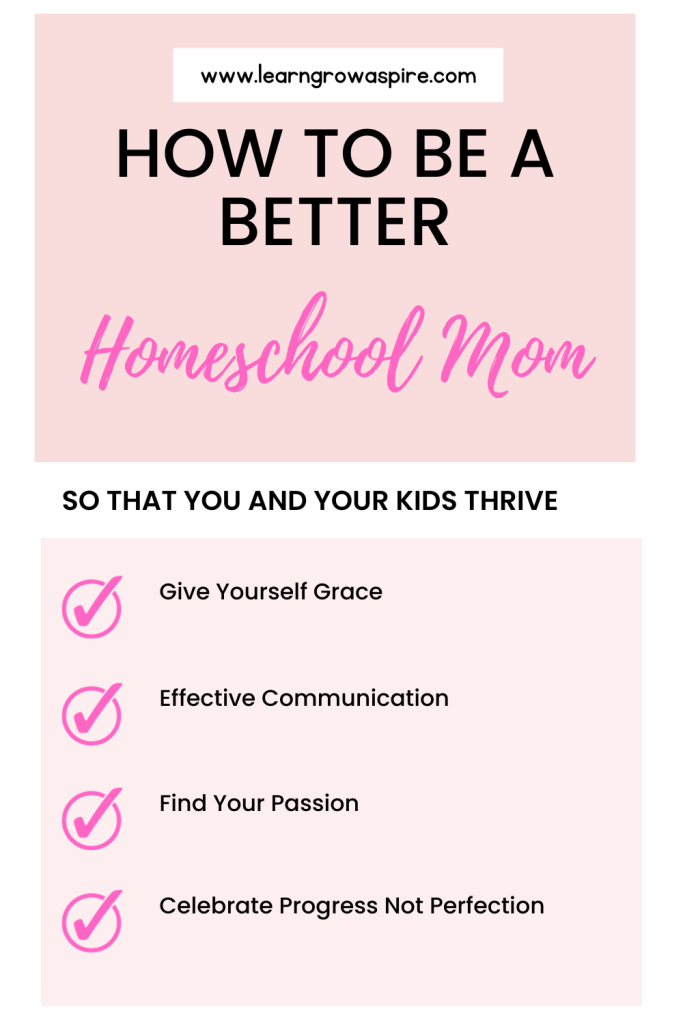 Some of the links in this post may be affiliate links. I'm also an Amazon Affiliate and will occasionally link to some of my favorite Amazon products. I will receive a small percentage back if you purchase through my link. You won't be charged a penny more if you shop through my links. That said, I do NOT recommend anything I do not use and love! Thank you for helping support my blog!