Are you looking for fun and engaging first grade Valentine's Day activities to keep your little ones busy during the month of February? Ah, yeah…that's why I'm here!🙄
Valentine's Day is a special time to celebrate love and friendship, and what better way to do that than with fun and educational activities for first graders?
I've put together a collection of delightful Valentine's Day activities that are not only entertaining but also come in printable PDF format for your convenience.
These activities are perfect for teachers, parents, and caregivers looking to engage their first graders in creative and educational Valentine's Day fun.
Let's dive in!
7 First Grade Valentine's Day Activities (Printable PDFs)
1. Mindful Valentine's Day Activities for Kindergarten-Grade 1
This mindful Valentine's Day Activity pack was created with kindergarteners in mind with mindful coloring, writing, drawing, seach+find, and Valentine's Day graphing and vocabulary.
This 5-page workbook is no prep. Just open + print!
These mindful Valentine's Day activities can be used in February to teach your kids about spreading kindness and love.
Add to your Valentine's Day center, or have it handy when another teacher is substituting for you.
These are also great for early finishers and can be used as independent work.
Mindful Valentine's Day Activity Pack (98 downloads)
2. Valentine's Day Bingo Game
Your students/kiddos will love playing this Valentine's Day Bingo game in February! This bingo game will add so much fun to your classroom. You are making learning enjoyable!
Each square in the Valentine's Day bingo game has a picture and label which is great for vocabulary purposes.
This Valentine's Day Activity Bingo is suitable for kindergarten – grade 3 students.
In this bingo game activity pack, you will receive the following:
25 different bingo cards ( Full Page size) 8.5″ X 11″.
56 bingo call out cards
With this set, students can use dot makers, play-doh, buttons, and counters as markers.
If you have more than 25 students in your classroom, you can randomly choose additional bingo cards as needed.
Print and cut out the call-out cards.
You can also laminate this bingo activity set for long-lasting.
3. Valentine's Day Coloring Pages for Elementary Students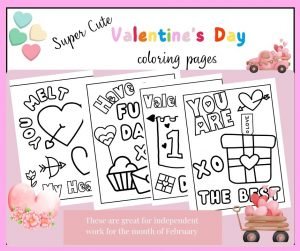 Start off the Valentine's Day celebration with some coloring fun. Our printable coloring pages feature adorable Valentine's Day-themed images like hearts, flowers, and cute animals. Let your little ones' creativity shine as they use their favorite colors to bring these pictures to life. It's a fantastic way to encourage fine motor skills and creative expression.
With 50 super cute Valentine's theme coloring pages, your kids will enjoy hanging around your Valentine and art centers this February.
Some pages include sweet, silly, and inspiring quotes:- such as:
Don't forget you are Awesome!
You are Terrific!
You are Berry Special!
Have a Berry Happy Valentine's!
Check these 50 super cute Valentine's Day Coloring Pages on TpT. 
4. Valentine's Day Math Activities for Kindergarten + Grade 1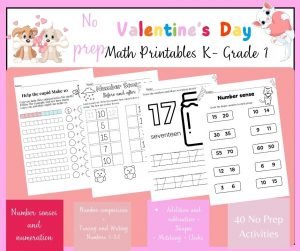 Combine learning and Valentine's Day with our math worksheets. These worksheets cover basic math concepts like addition and subtraction but with a fun Valentine's Day twist. Your first graders can solve problems while enjoying the holiday spirit, making math practice more engaging.
These Valentine's Day Math Activities will be a great way to teach your little learners math in February.
This Valentine's Math pack is perfect for advanced kindergarteners and first grade to relearn and or practice their math skills.
This Valentine's Day math activity pack includes 40 PDF printable pages.
These worksheets include:
Number senses and numeration
Number comparison
Tracing and writing numbers 1-20
Counting by how many?
Objects counting
Addition and subtraction
Shapes
Matching
Clocks
Measurements
Patterning
Probability
Grab the Valentine's Day Math Activity Pack.
5. Valentine's Day Activities for Kindergarten + Grade 1 Math and Literacy Concepts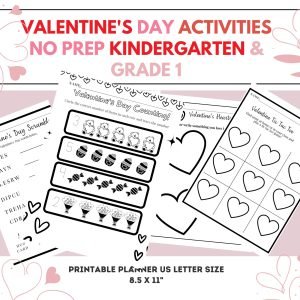 This Valentine's Day activity pack is perfect for kindergarteners to grade 1 to build math and literacy concepts.
Math activities include:
sorting from big to small
sorting from small to big
number identification
counting and tracing numbers
Valentine graphing
Valentine's odd one out!
Literacy concepts include:
writing short sentences,
vocabulary,
sight words,
search and find,
spot the difference,
tic tac toe
This Valentine's Day activity pack can be printed either in colored or black and white.
You can use these worksheets within the weeks leading up to Valentine's Day with your kiddos and add these to your Math and literacy centers.
You can also display your students' Valentine's Day coloring on bulletin boards and classroom windows.
Grab this Valentine's Day Activity Pack for your kindergarten and grade one students today. 
6. Grades 1 + 2 Valentine's Day Activities
February activities to keep your students busy.
These Valentine's Day Activities are perfect for grades 1+2 and advanced kindergartens to work on during free time, morning activities, and independent work this February.
These are no-prep activities. Open PDF and print as many copies as needed for your classroom.
Activities included are:
 Valentine's Day vocabulary,
 Love Day writing,
 Spot the difference,
 Mazes
 Valentine's Day counting + graphing,
 Valentine's Day letter writing,
 Dot the boxes and tic-tac-toe
The pages in this workbook are vibrant and colorful, making them perfect for Valentine's Day!
See this Valentine's Day Activity Pack in action! 
7. Teacher To Students Valentine's Notes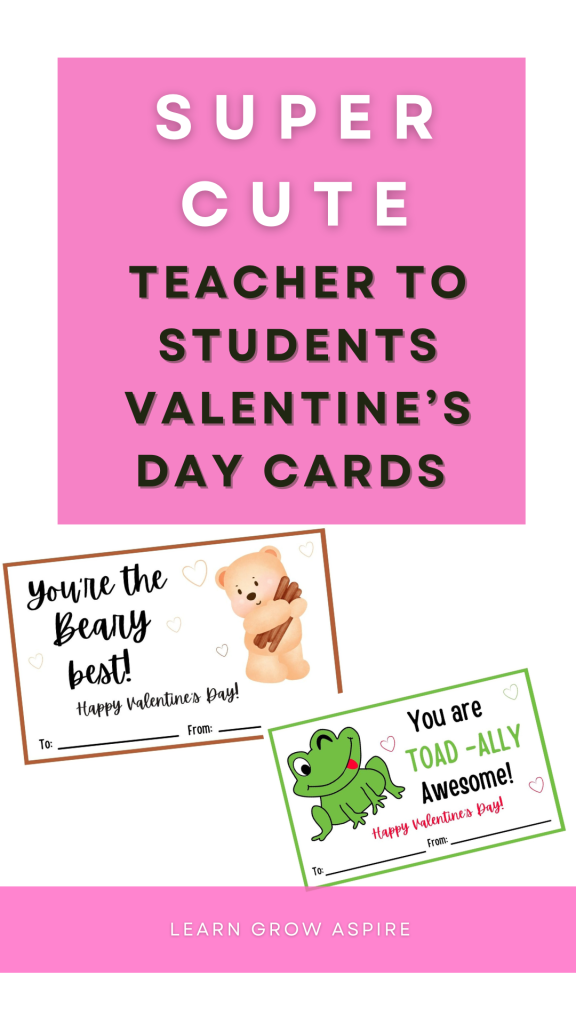 Okay, so this is not quite a first grade Valentine's Day activity but these notes will surely make your kiddos feel like the sweethearts they are.
You can take it a step further and include a sweet treat such as a cookie or a fun item like play doh or a pop-it fidget toy.
If this sounds like fun go ahead and grab your teacher to students Valentines's notes here. 
Conclusion
Valentine's Day is a time to celebrate love, friendship, and learning. With these printable PDF activities, you can make the holiday extra special for your first graders.
Whether you're a teacher planning a classroom celebration or a parent looking for engaging at-home activities, these resources offer a wonderful way to combine education and fun. Download the printables, gather your supplies, and get ready for a Valentine's Day filled with creativity, love, and smiles.
Happy Valentine's Day!
Don't forget to download your mindful Mindful Valentine's Day Activity Pack (98 downloads) .
Pin These Printables!
Save these first grade Valentine's Day activities to your Valentine's Pinterest board.
This blog post was updated in October 2023.
Some of the links in this post may be affiliate links. I'm also an Amazon Affiliate and will occasionally link to some of my favorite Amazon products. I will receive a small percentage back if you purchase through my link. You won't be charged a penny more if you shop through my links. That said, I do NOT recommend anything I do not use and love! Thank you for helping support my blog!